Gray still in search of first win after solid start
Rox rookie takes no-decision after allowing two hits in five scoreless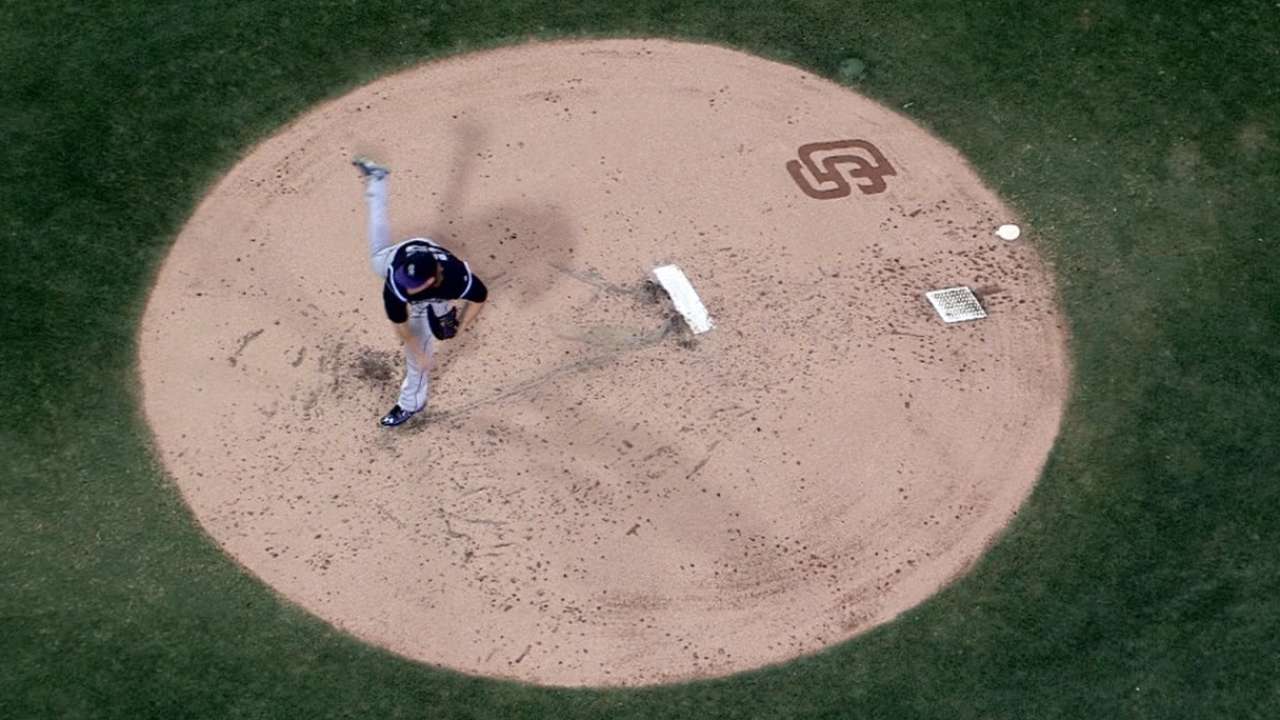 SAN DIEGO -- Pitcher Jon Gray had another solid outing, but still didn't earn a decision in his seventh career start, a 2-1 Rockies loss to the Padres on Tuesday night at Petco Park.
Before the game, Rockies manager Walt Weiss said he wanted to see Gray be more consistent, which he added is often the case when it comes to young players.
The 23-year-old said he thought he improved that aspect of his game in Tuesday's start. He threw five scoreless innings, allowing just two hits, walking two and striking out six.
"I think it went really well, the command could have been a little better," Gray said. "I think I walked too many people. Secondary pitches were great and that helped out a lot and I had great defense behind me too, robbed them of some hits, so that was awesome."
Weiss agreed that the right-hander was impressive, despite missing out on his first Major League win.
"His fastball command really settled in after the first inning," Weiss said. "He pitched in and out of the innings with a good fastball, very good outing for Jon."
Tuesday was not the first time Gray had success against San Diego. Back on Aug. 15 at Coors Field, Gray allowed one run on four hits in five innings.
"If you look back at the way you pitch at these guys the times before, it makes it a lot easier on what to stay away from and what to go to," Gray said.
Nolan Arenado gave the Rockies a chance in the ninth inning with two outs, when he hit his 37th home run of the season, blasting a 375-foot homer to left field off Padres closer Craig Kimbrel to tie the game at 1. Arenado, who homered in a career-high six consecutive games Sept. 1-5, leads the National League in home runs. Arenado's 19 home runs on the road this season are the most by a Rockies player since Vinny Castilla in 2004.
"Big time -- he does it often, whether it's on the defensive side or with an at-bat, it's a big-time play," Weiss said about Arenado.
Gray is still being patient and is hopeful he'll collect his first Major League win in the near future.
"I think if I can feed off of this," Gray said. "It's coming pretty soon."
Beth Maiman is an associate reporter for MLB.com. This story was not subject to the approval of Major League Baseball or its clubs.