Santana making strong impression in center field
Rookie hits two-run home run during loss to Marlins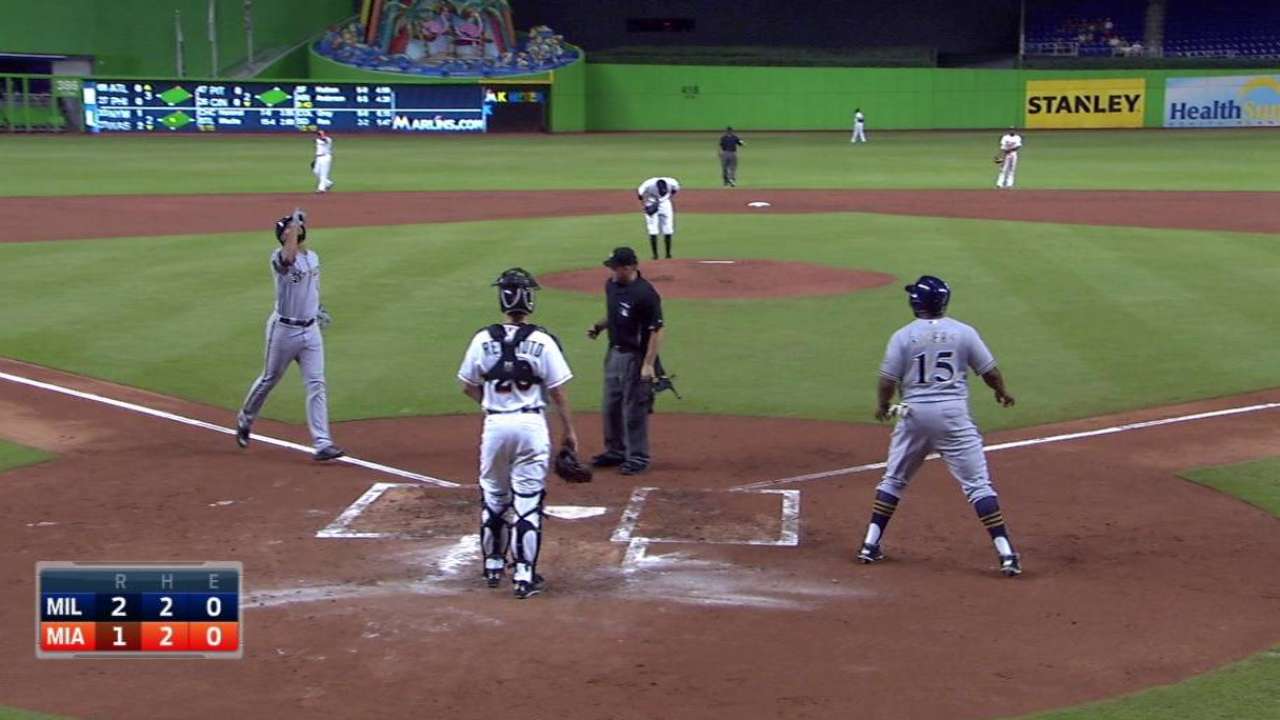 MIAMI -- After promoting him from the Minor Leagues because they wanted a look at his bat, the Brewers dropped Domingo Santana into center field because that was the only outfield position available.
He's naturally suited for the corners, but has performed well enough in center that the club's current baseball regime is looking at Santana, the first of four prospects acquired in a July 30 trade with the Astros to make it to the Majors, as an option to cover the position next year, too.
"I think it has to be, certainly, in the back of your mind," said assistant GM Gord Ash before Santana played a central role in a 6-4 loss to the Marlins. "You're not going to go out and get a center fielder just to get one. It's a combination. Defense is important. It's less important in our park just because of the size. And it's a combination of what it does for you, offensively, as well."
Put differently: Might Santana make sense as an unconventional defensive center fielder because he packs so much power at the plate?
The Brewers have a vacancy in center after trading away Gold Glove Award winners Carlos Gomez and Gerardo Parra in late July. The Brewers added pitcher Mike Fiers to Gomez in a swap with the Astros to net a potential center fielder of the future, Brett Phillips, who checked in as Milwaukee's No. 2 prospect, according to MLB.com.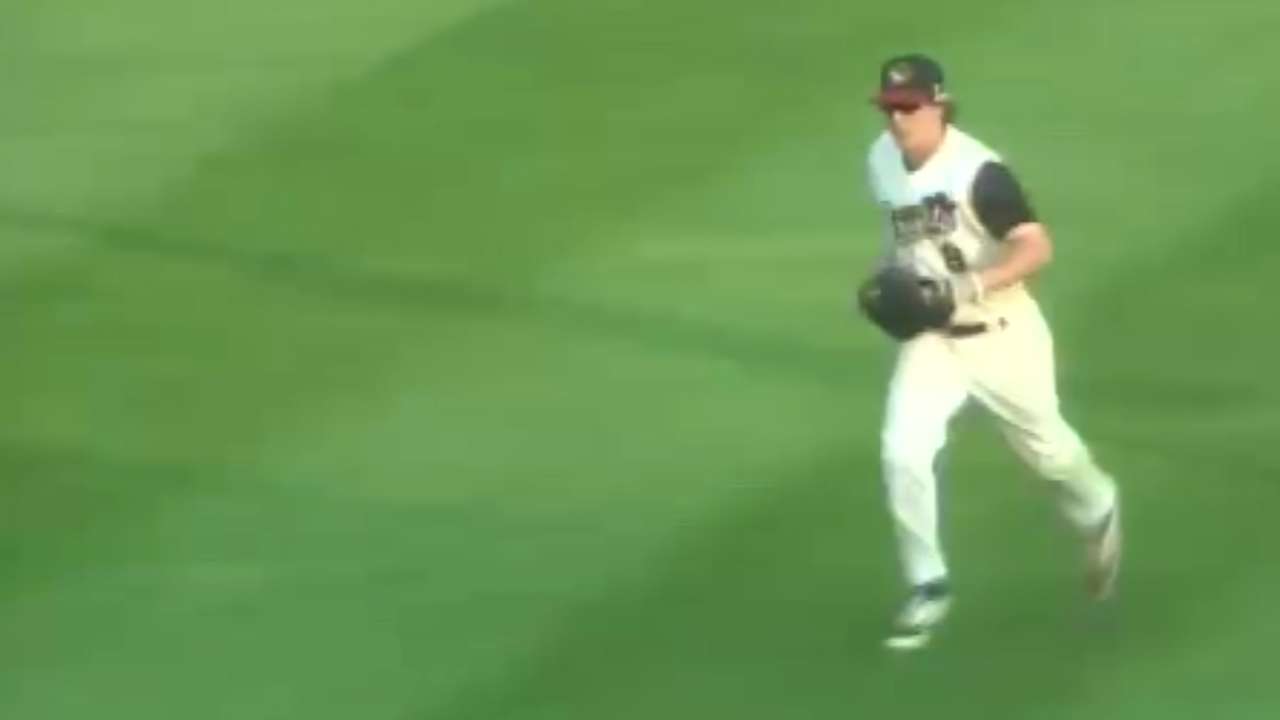 Phillips is a true center fielder, but is playing at Double-A this season, meaning he will probably start next year at Triple-A Colorado Springs. At the moment, Santana looks like the leading internal candidate to bridge the gap in center field.
"I have no doubts about putting him out there at all," manager Craig Counsell said this week.
Santana's offense and defense were on display in Tuesday's loss, in which Santana again displayed prodigious power by hitting an opposite-field, two-run home run in the second inning, and was also involved in Marlins catcher J.T. Realmuto's inside-the-park home run in the fourth.
Santana nearly got to Realmuto's drive to an awkward part of left-center field. The baseball struck a curved portion of the wall below the Marlins' colorful home run sculpture and caromed into no man's land while Realmuto circled the bases.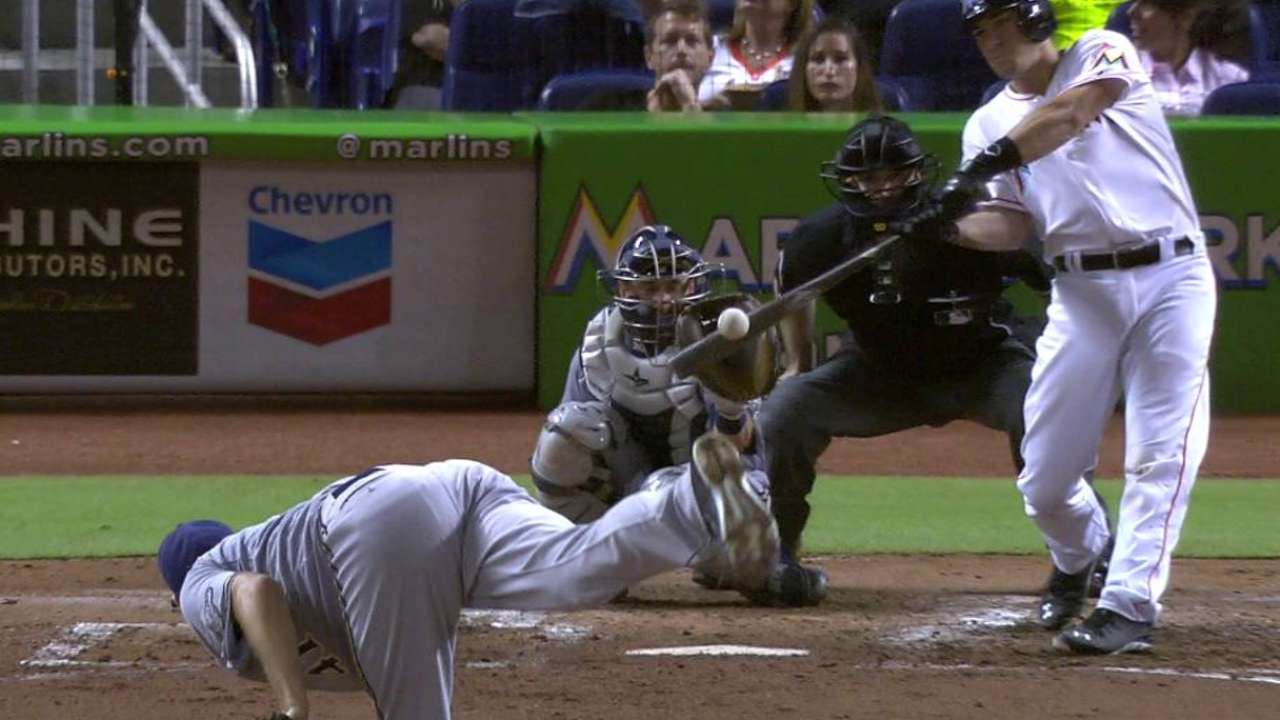 "I'm not sure anything could have been done," Counsell said.
After the homer, Santana also singled and walked twice. He entered the day tied for 17th in pitches per plate appearance (4.22) among Major Leaguers who had stepped into the batter's box at least 100 times this season, just ahead of Paul Goldschmidt (4.21). In his first 50 Brewers at-bats, Santana owns a .300/.413/.640 slash line.
"He's not chasing," Counsell said, pointing to a pair of walks in Monday's win in which Santana worked back from two-strike counts to walk. "I think we know the power is pretty evident, but you see [plate appearances] like that, not chasing some of those pitches, and it's a nice hitter in the making."
Said Santana of his audition: "I'm very pleased. I'm just trying to swing at good pitches. That's my approach."
Adam McCalvy is a reporter for MLB.com. Follow him on Twitter @AdamMcCalvy, like him on Facebook and listen to his podcast. This story was not subject to the approval of Major League Baseball or its clubs.