Price: Iglesias' start 'a bump in the road'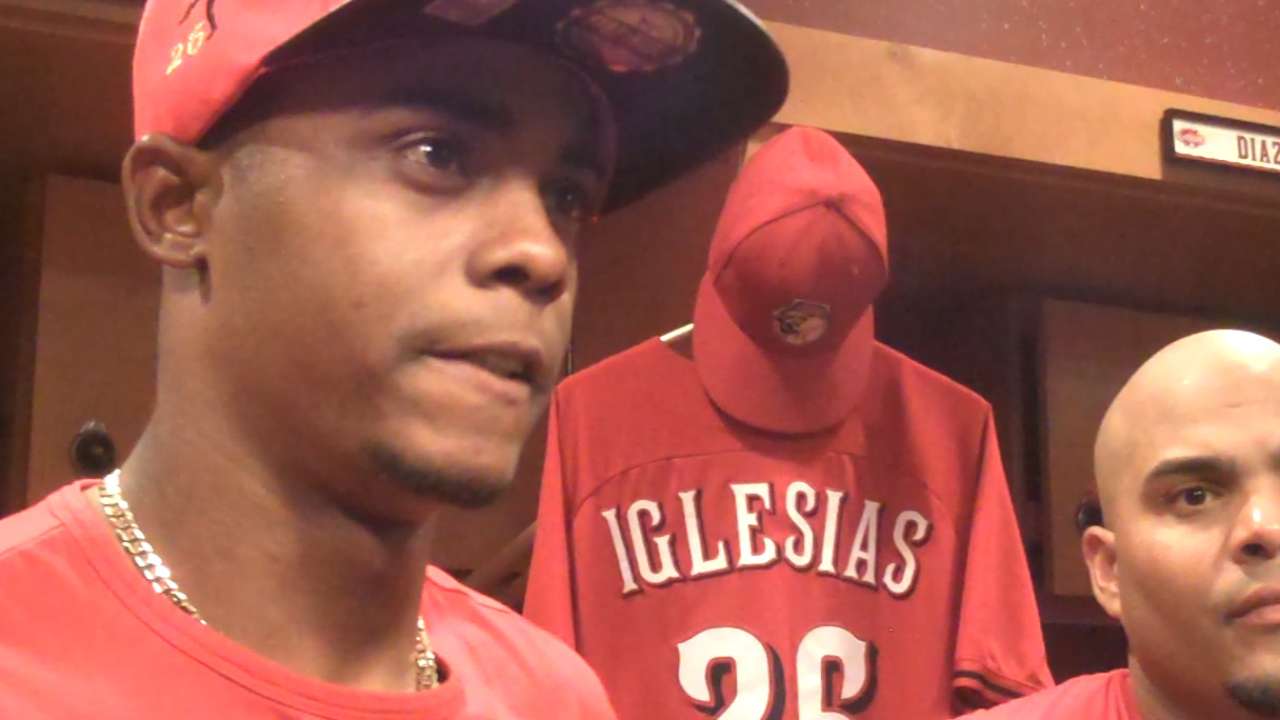 CINCINNATI -- Raisel Iglesias spent all of August and one start in September performing brilliantly. But on Tuesday, during a 7-3 loss to the Pirates, came the reminder that he is still a rookie starting pitcher prone to rookie-starting-pitcher issues.
A streak of seven quality starts came to a quick end, as Iglesias lasted three innings, allowing five earned runs on six hits and one walk, with four strikeouts and a run-scoring balk. All of the runs he allowed scored in the top of the third inning.
"I feel like it was just a bad inning, like any other pitcher can have," Iglesias said through translator and catcher Brayan Pena.
Also ended was a three-game streak of double-digit strikeouts. He was the first Reds rookie to accomplish that feat and the first in the Majors since Hideo Nomo did it for the Dodgers over four straight games in 1995.
Following two scoreless innings, Iglesias started the third inning by running up a 3-0 count to opposing pitcher Francisco Liriano. On a 3-1 fastball, Liriano lined a double to right-center. The first four batters in the inning reached on hits, but Andrew McCutchen's three-run homer to right field was the biggest blow. Of the five hits in the inning, three went for extra bases.
"They took advantage of some mistakes. It started, really, with Liriano leading off that third inning," manager Bryan Price said. "He fell behind and just threw a 90-mph fastball elevated. [Liriano] smoked it for a double. Then it was off to the races. He just wasn't able to put together the sequence of pitches that he's been doing so consistently the last several starts. It was a bump in the road. It just wasn't a great start."
With Jung Ho Kang on third base, Iglesias was called for a balk that sent home the fifth run of the inning. Josh Smith took over from the bullpen for the top of the fourth and worked two scoreless innings.
During his successful stretch, Iglesias went 2-3 with a 2.31 ERA. He struck out 33 batters over 21 innings in his previous three starts.
"I felt like I was missing my spots," he said. "Obviously, I want to get it down and try to make them miss. They really put up some good swings. I just learned from that one."
Mark Sheldon is a reporter for MLB.com. Read his blog, Mark My Word, follow him on Twitter @m_sheldon and Facebook and listen to his podcast. This story was not subject to the approval of Major League Baseball or its clubs.