Volquez locks in after forgetting wife's tickets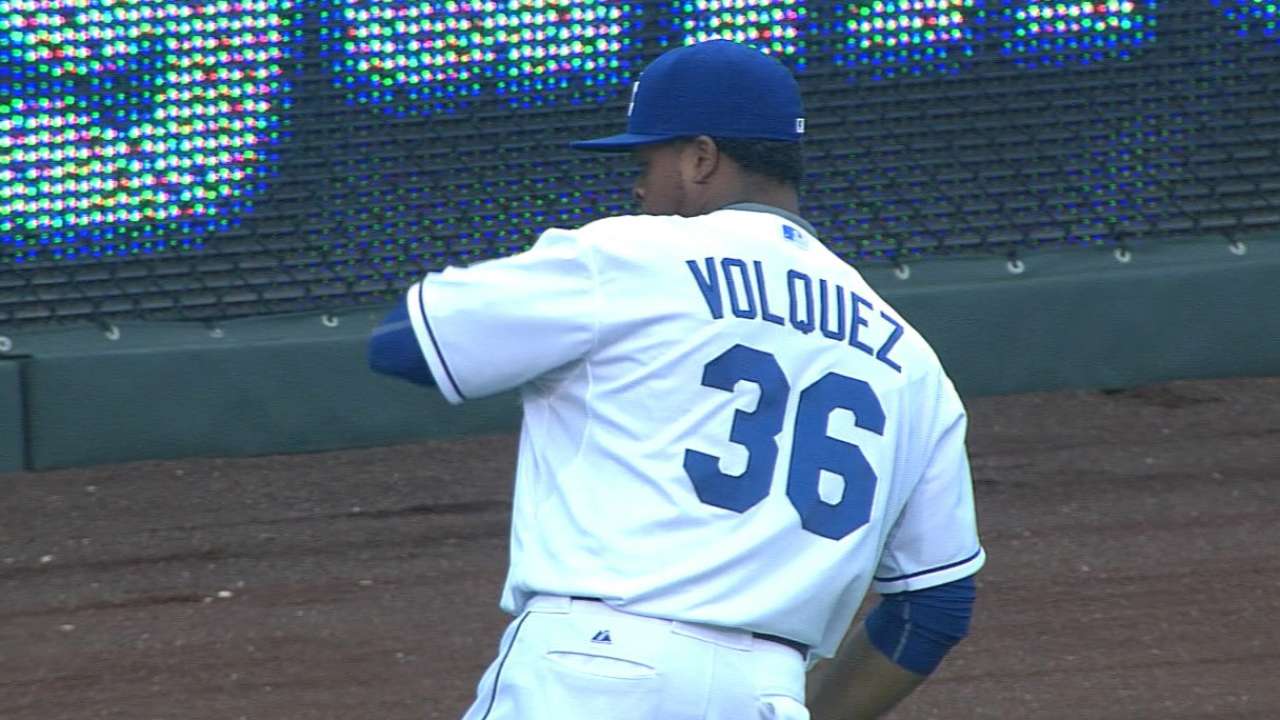 KANSAS CITY -- How locked in during his pregame routine was Royals right-hander Edinson Volquez? So locked in that he forgot to get his wife tickets to the game, a 4-2 victory over the Twins on Tuesday night.
"On my way to the ballpark today, I was thinking, 'Aw man, we lost a couple games [four] in a row. Everybody's starting to talk about losing,'" Volquez said, smiling. "I was really focused today, so focused that at the ballpark, I forgot to put my tickets in for my wife.
"I got to the bullpen and told [pitching coach] Dave Eiland, 'I forgot something.' He said, 'What'd you forget?' 'My tickets.' 'Oh, my God. You're in trouble.' 'I'm not worried about that. I just want to win the game today.'"
Volquez certainly remained focused. He went seven strong innings and gave up just six hits and two runs. He walked none and struck out three, while helping the Royals snap a four-game losing streak to trim their magic number to 13 in the American League Central.
"I think I did a pretty good job, especially winning today after we lost a couple games," Volquez said. "Somebody has to step up and stop the bleeding. I think I did a pretty good job tonight."
The night didn't start out so glorious as Volquez gave up a hit and then hit a batter. But he struck out Joe Mauer and then got a huge double play off the bat of Trevor Plouffe -- one of two Plouffe hit into on the night.
"I was able to locate my fastball down and I got a couple double plays, and easy fly balls," Volquez said. "My changeup was good tonight, too."
There were a couple of mechanic adjustments made after Volquez's last start, a disastrous three-inning, six-run outing.
"Dave got with me my last time I threw a bullpen," Volquez said. "He fixed me. I hope to continue to do what I did today and be consistent with that.
"I think my windup was too long. I was just swinging [around] and I need to swing all the way to get to the plate. He shortened my first step to the plate. It was more easy to get more angle on the fastball."
Jeffrey Flanagan is a reporter for MLB.com. Follow him on Twitter at @FlannyMLB. This story was not subject to the approval of Major League Baseball or its clubs.