MLB.com Columnist
Paul Hagen
Mets prove they can win without top-form Harvey
Righty's situation brings to mind Strasburg's for NL-leading Nats in 2012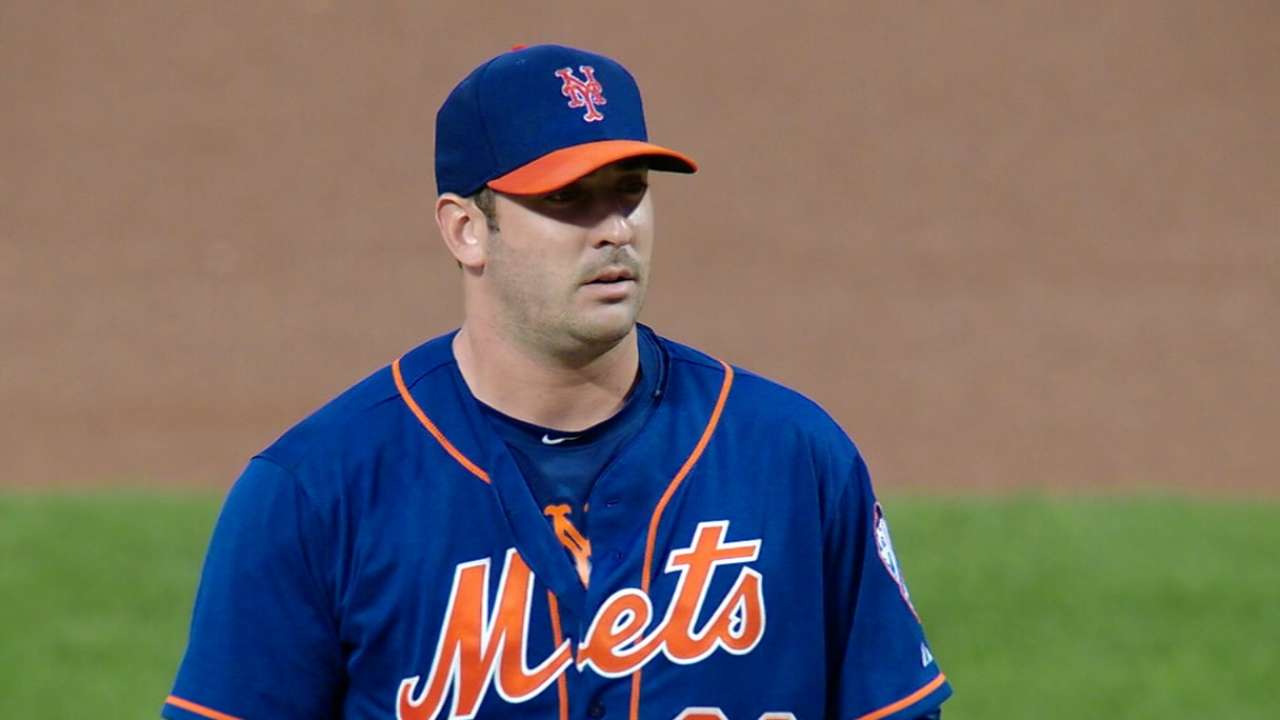 WASHINGTON -- Trying to have a rational conversation about how much more Matt Harvey should pitch this season has been more difficult in the last week than trying to bathe a boxful of cats.
So, yes, the best part of storming back for an 8-7 win for the Mets at Nationals Park on Tuesday night was that it lengthened their lead over the team chasing them to six games with 24 to play. Not a lock, certainly, but a pretty nice position to be in. It's hard to overstate what a critical victory it was.
The most important subplot, though, is how the game unfolded and the soothing effect it should have on the Harvey brouhaha that has dominated the baseball conversation in New York since agent Scott Boras suggested that his client shouldn't be allowed to pitch more than 180 innings this season, his first since undergoing Tommy John elbow surgery. Since he had 166 1/3 at the time, that seemed to preclude his presence in the postseason.
• Harvey chased in sixth before Mets rally to win
For long-suffering Citi Field fans, many of whom made the trek down I-95 if the "Let's go Mets" chants were an indication, the bottom line seemed pretty simple. No Harvey = Mets are toast.
And of all the parts of this soap opera that agitated manager Terry Collins, nothing seemed to bother him more before the game than the idea that his team's fortunes hinged on one player and one player only.
"Would it have been a big story if David Wright hadn't come back [from spinal stenosis]? Well, we would have had to pick up the pieces," Collins said. "Same thing if Matt doesn't pitch any more, we're going to pick up the pieces. Because that's what we've got here. We've got bodies to do it. He's a big piece, but so is David Wright. So we'll move forward.
"Stars attract attention. I'm not going to take that away from them. But there's a time when you look around the clubhouse and there's a whole lot of people in there right now. What about them? It's not like they don't exist. Facts are, we'll get through it. We'll make the adjustments we've got to make. We've still got to go play. We're still supposed to win. I don't care who's out there."
And then the game started and everything that happened for the next three hours and 20 minutes drove home the point.
Harvey tied a career high with seven runs allowed, putting his team in a 7-1 hole. While the Mets batted around and scored six times in the seventh, Harvey was doing his postgame workout in the clubhouse. He made it back to the dugout in time to witness pinch-hitter Kirk Nieuwenhuis belting the game-winning homer in the eighth against closer Jonathan Papelbon.
All teams lose key players. Winning teams get contributions from all over the roster. The Mets had one of the biggest wins the franchise has enjoyed in nine years and it came as a result of what a lot of guys who aren't named Matt Harvey did.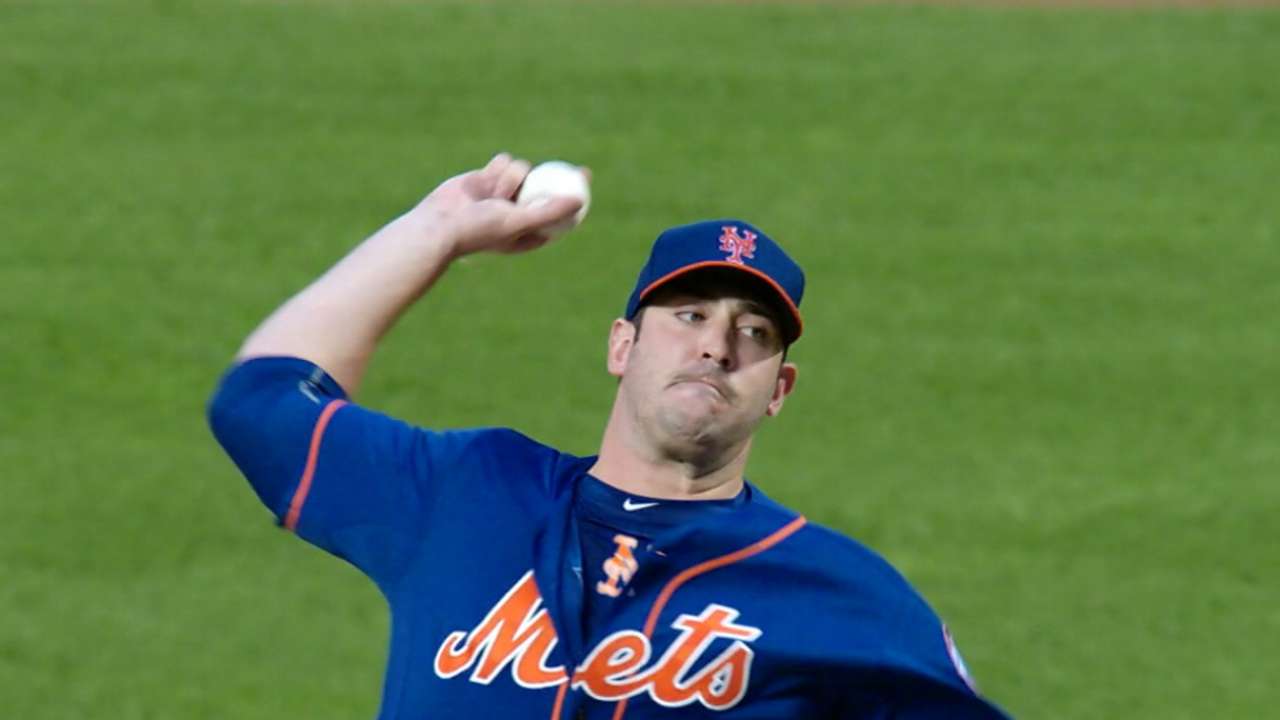 In a perfect world, Harvey would make every turn from now until whenever the Mets' season ends and then go on to pitch a dozen or more productive years. But the world isn't perfect, and there's no way of guaranteeing a pitcher's health.
But the Mets proved Tuesday night they can win without Harvey, or at least without Harvey at the top of his game, if they have to. And that's a good lesson to learn.
Inevitably, the comparison was made to the Nationals' decision to shut down right-hander Stephen Strasburg just short of 160 innings even though Washington was cruising toward the postseason.
Three years and one day after Strasburg made his final appearance of the 2012 season, Harvey was on the mound facing not the only division team with a chance to keep New York from the postseason, but the firestorm that erupted with the suggestion that the 26-year-old's career could be jeopardized if he went beyond the hard cap. Since we're talking about potentially a couple hundred million bucks, that has to get your attention.
Other than both aces-in-the-making coming off reconstructive elbow surgery, there are more differences than similarities in the two situations. But let's stick to examining what the impact of not having Strasburg meant to Washington that year.
The Nationals still won the National League East. They still finished with the NL's best record, guaranteeing them home-field advantage throughout the postseason. And while it's true that they were bounced by the Cardinals in the NL Division Series, it's a real stretch to suggest that Strasburg's fingerprints were anywhere on the outcome.
Three innings into the decisive Game 5, Washington had a 6-0 lead. Going into the ninth, the Nats still led by two. The Cardinals scored four against closer Drew Storen. All of this had absolutely nothing to do with Strasburg.
Some might argue that, well, had he been in the rotation, it never would have come down to the clinching game. Anything's possible. But what's a cold hard fact is that only one Nationals starter turned in a quality start in the series. That was Ross Detwiler, who replaced Strasburg in the rotation.
General manager Mike Rizzo announced the plan at the start of the 2012 season and never wavered.
"I still feel comfortable with it," Rizzo said, making it clear that he was passing no judgment on whatever the Mets ultimately decide to do with Harvey.
Now, three years and two days after that controversial final outing of the season, a healthy Strasburg will be available to start for the Nationals on Wednesday night in a game that is just about as important as a game can possibly be with more than three weeks left in the season. Which is all the reason Rizzo needs not to second-guess himself.
Paul Hagen is a reporter for MLB.com. This story was not subject to the approval of Major League Baseball or its clubs.