Paxton hopes to return to rotation on Sunday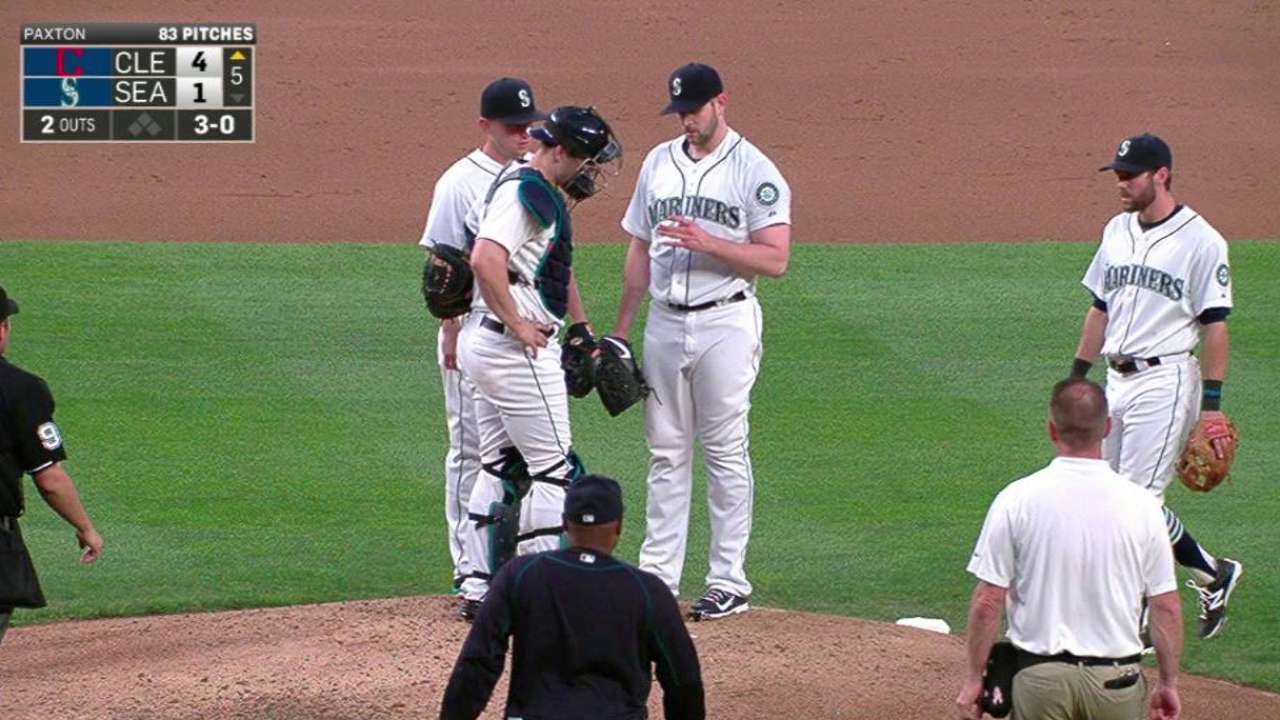 SEATTLE -- Mariners left-hander James Paxton had never had an issue with tearing his fingernail while throwing a cutter before his Wednesday rehab start with Triple-A Tacoma in Salt Lake City.
But in a year in which his left middle finger has caused him so much trouble, that's how his luck has trended. Paxton exited the rehab start after 44 pitches and has resumed playing catch after allowing the nail to heal.
"Nope. First time," Paxton said. "Seems to be the year of the finger."
Paxton said he felt good playing catch on Monday and is on pace to throw a bullpen Thursday. If all goes according to plan, Paxton could make his return to the Mariners' rotation on Sunday.
"Yes. There's a very definite possibility," said Mariners manager Lloyd McClendon of Paxton's return. "A lot of that depends on how he progresses over the next few days."
Paxton said he will mix in breaking pitches starting on Wednesday. For now, he said, the taped left middle finger feels comfortable.
"Just fastballs right now. I think once I get to Wednesday, I'll start to mix some curveballs and cutters in and see how that feels," Paxton said. "Hopefully, it feels good and we can move forward."
The 26-year-old left-hander has not pitched in a Major League game since May 28, when he left in the fifth inning of a start against the Indians with a strained left middle finger. He has started just 23 games for the Mariners over the last two seasons.
Without any further setbacks, Paxton's "year of the finger" could end with him logging a few starts for the Mariners. The questions about his left middle finger could also be reaching their conclusion.
"No, I did not expect to field this many questions about a finger," Paxton said. "But hopefully I've filled my quota and I'm done."
Worth noting
• McClendon announced lefty Vidal Nuno as his starting pitcher for Wednesday's game against the Rangers. Nuno, who pitched to one batter in relief on Sunday in Oakland, will make his sixth start of the season. He last won a start June 27 of last year with the Yankees.
• Nelson Cruz [right quadriceps] was out of the lineup for the fifth straight game and Franklin Gutierrez was out of the lineup for the fourth straight game [right groin] on Tuesday. Both are day-to-day.
"Closer today than they were yesterday," McClendon said. "Cruz had an MRI showing exactly what we thought. He's day-to-day and hopefully he'll be ready to go tomorrow."
Andrew Erickson is an associate reporter for MLB.com. This story was not subject to the approval of Major League Baseball or its clubs.