Harvey chased in sixth before Mets stun Nats
Righty moves 5 1/3 innings closer to 180 IP limit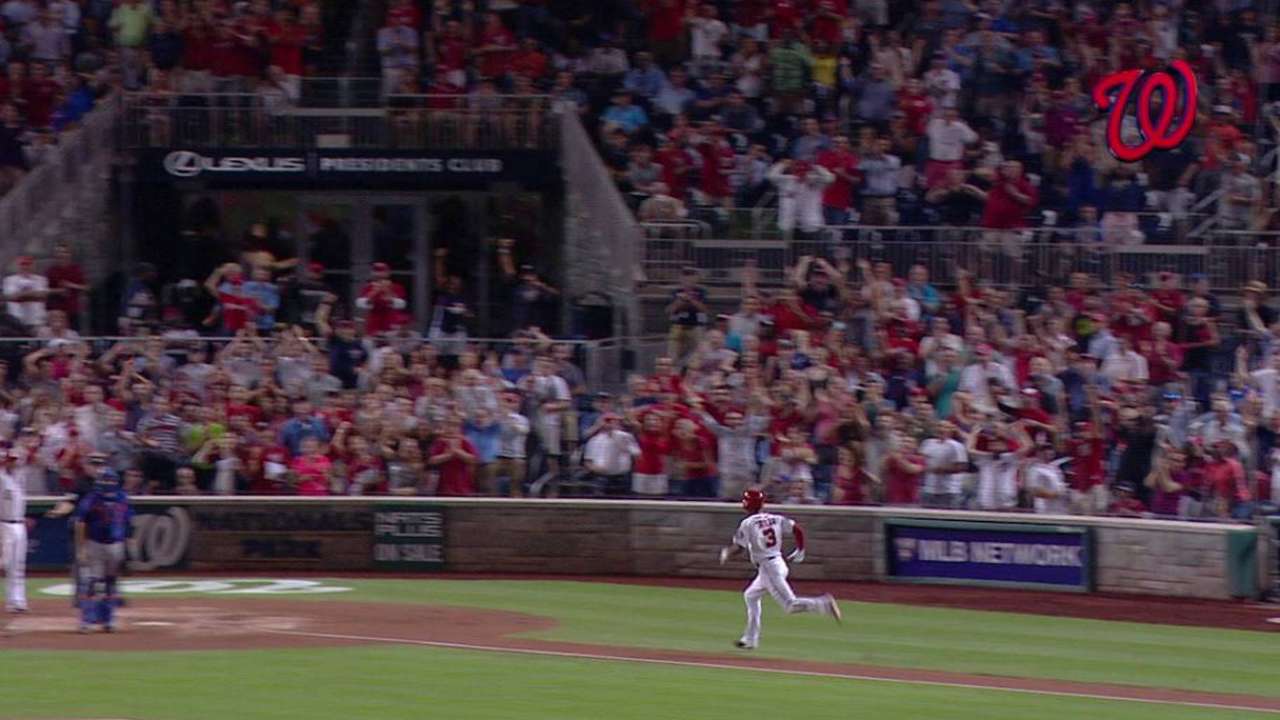 WASHINGTON -- In the visiting clubhouse, Matt Harvey scurried to complete his usual post-start routine, eager to return to the sunflower-seed littered confines of the dugout bench. Harvey had just moved 5 1/3 innings closer to his much-debated season cap, allowing a career-high tying seven earned runs in the process. But the Mets were rallying, en route to an 8-7 win Tuesday over the Nationals. Harvey wanted to be a part of it.
So he finished his exercises and hustled back out to the bench, where he acted not like some mercenary putting in his time. Harvey cheered and whooped and hollered alongside the rest of the Mets.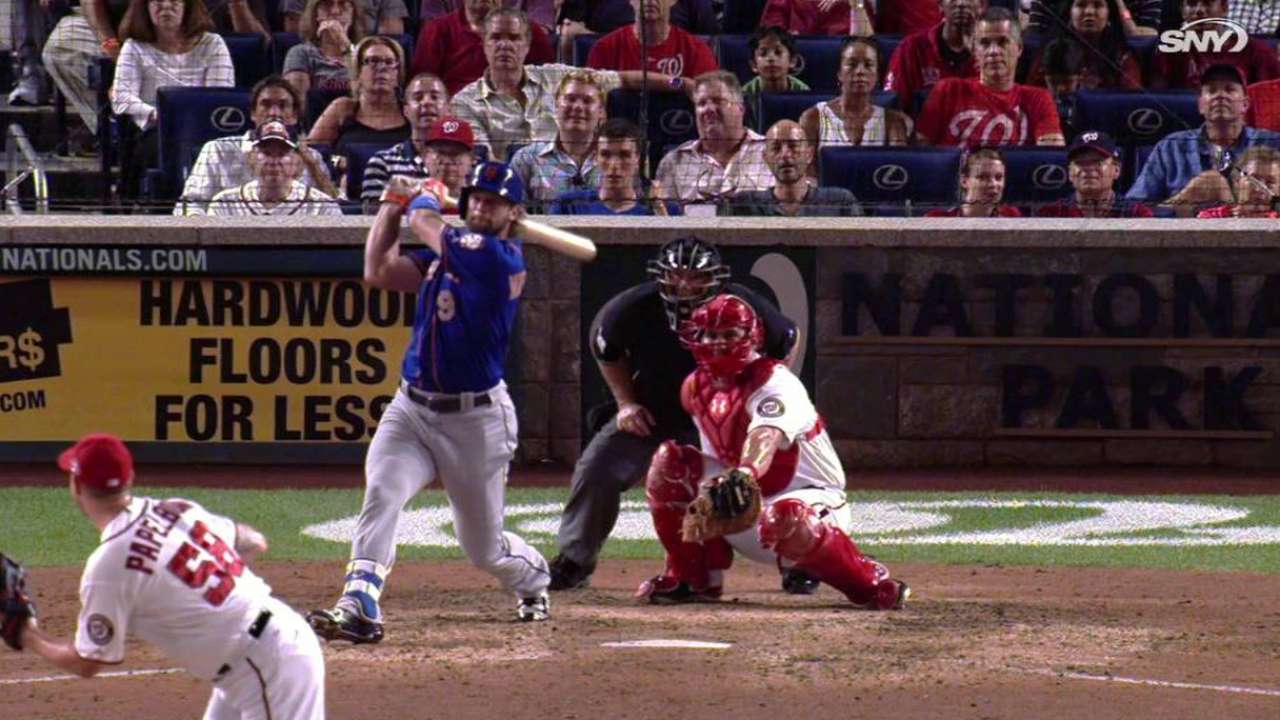 "I was very proud of him," manager Terry Collins said. "To go out there with that monkey on his back the way it was, and carry that load out there on that mound, is tough to pitch with. He did the best he could."
Since Friday, Harvey has been embroiled in controversy, stemming from a disagreement between the Mets and Harvey's agent, Scott Boras, on how many innings he should pitch down the stretch. Boras contends that Harvey's surgeon, Dr. James Andrews, recommended a hard cap of 180 innings -- including the postseason -- in his first year back from Tommy John surgery. The Mets had been operating all summer under the assumption that any innings recommendation was malleable, based on additional factors including pitch counts and stressful versus non-stressful situations.
If that were not vexing enough for all parties involved, Harvey poured gasoline on the situation by refusing to discuss his potential role in the postseason, should the Mets reach it for the first time in a decade. Following an outpouring of mass and social media backlash, he changed his tune a day later in an essay on "The Players' Tribune." Alderson and Boras have since come to a compromise regarding Harvey's innings, though neither has revealed the exact plan.
In that sense, the situation remains as murky as it is fluid; how the Mets deploy Harvey down the stretch will depend in large part upon how they are faring in their division title chase. Tuesday's outing could have been a significant step in the wrong direction, before the Mets erased everything with their six-run comeback against Washington's bullpen.
"That was so much fun to watch," Harvey said. "I was frustrated with my own performance, but overall we won the game. And that's huge."
No longer did Harvey need to stew on the seven runs he allowed, four of them on a Michael Taylor RBI single that Yoenis Cespedes effectively misplayed into an inside-the-park grand slam (in reality, if not in the box score, where it remained just a single). The Nationals also tagged him for three earlier runs on five hits and a walk, all in the game's first two innings. The seven total runs matched Harvey's career high, bloating his ERA from 2.60 to 2.88.
"I think he was out there trying to show everybody he is who he is," Collins said. "I think he overthrew a little bit, to be honest. I really do. You look at the replays and he missed a lot of spots because he was trying too hard."
Harvey's personal pressure cooker may not change going forward, considering his potential for significant time between starts. The Mets are not saying when his next outing will be, but acknowledge that he may only have one more regular-season start. Much will depend on a division lead that has bloated to six games.
For now, Harvey is trying simply to restore his reputation on a Mets team that's going places. Beyond this night, this week, this month and this year remains anyone's guess.
"Whenever they decide to throw me back out there," Harvey said, "I'm going to be ready."
Anthony DiComo is a reporter for MLB.com. Follow him on Twitter @AnthonyDiComo and Facebook, and listen to his podcast. This story was not subject to the approval of Major League Baseball or its clubs.