La Russa on 2015 D-backs: 'We've competed'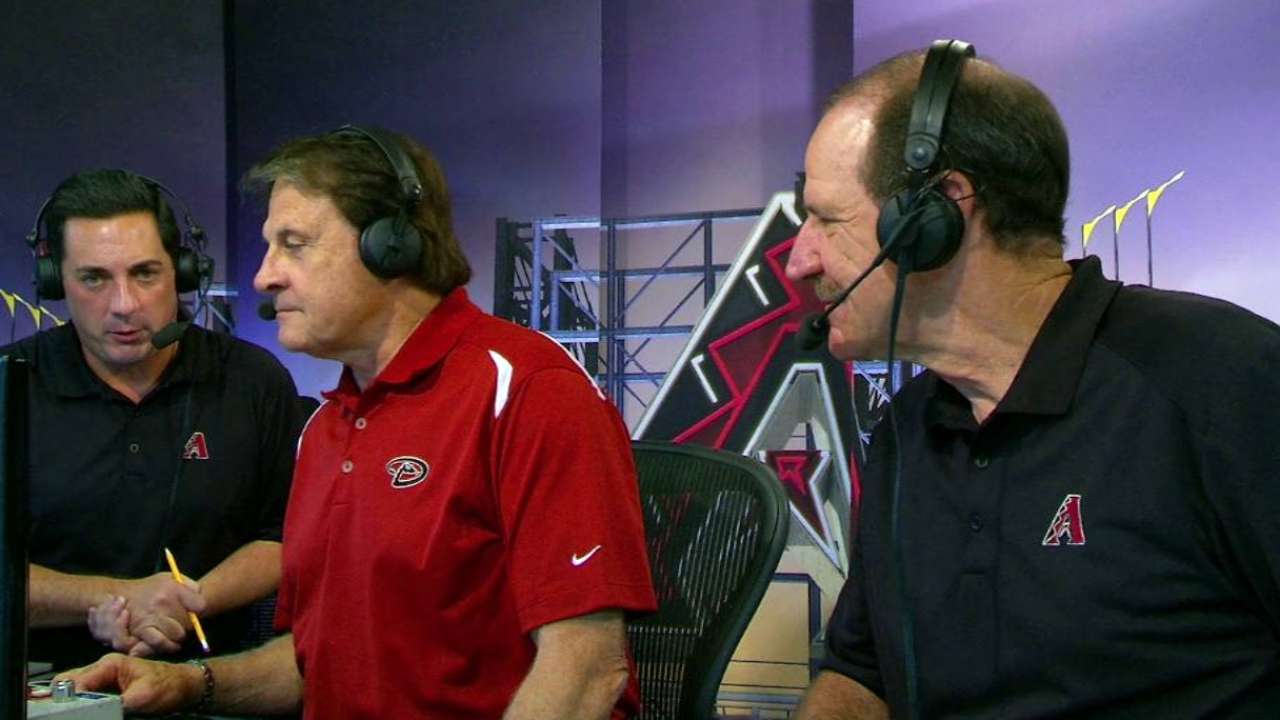 PHOENIX -- D-backs chief baseball officer Tony La Russa isn't ready to evaluate his club's season, but he was open about what he has seen so far.
La Russa met with the media before Tuesday's game against the Giants and addressed a number of topics.
"To date, you can see young guys -- whether they are pitchers or playing -- taking advantage of their at-bats," La Russa said. "At the same time, if you put it against championship execution, we still have learning and growing to do, and I don't want to belabor the youngest club in baseball, but that's what we have."
The D-backs entered Tuesday night's game with a 66-72 record, two more wins than the club had during the entire 2014 season. But the team has also struggled lately, losing 11 of 15 games, since their four-game sweep of the Reds last month.
"We've competed. We really haven't been non-competitive other than a stretch here or there," La Russa said. "Our anxiety is you don't have a crystal ball about these last three weeks. What happens last is remembered the most, so for all of us, I think this club deserves to get enough wins to represent how competitive they have been all year long."
Here's some more of what La Russa discussed:
On Archie Bradley not getting called up from Triple-A:
"What's good for him is good for us. He wants to start and we want him to start. Some guys want to be put in the bullpen. In this case, for guys that we brought up -- with [Jeremy] Hellickson coming back -- all we brought up was guys to cover innings, guys like [Allen] Webster and [A.J.] Schugel. And that role for Archie would not be good. That would take him in a very irregular situation, and we would rather send him off to Instructional League to get another couple of appearances and take the winter off, rest and get in shape for his next opportunity next spring."
On Peter O'Brien's future behind the plate:
"I think it's a personal decision. We've talked about it. He prefers to play the outfield, that way he can concentrate more on his hitting. We saw enough progress as a defensive player behind the plate that we were excited. So what that means? I don't have a crystal ball. One thing we do have here, and I know he is aware of it, is outfield depth. "
On September call-ups:
"They are nice because they allow you to protect your roster during some of these games, but it can be confusing. Most of the time, guys like [Brandon] Drury or O'Brien or [Socrates] Brito, they just don't start enough games. ... If they go really good, you don't say 'You're in' or if they struggle, you don't say 'You're out.' What it is, is recognition that they are really close, and we'll see what Chip generates for playing time. I know he's going to have a tussle whether it's the infield or outfield. I'll just sit back ready to second-guess whatever he does."
On Yasmany Tomas' season:
"I think it's a testament to how much talent he has that he has survived it. He doesn't know these pitchers and hasn't had a lot of at-bats. Early on, he represented third base well, and he didn't have big league stage fright. I've told him and coaches have told him that in the last month or so he's been trying to hit the ball out of the park, and his swing has gotten a little bit big, but when he takes his normal stroke, he'll hit more home runs. He's going to have an interesting winter."
On the offseason:
"I think we will have a lot of discussions within our staff, including the guys on the field, we always value their input. The guys upstairs, we'll be very candid about prioritizing our needs. I think an important part of it is, because you can't always get what you want, is to concentrate on what you have. An important priority will be to continue the improvement of our pitchers and our everyday guys because we can win more games with the same guys."
Jesse Sanchez is a national reporter for MLB.com. Follow him on Twitter @JesseSanchezMLB. This story was not subject to the approval of Major League Baseball or its clubs.