Gentry returns to Athletics confident, upbeat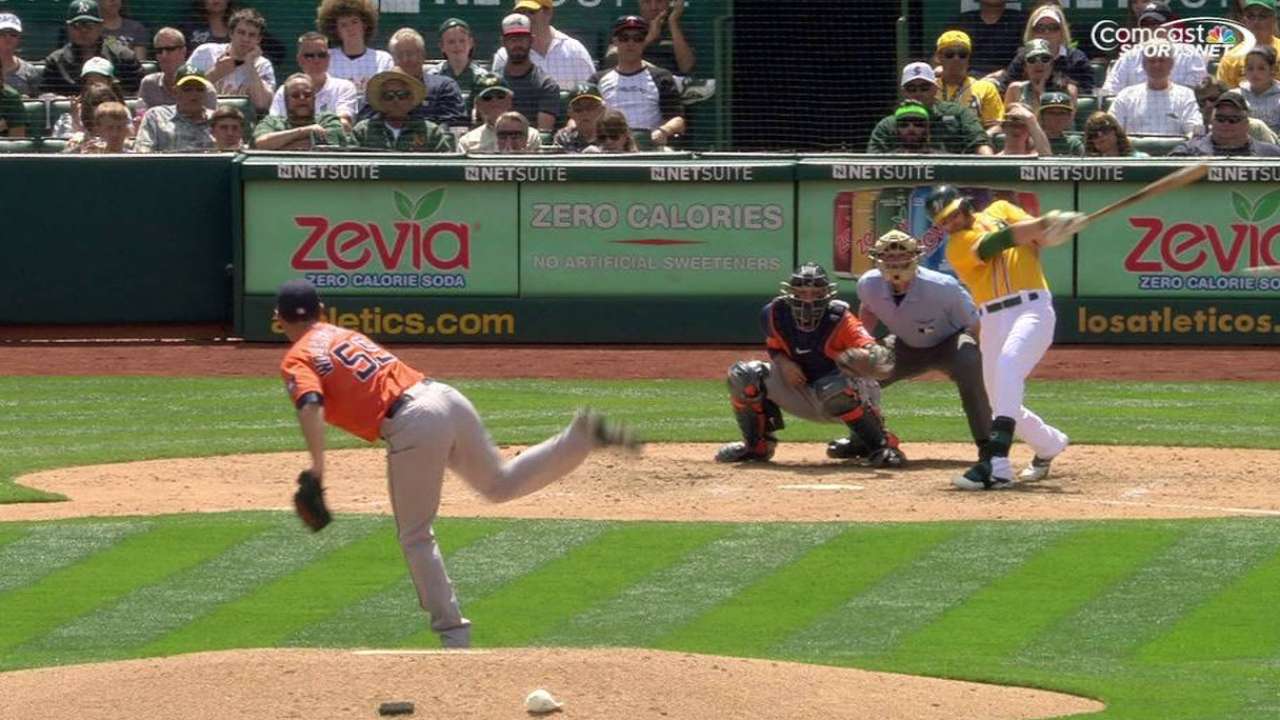 OAKLAND -- A's outfielder Craig Gentry returned from the Minors on Tuesday feeling rejuvenated from his time away from the big league club, a difficult but necessary period during which he rediscovered his swing.
"It was a big adjustment, but it was great," said Gentry. "I think I learned a lot about myself and about me as a player also. I'm going to take the positives out of it. It was a difficult experience, but a good one at that. I'm happy to be back."
For three straight seasons, Gentry was a mainstay in a Major League lineup, posting a .280 average in that span. But early-season struggles at the plate -- he hit .086 in his first 16 games -- led the A's to demote him to Triple-A Nashville on May 6.
He returned for one more game before being sent out again and hit .256 with five home runs and 25 stolen bases in 101 games with the Sounds, including .371 in his final 17 contests.
"It was definitely a really hard year, from an offensive standpoint," Gentry said. "Even when I was down there, I couldn't get anything going for very long, but I feel like I finished up swinging the bat well, feeling good at the plate. I think a lot of it has to do with confidence and getting some hits and building from there, and I was feeling more comfortable.
"I think at the beginning of the season, playing so poorly up here and then going down, I had no confidence at the plate at all."
This was evident in his demeanor in the clubhouse, too, and even manager Bob Melvin took quick note of Gentry's upbeat attitude Tuesday.
"Just mentally, it can get to you," Melvin said. "I think with him it was more that than anything else. It can grind on you a little bit, snowball, and next thing you know, you're not performing in the fashion you're used to performing."
Gentry, 31, is entering his final offseason of arbitration eligibility, presenting the A's with the decision of whether to tender him a contract. His value lies in his versatility and speed, and his performance in the ensuing weeks could help determine his fate in Oakland.
"It's not like we've given up on him," Melvin said. "We have good outfield depth, and he's part of that. I don't see anything happening with him, as far as his standing withing our organization. It was just more so about the room on the 25-man roster for a while."
"I guess all I can do is focus on finishing up strong and try to make it a more difficult decision for them," Gentry said. "I really don't know what's going to happen."
Corner infielder Max Muncy also was recalled Tuesday for his fourth stint of the season with the A's, bringing their active roster to 35 players.
Jane Lee is a reporter for MLB.com. This story was not subject to the approval of Major League Baseball or its clubs.