Astros have Gray on ropes, but can't cash in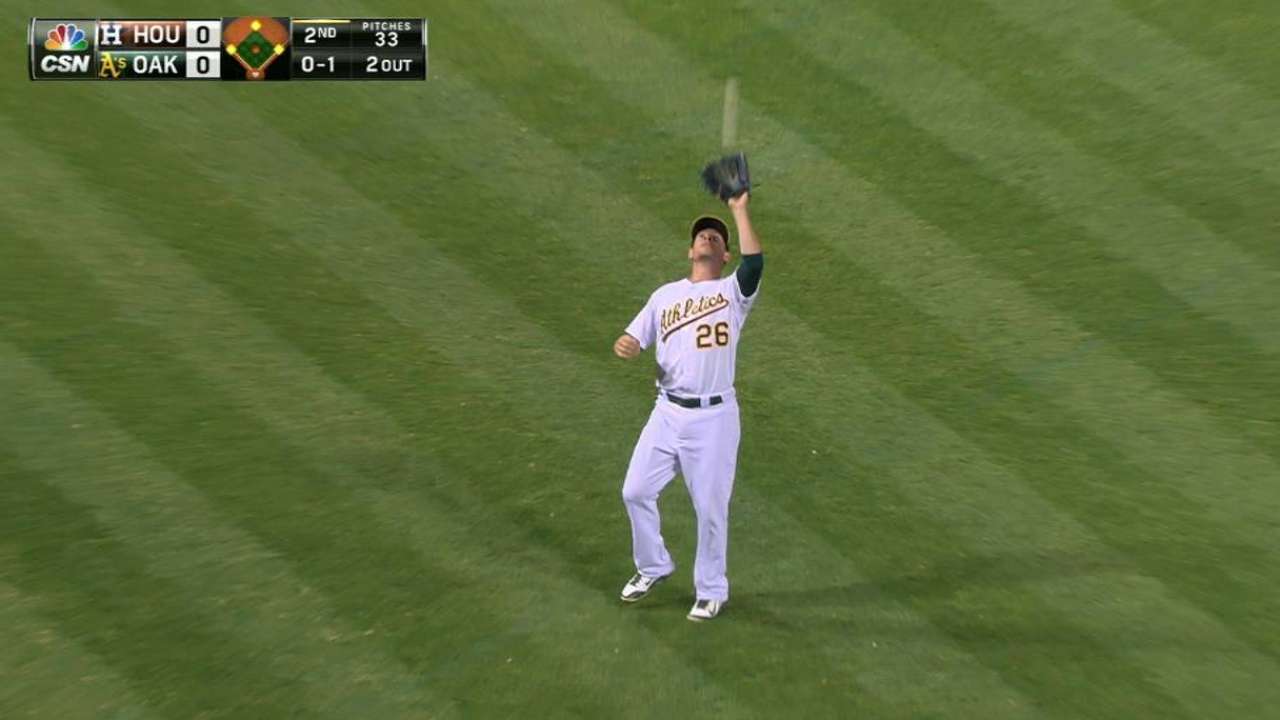 OAKLAND -- The Athletics' Sonny Gray didn't need any help as Oakland defeated Houston, 4-0, Tuesday night at the Coliseum, but the Astros provided it anyway.
The Astros' offense stranded seven runners and went 0-for-5 with runners in scoring position as they saw their lead over the Rangers in the American League West drop to one game following Texas' win in Seattle.
"Obviously, today wasn't one of the best days," Astros catcher Hank Conger said. "You've got to tip your hat to Sonny."
While Gray was solid throughout his seven scoreless innings, the Astros had their opportunities to put runs on the board.
Carlos Gomez led off the second inning with a double to left field, and after Jed Lowrie lined out to Jake Smolinski in left, Evan Gattis and Luis Valbuena walked to load the bases. But Conger (strikeout, swinging) and Jake Marisnick (popup to third) were unable to drive in a run, seeing a combined five pitches in their two at-bats.
"Right there, with us struggling to score some runs, I've got to do a better job as far as at least trying to work the count or at least trying to put the ball in play, and try to battle off those pitches," Conger said.
It seemed as if momentum was leaning Houston's way, but Gray was able to bear down and record the outs he needed to get it back on his side.
"Coming into the game, we know the opportunities against Gray are going to be few and far between," Astros manager A.J. Hinch said. "Certainly, the opportunity early that he pitched out of was a big one."
Houston did get another chance in the fifth. Valbuena singled to begin the inning and George Springer followed with a single of his own with two outs, but Jose Altuve lined out to right field to halt the rally.
In Gray's final inning, he allowed consecutive two-out singles to Conger and Preston Tucker, but was able to work out of another jam as he got Springer to ground out to end the frame.
"You look at a guy like that, he's an All-Star, Cy Young candidate," Conger said. "You want to try and do something to break the tension. Especially knowing that if you don't capitalize in a situation, it could be the only situation you have to capitalize on for the rest of the game."
Oliver Macklin is an associate reporter for MLB.com. This story was not subject to the approval of Major League Baseball or its clubs.