Hinch: Correa, Springer adjusted 'very quickly'
Astros announce rotation for weekend series vs. Angels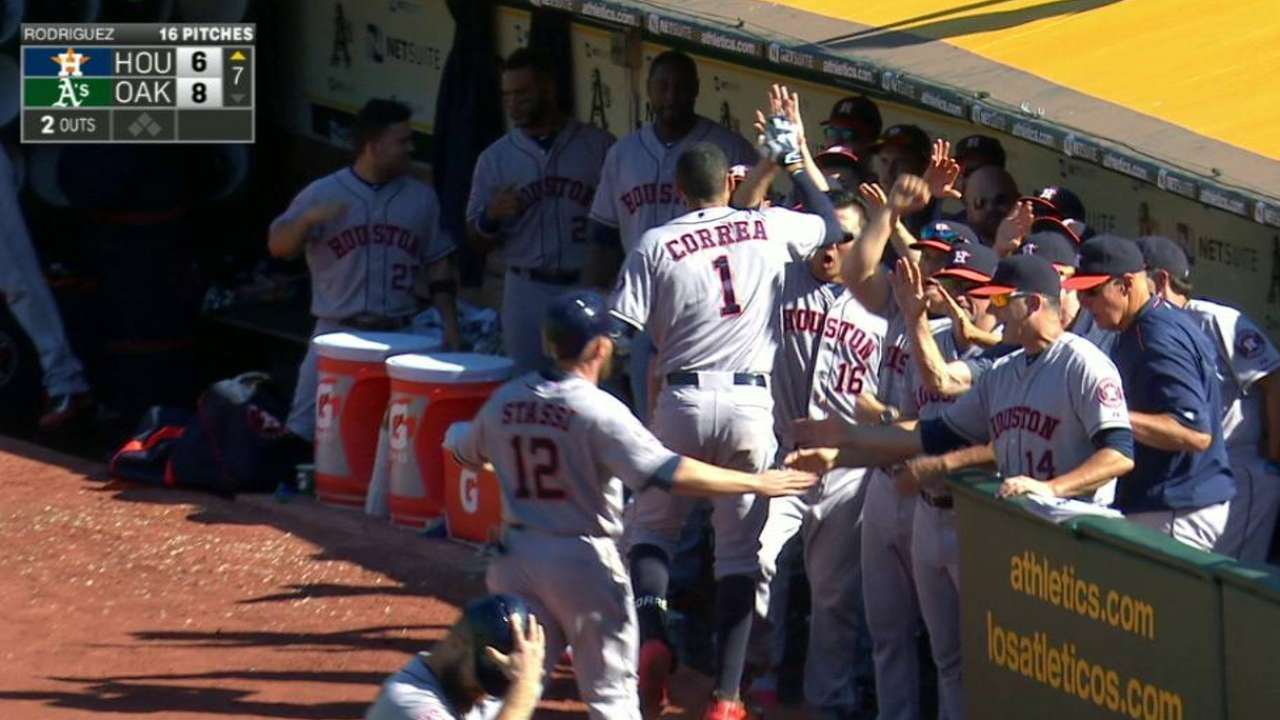 OAKLAND -- Carlos Correa clubbed his 17th home run Monday and knocked in his 50th RBI, joining teammate George Springer as the only players in franchise history to reach those totals in their first 75 big league games.
Springer accomplished the feat last year with 19 homers and 50 RBIs in his first 75 games after being called up midseason.
Correa arrived at the Coliseum on Monday needing a homer and four RBIs to become a member of Springer's elite club.
The rookie shortstop drove in a run in the first inning on a groundout, then made his mark in the seventh, when he crushed a three-run blast into the left-field seats off Athletics reliever Fernando Rodriguez.
Correa did not seem satisfied Tuesday, because the Astros lost Monday's game to the A's, 10-9.
"If I'm getting the team to win because of that, it makes me feel like I've accomplished something," Correa said. "At the end of the day, if you have good numbers and your team is losing, you're not accomplishing anything."
Springer, 25, and Correa, 20, have played a major role in turning around an organization that won just 51 games in 2013.
Springer made a big splash with Houston in 2014, giving the Astros' faithful a glimpse of the franchise's promising future. Correa followed suit this year, propelling Houston to first place in the American League West.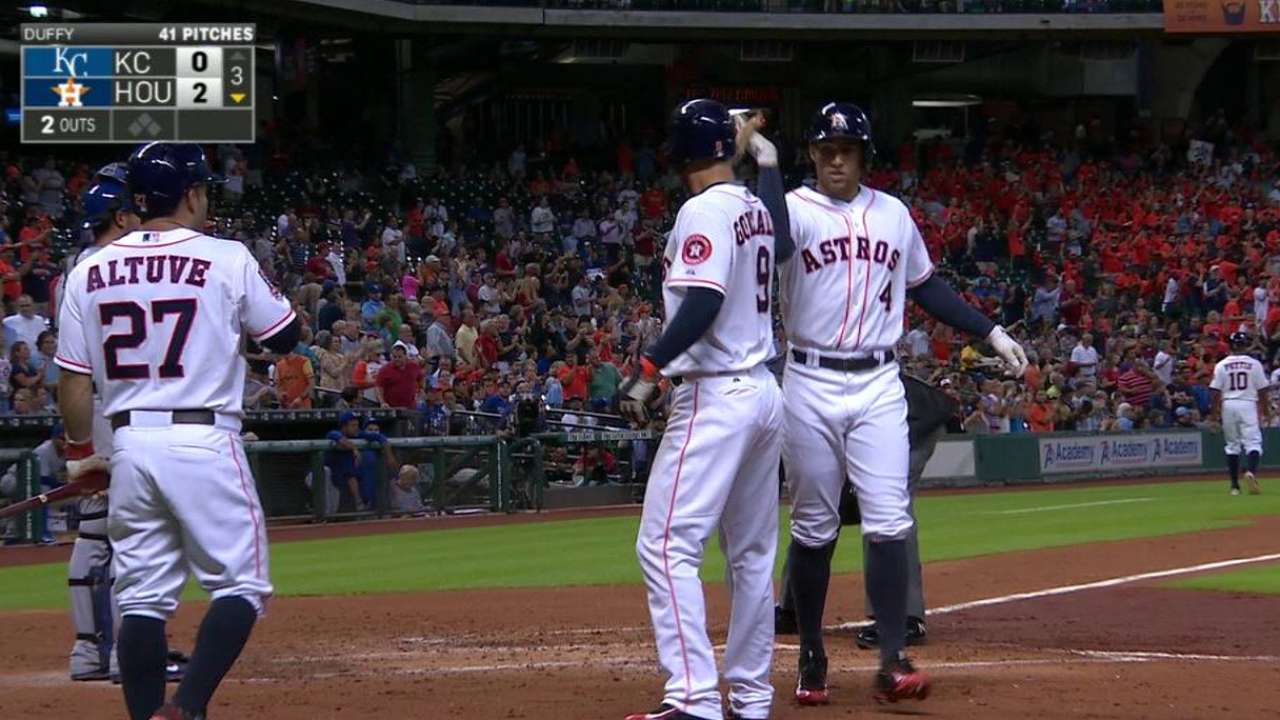 "Certainly, they're two of the more impactful players we have in general, let alone their experience level," manager A.J. Hinch said. "It's rare to have that type of talent arrive so soon after one another."
Hinch credited the young duo's knack to adapt on the fly as to why they have found success early on.
"They both adjusted to the big leagues very quickly," Hinch said. "They've both shown they belong at an early age, and there's a reason why they're hitting in the top third of our order consistently. It's due to their talent and ability to adjust to this level right when they got here."
• Hinch announced the Astros' plan for their pitching rotation for Houston's next series against the Angels. Dallas Keuchel will throw Friday, followed by Lance McCullers on Saturday and Mike Fiers on Sunday.
• Jason Castro has resumed running on the treadmill and "hit a couple days in a row," Hinch said Tuesday. The catcher has been on the disabled list since August 29 with a right quad strain.
"It's progressing nicely," Hinch said of Castro's rehab process. "But he hasn't done the catching stuff."
The Astros' skipper said Castro will meet the team in Anaheim later in the week to engage in more rigorous baseball activities. The plan is for Castro to catch Tony Sipp, who is working his way back from back and oblique issues, in "the next day or so in Houston," Hinch said.
Oliver Macklin is an associate reporter for MLB.com. This story was not subject to the approval of Major League Baseball or its clubs.