Mariners call up four, including Montero
Jones, Ramirez and Baron join Seattle for final stretch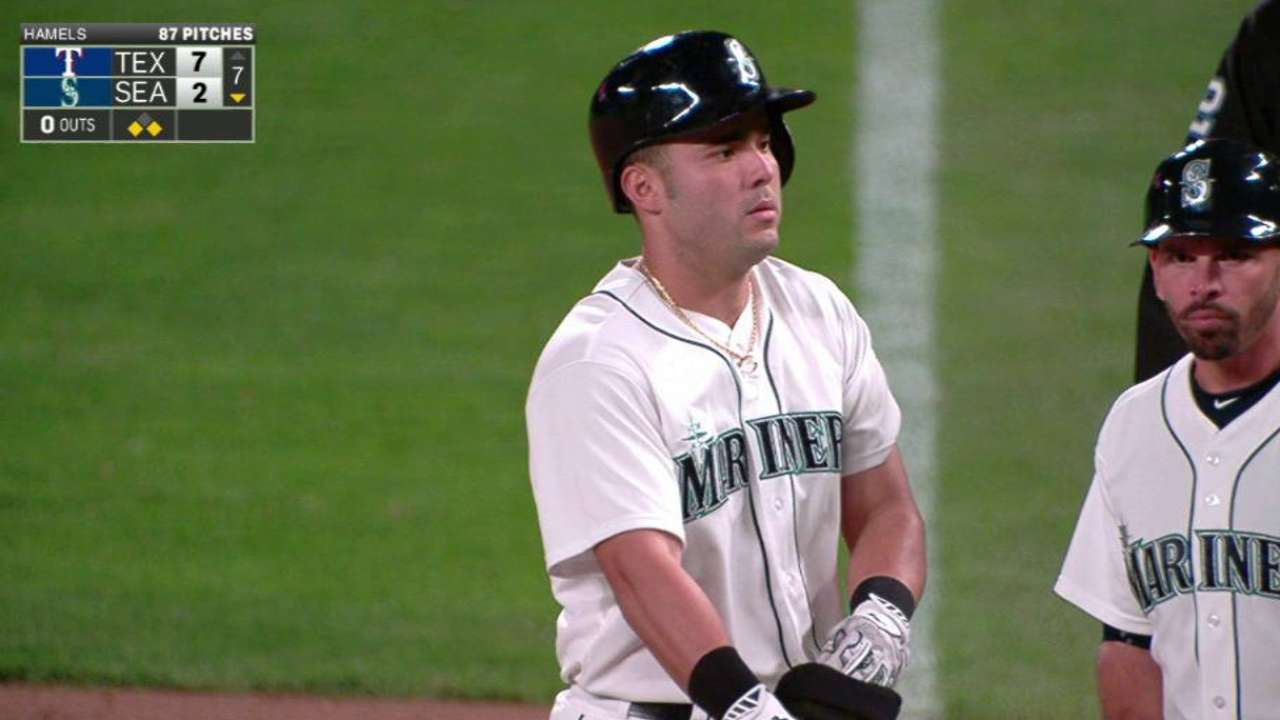 SEATTLE -- The Mariners have recalled outfielder James Jones and first baseman/designated hitter Jesus Montero from Triple-A Tacoma and have selected catcher Steven Baron and right-handed pitcher JC Ramirez from Tacoma, the club announced Tuesday. The moves fill Seattle's 40-man roster.
Ramirez walked one in two scoreless innings in relief of Mariners starter Taijuan Walker in Tuesday night's 9-6 loss to the Rangers. In his first start since Aug. 31, Montero logged his first multi-hit game since Aug. 19, going 2-for-4 with and RBI and two runs.
"We feel they can give us a chance to win games. Obviously, when you have more bodies you have more options to do things and I think a third catcher is important. James Jones can steal bases and do a lot of things," said Mariners manager Lloyd McClendon. "We sent Montero down just to get some at-bats and reports on [Ramirez] is that he's a power arm who's throwing close to 100 miles an hour."
Montero, 25, and Jones, 26, will each be joining the Mariners for their third stint this season. In 98 games with the Rainiers this season, Montero hit .355 with 18 home runs and 85 RBIs. He went 2-for-35 for the Mariners between Aug. 10 and Aug. 31 before being optioned to Tacoma.
Jones hit .272 with 24 stolen bases in 28 attempts in 72 games with the Rainiers in 2015. He is hitless in 12 at-bats with the Mariners this season.
Ramirez, who was acquired by the Mariners in a cash deal with the D-backs on July 27, is set to make his Mariners debut. He went 1-1 with a 2.50 ERA in 14 relief appearances with the Rainiers. He also posted a 4.11 ERA in 12 games with the D-backs this season.
"It's huge for me. I have an opportunity to show people that I can be here for a long time and show people I'm consistent," Ramirez said. "I tried to do my job and throw strikes [in Tacoma]. It was my first time in the PCL, but I was trying to focus on showing people that if I do a great job there, I can be great everywhere. That's what was on my mind. Try to be consistent and throw down in the zone."
Baron, 24, has yet to appear in a Major League game. He hit .277 in 53 games with Tacoma this season and has played in 488 Minor League games since he was drafted 33rd overall by the Mariners in 2009. Tuesday was his first time in the Mariners' clubhouse since he was drafted.
"Bit of a surprise. I think my body's still numb. I know it's been a long road for me, but I'm just happy to be here," Baron said. "Obviously, lots of emotions and lots of thoughts going through my head, thinking back to where you came from. It's exciting."
Baron said he was standing on third base in Las Vegas over the weekend when Tacoma Rainiers manager Pat Listach asked him where his girlfriend, who made the trip, was sitting in the stands. Listach wanted Baron's girlfriend to hear the good news first and had a little good-natured fun with Baron, who was the last Rainier to find out about his promotion to Seattle.
"It just came from a lot of failures and learning from those failures. It was difficult, obviously I questioned my career quite a bit," Baron said. "The biggest thing was staying positive, day in, day out. It's such a negative game so you have to take all the positives you can."
Worth noting
• Dan Wilson, the Mariners' Minor League catching coordinator, will join Seattle's coaching staff for the remainder of the club's 10-game homestand.
• Left-handed relief pitcher Charlie Furbush, who was placed on the disabled list July 9 with left biceps tendinitis and was diagnosed with a small tear in his left rotator cuff after an Aug. 20 MRI, has been transferred to the 60-day DL.
Andrew Erickson is an associate reporter for MLB.com. This story was not subject to the approval of Major League Baseball or its clubs.