Gibson makes complete turn after shaky 1st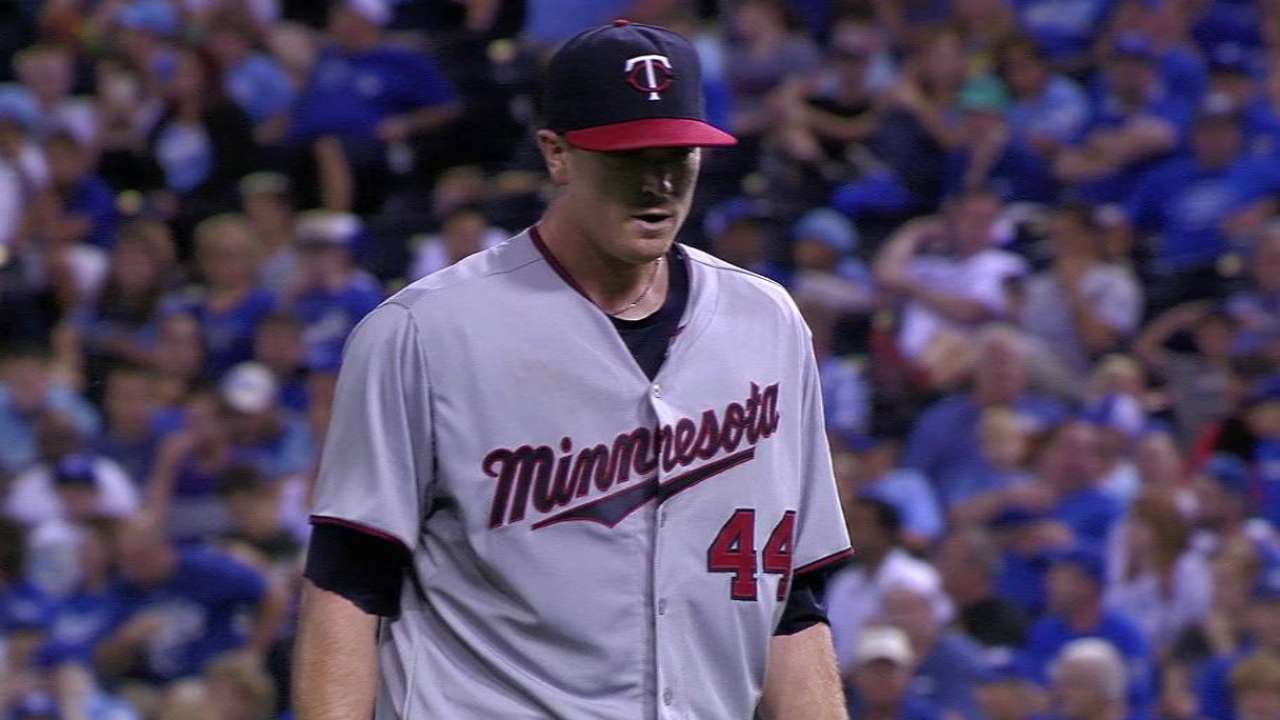 KANSAS CITY -- It was quite the turnaround for Twins right-hander Kyle Gibson.
After allowing four runs through his first nine pitches, Gibson was able to bounce back and throw his first career complete game in a 4-2 loss to the Royals on Tuesday night at Kauffman Stadium.
Gibson allowed the first six batters he faced to reach and if he was unable to retire Salvador Perez with none out in the first, manager Paul Molitor was going to lift his starter for long reliever Logan Darnell. Instead, Gibson was able to get Perez to fly out to center and Alex Rios to ground into a double play before cruising from there, as Gibson allowed two hits the rest of the way.
"He was able to show he's got heart," Molitor said. "He's a pitch away from not recording an out and he gives us a complete game, however, on the losing end. They just ambushed us."
Gibson was in trouble right out of the gate, as Ben Zobrist and Alex Gordon opened with first-pitch singles before Lorenzo Cain walked on four pitches. Eric Hosmer fouled off a fastball before Gibson missed with a changeup that was supposed to be inside, but ended up over the plate, and Hosmer ripped it for a three-run double. Just one pitch later, Kendrys Morales scored Hosmer with a double.
"They came out swinging and I was definitely surprised," Gibson said. "I don't think I've ever had a team do that to me that quick. It was [nine] pitches and four runs, and that's tough to do."
Gibson credited a mound visit by pitching coach Neil Allen after Morales' double to help settle things down. Gibson walked Mike Moustakas on five pitches immediately after Allen's visit, but he retired 23 of the next 25 batters. Allen's message was that it was a new game and to put those four runs behind him.
"It was one of those situations where the game can speed up on you so I was just trying to keep a level head out there," Gibson said. "I couldn't get too emotionally wrapped up in what happened. You just have to focus on each hitter and move on."
Gibson's effort impressed his teammates, as the righty showed resolve by being able to move on from that first inning and deliver a strong performance.
"He gave us a chance," second baseman Brian Dozier said. "Sometimes, you see people lose their focus when they give up four runs in the first, but Gibby is a bulldog. He rebounded from it and kept us in the game."
Gibson's outing also helped the bullpen going forward by giving the unit some much needed rest, especially with Mike Pelfrey slated to go in Wednesday's rubber game. Pelfrey hasn't gone longer than 5 1/3 innings since Aug. 12.
"Despite the loss, you try to find positives and our bullpen, we had a bunch of guys up, but none of them had to pitch," Molitor said. "We get a chance to have a fresh bullpen tomorrow and try to find a way to get even on the trip, and get out of here with a series win."
Rhett Bollinger is a reporter for MLB.com. Read his blog, Bollinger Beat, follow him on Twitter @RhettBollinger and listen to his podcast. This story was not subject to the approval of Major League Baseball or its clubs.