Rangers ride 4 HRs to win, sit 1 back in West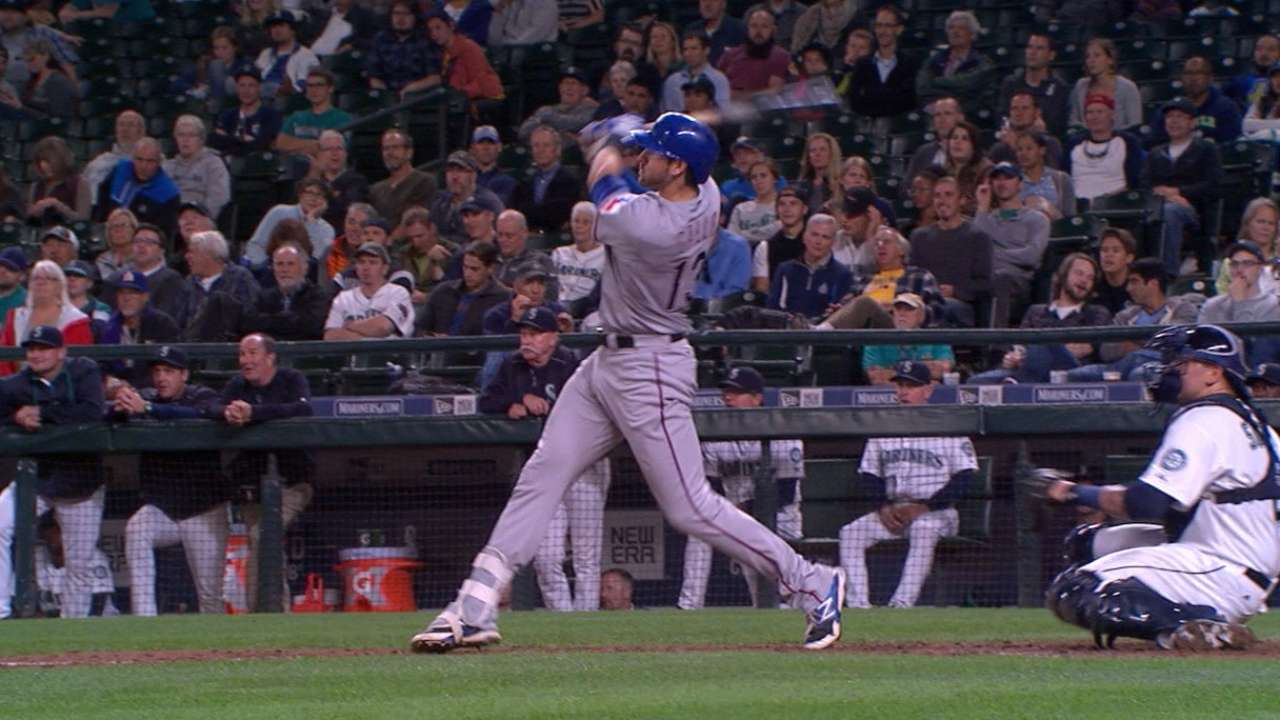 SEATTLE -- The Rangers won their fifth straight game with Cole Hamels on the mound and hit a trifecta in the American League standings with an 9-6 victory at Safeco Field on Tuesday.
The Rangers win came on a night when the first-place Astros lost to the Athletics in Oakland. That allowed the Rangers to move to within one game of Houston in the American League West and the two teams are tied in the loss column. The Rangers also opened up some ground in the Wild Card standings as both the Twins and the Angels lost. The Rangers are now up 2 1/2 on the Twins and 4 1/2 on the Angels.
"We are a long ways from where we want to be," first baseman Mitch Moreland said. "We can't worry about other teams. We have to come out, play hard and take care of our business. If the other teams go down, that's great."
Hamels allowed four runs in seven innings on eight hits, a walk and three strikeouts. He had a 7-1 lead going into the bottom of the seventh before giving up three runs. He is 3-0 with a 3.34 ERA in his last five starts.
"They have been scoring runs for me," Hamels said. "I haven't helped myself in certain cases, but the team has picked me up. Tonight I turned a good game into a poor one, but you have to credit the guys for getting big home runs, getting on base and fighting all the way to get the victory."
Mariners starter Taijuan Walker gave up three home runs and only lasted three-plus innings. Walker gave up a solo home run to Mitch Moreland in the second, a three-run shot to Shin-Soo Choo in the third and a two-run homer to Rougned Odor in the fourth. Walker had allowed just two home runs in 31 1/3 innings in five August starts.
"He threw up a clunker," said Mariners manager Lloyd McClendon. "He wasn't very good."
MOMENTS THAT MATTERED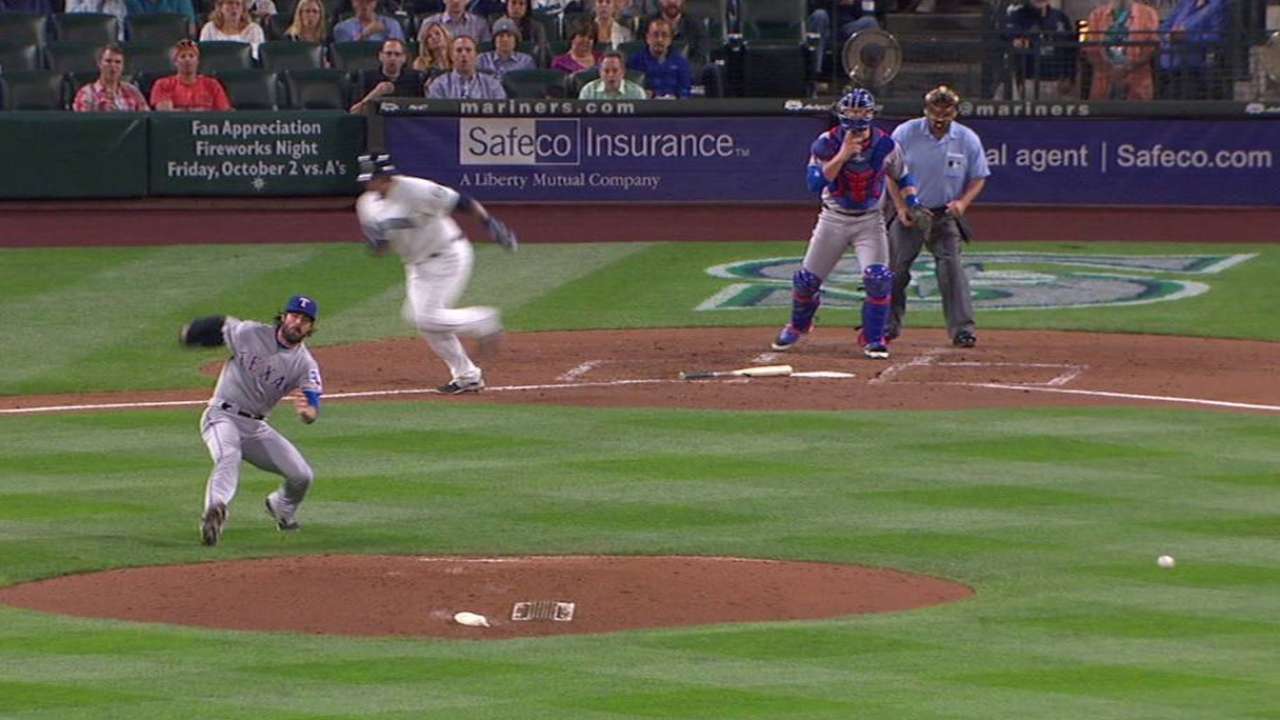 Hamels avoids beaning, big inning: After Hamels started the Mariners' third by allowing a single and a walk, Jesus Sucre hit a wicked line drive up the middle. The ball glanced off his glove and hit him in the front of his left shoulder. Hamels fell over backward and Sucre ended up with an infield hit. Hamels was checked out quickly by manager Jeff Banister and trainer Kevin Harmon, but stayed in the game. He also got out of the jam allowing just one run. He struck out Ketel Marte, got Kyle Seager to ground into a force play that brought the run home and then got Stefen Romero on a grounder to end the inning with the Rangers leading, 4-1.
"I was lucky it hit the muscle I have on my body," Hamels said. "It absorbed everything. I'll have a nice bruise for a couple of days."
• Texas picks perfect time to end HR drought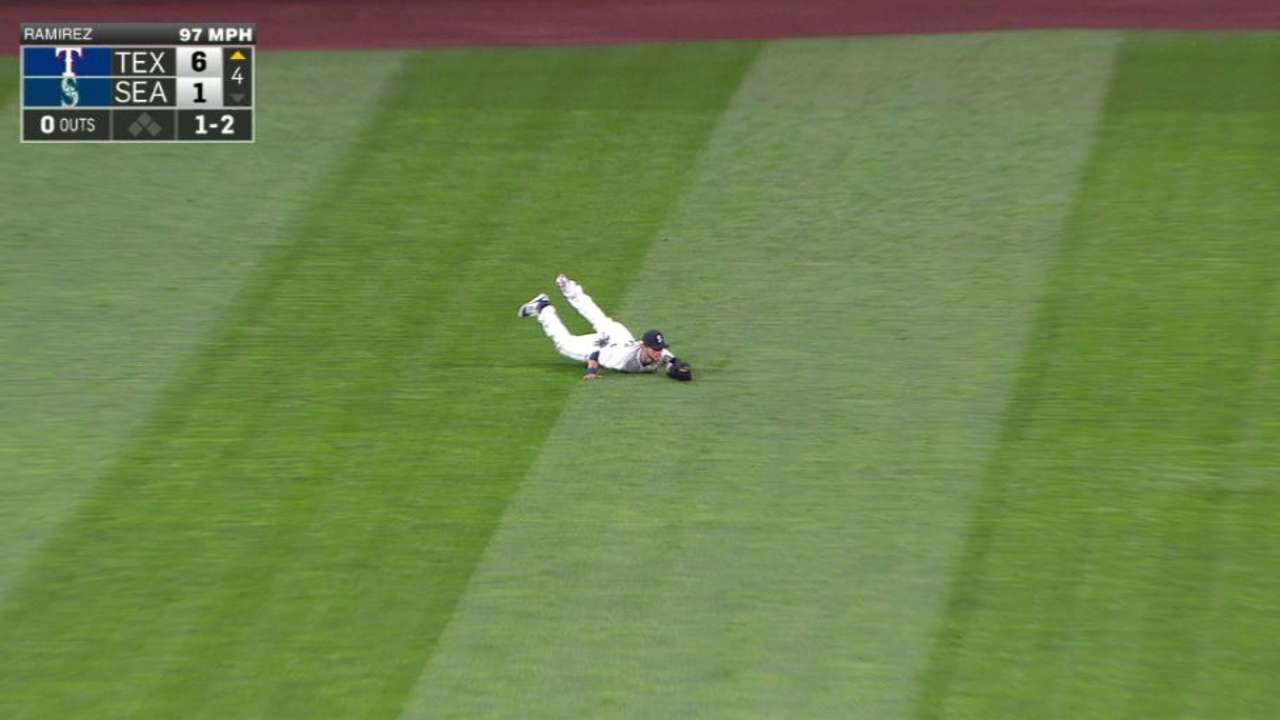 O'Malley's outstanding grabs: The 13,339 fans in attendance at Safeco Field on Tuesday night didn't have much to cheer about, but when they did, center fielder Shawn O'Malley was often the reason. Despite limited experience in center field, the 28-year-old robbed the Rangers of a hit in both the fourth and fifth innings. With no outs in the fourth, O'Malley dove forward to prevent a Joey Gallo sinking liner from hitting the grass for the first out of the inning. He hit the grass once more an inning later, sprinting toward the left-center gap to track down the final out of the fifth and take what would have been extra bases away from Elvis Andrus.
"He played well," McClendon said. "Made a couple nice running, diving catches out there and did a nice job."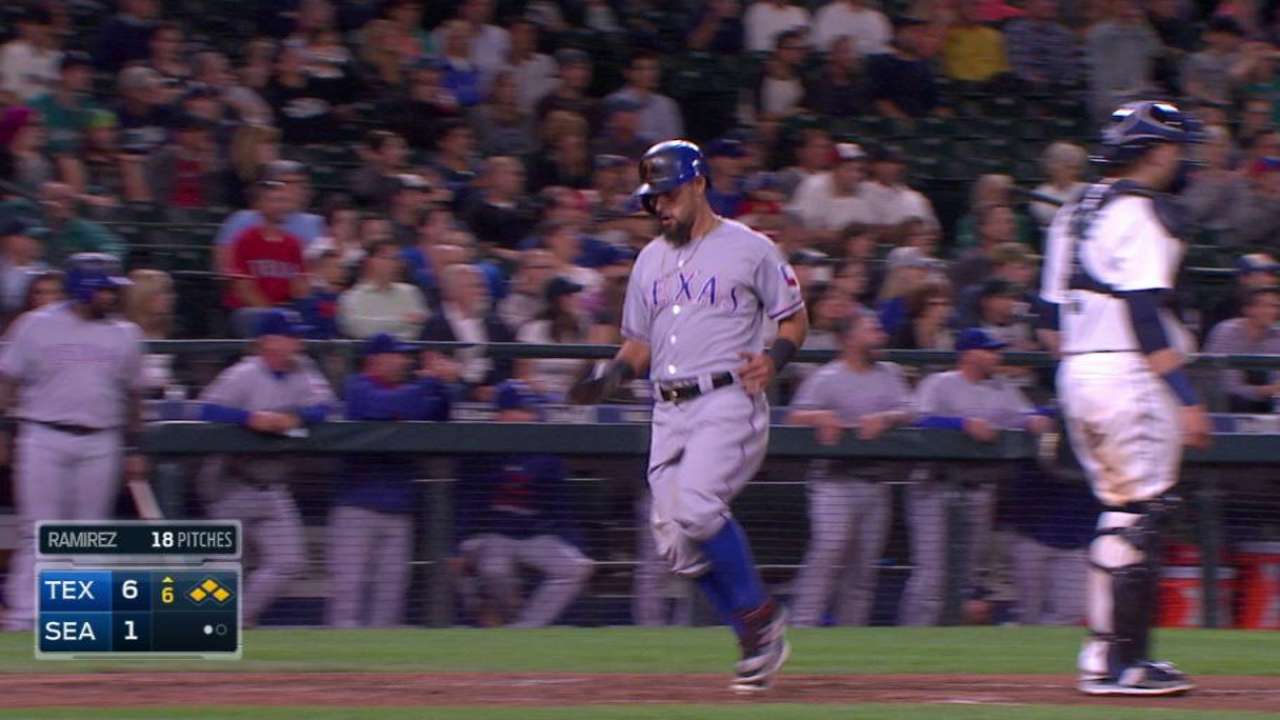 Venable handles top spot: Will Venable took over the leadoff spot for the Rangers with Delino DeShields out and he did a commendable job. He was 2-for-4 with a double and got hit by a pitch. He stole a base, scored a run and drove in another.
"It was good to see Venable show up at the top of our lineup," Banister said.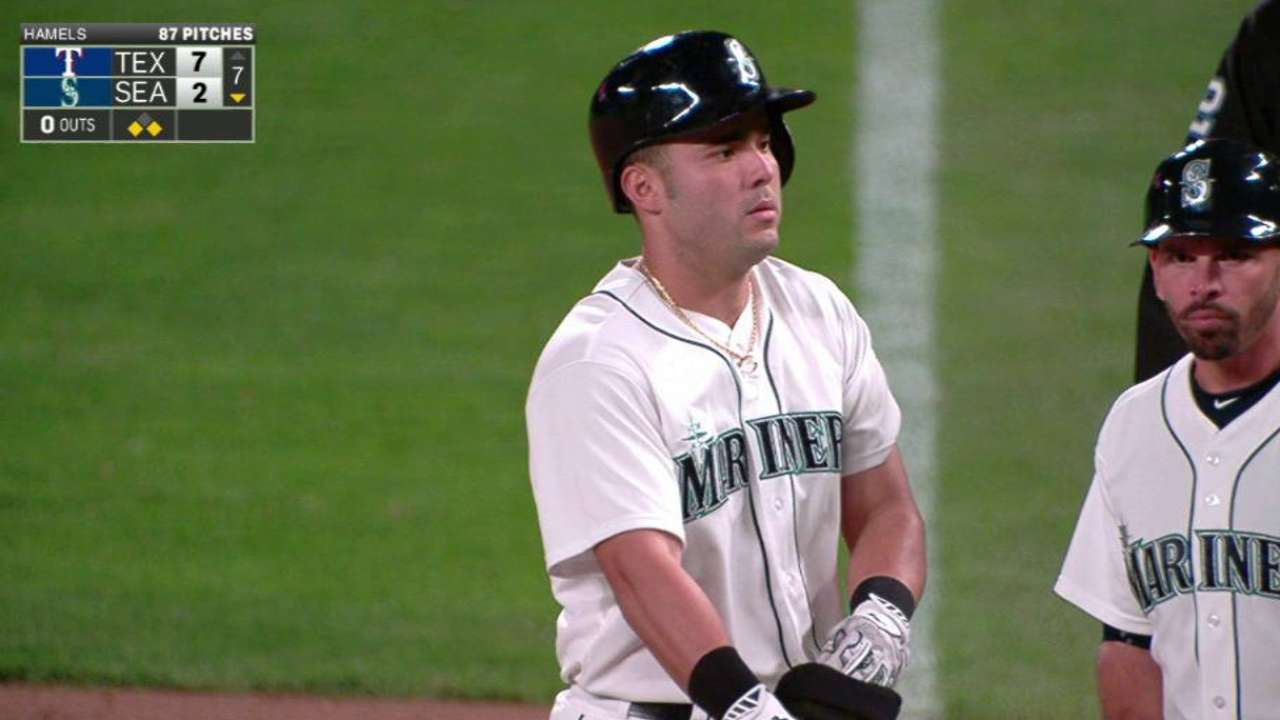 Trimming the deficit: The Mariners managed just one run against Cole Hamels in his first six innings, but got to the Rangers lefty in the seventh, tallying three runs to cut the Texas lead to 7-4. Jesus Montero singled to right with runners on second and third to score the first run of the inning, O'Malley hit a sacrifice fly to right to score Logan Morrison and Marte added an RBI with a groundout to second with one out. Robinson Cano made it 8-6 an inning later with a 419-foot, two-run blast to right-center off Jake Diekman.
"It's always good to go out and try to help the team to win a game, but I'm not the kind of guy who goes up and says, 'OK, I did my job and let's go home,''' Cano said. "It's good to hit one like that, but if you don't win the game it doesn't mean anything."
WHAT'S NEXT
Rangers: Left-hander Martin Perez will be making his 10th start since returning from Tommy John elbow reconstruction surgery on Wednesday at 9:10 p.m. CT. He is trying for his first road win as he is 0-3 with a 4.50 ERA in five starts.
Mariners: Left-hander Vidal Nuno (0-2, 3.72 ERA) will make his sixth start for the Mariners in the third-game of a four-game set Wednesday at 7:10 p.m. PT at Safeco Field. Nuno is 0-2 with a 5.26 ERA as a starter this season and is winless in his last 20 starts dating back to June 27, 2014.
Watch every out-of-market regular season game live on MLB.TV.
Andrew Erickson is an associate reporter for MLB.com and T.R. Sullivan is a reporter for MLB.com. This story was not subject to the approval of Major League Baseball or its clubs.