After 10 years, Ashley finally gets big league call
31-year-old nearly walked away from baseball in 2013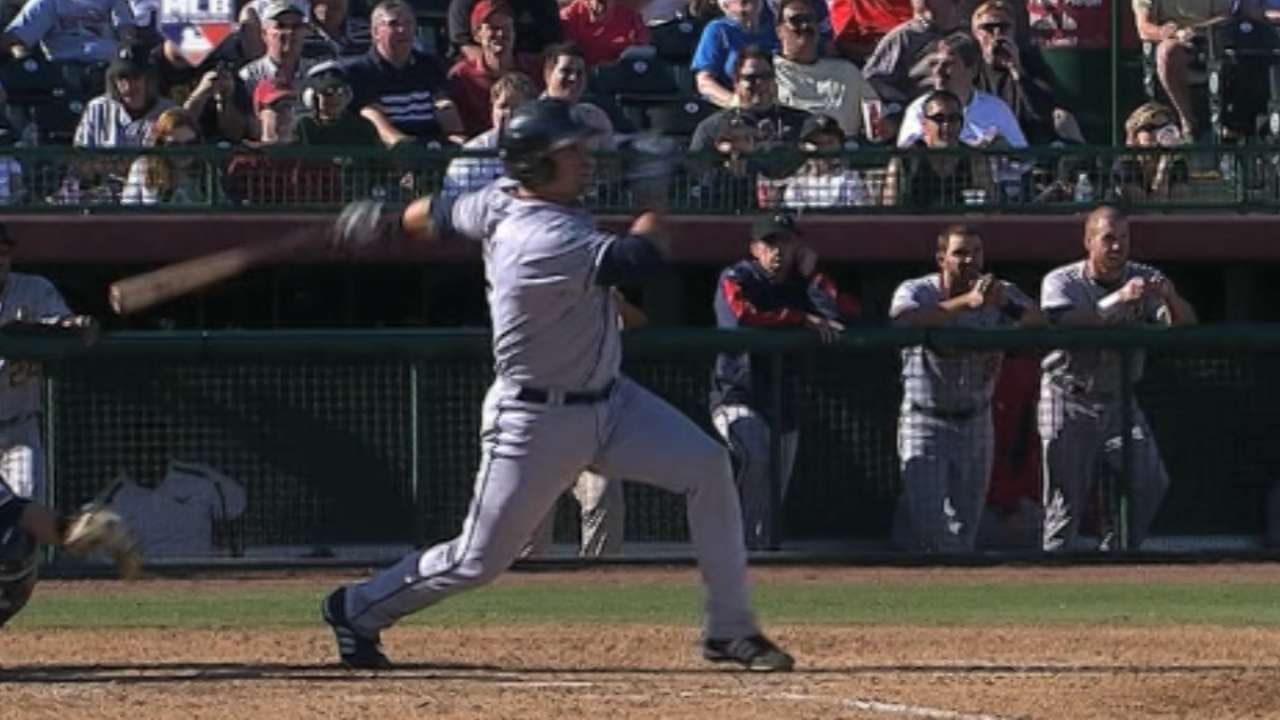 MIAMI -- Nevin Ashley was exiting the showers on Monday evening, his 10th Minor League season in the books. He had sent his wife, Ashley -- yes, her name is Ashley Ashley -- home to Indiana a few days earlier with the couple's young son, Gaige, and was preparing to join them that night after a flight from Triple-A Colorado Springs. But manager Rick Sweet blocked his path.
"He looks at me, shakes my hand, and I was thinking he was going to say, 'Good season,'" Ashley said. "And he says, "Congrats. You did it. You're going up.'"
Up to the Brewers and the Major Leagues.
The 31-year-old Ashley is a former top prospect of the Rays who had nearly walked away from baseball in 2013.
"Ten years waiting," Ashley said. "Since I was a kid, I've been dreaming. I kept grinding, and thank goodness it turned out. … It's a dream come true. This is what I hoped for since Day 1 when I signed with the Rays, and I'm excited it happened this year with the Brewers. I can't wait to get out on the field and contribute to this team and to this rebuilding process."
After 10 years in the minors, @nevin_ashley gets the call to the Major Leagues. pic.twitter.com/o2PXRsoFOf

- Milwaukee Brewers (@Brewers) September 8, 2015
Ashley was the Rays' sixth-round Draft pick in 2006, and was a fairly decorated defensive catching prospect, earning All-Prospect team honors in the 2009 Arizona Fall League. But a series of acquisitions pushed him down the organizational depth chart before Ashley suffered a broken hand on a foul tip in 2012, and the Rays let him go after that season.
Ashley played the next three seasons in Triple-A for three different organizations -- the Reds, Pirates and Brewers.
Twice along the way, Ashley came within a hair of the Major Leagues. In 2010, he traveled with the Rays throughout the postseason in case a catcher suffered an injury and the team needed an emergency replacement. In 2014, the Pirates called him up to Pittsburgh in June, but he was never activated.
On Monday, Ashley finally made it, earning the bump by batting .306 with eight home runs and 61 RBIs in 94 games for Colorado Springs. In adding Ashley to the 40-man roster and promoting him to the big leagues, the Brewers passed over Juan Centeno, another catcher who was already on the 40-man roster.
"It's great to reward people who have earned it," manager Craig Counsell said of Ashley. "I don't know that he's going to start games, but on a day like today when I look at the lineup card [and Ashley and the other backup catcher, Martin Maldonado, were the only right-handed batters on the bench], you can certainly see an at-bat in there."
When he makes his official Major League debut, it will mark another milepost on Ashley's long journey.
"There was times in 2013 when I was pretty close to hanging 'em up," Ashley said. "My wife told me, 'Hey, your body is capable of doing it. This is your dream. Don't give up now.' I stuck in there and I had a great mentor in [former Reds catcher] Corky Miller, who helped me find the love of the game again. Ever since then, I've been having a blast. Now, I'm here."
Adam McCalvy is a reporter for MLB.com. Follow him on Twitter @AdamMcCalvy, like him on Facebook and listen to his podcast. This story was not subject to the approval of Major League Baseball or its clubs.