Fantasy Closer Report: Edition 24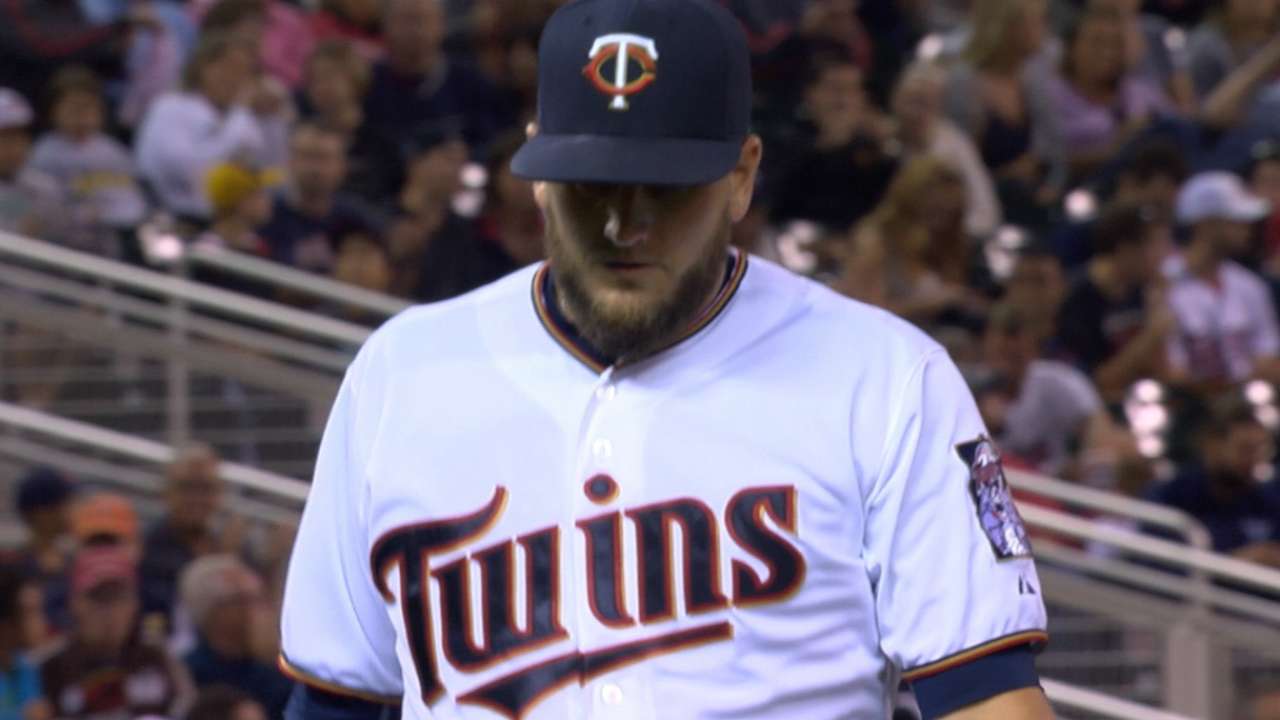 The Twins' playoff chances took a hit last week, when it was announced that Glen Perkins would be out indefinitely with back spasms, and so did the chances of fantasy owners with him on their roster. Although his second half hasn't been nearly as productive as his first, Perkins has been one of the most valuable fantasy closers this season.
Perkins seems a bit blindsided by the injury, and since it's one involving his back, there's no guarantee he'll be healthy again this season. If there's no room to stash him on the disabled list, he's a safe drop candidate in most redraft leagues.
As for his replacement, Kevin Jepsen has been outstanding since the Twins acquired him at the non-waiver Trade Deadline, and he was pitching pretty well for the Rays before that. He's not going to put up huge strikeout numbers, but he does well enough in that category. More importantly, Jepsen will get you some saves down the stretch. He's likely already owned, but if by some chance he's not, he needs to be added immediately. The term "indefinitely" is never good, and there's a decent chance Jepsen will keep the closer role even if Perkins returns, considering how the latter was pitching before he got injured.
Sean Doolittle time?
If you added Doolittle a couple of weeks ago when he was first getting ready to come back from the disabled list, it's looking like that move will pay off. Drew Pomeranz has had his ups and downs, but he's allowed runs in two of his past four outings. Doolittle, meanwhile, has three consecutive scoreless outings. Even better is the fact that his velocity has been steadily climbing, averaging about 94 mph in his last outing, per Brooks Baseball. The A's have nothing to lose, and they might as well get their stud closer back in his role before the season ends.
While you shouldn't be expecting the elite production Doolittle has shown in the past, considering he missed virtually the entire season, he should be a huge late-season addition and could make a difference in some fantasy championships.
Alex Colome could get save chances
Brad Boxberger has all of the talent in the world, but he's been inconsistent all season. For most teams, he hasn't been so bad that he'd be worrying about his job, but the Rays aren't most teams. They're more likely than most to utilize matchups and use their best reliever in the eighth, meaning Boxberger's closer title is much more loose than others. As such, manager Kevin Cash has hinted that Colome could be seeing some save chances in the final weeks.
Considering the shape of the waiver wire at this point, there aren't many better options. For example, I'd take a chance on Colome getting a few saves rather than latching on to any reliever in Boston getting a consistent shot. The Rays are a quiet American League Wild Card contender that gets by on pitching and defense. That means they're playing in a lot of close games, giving them more save chances than most. Don't expect Colome to be a game-changer this month, but he's striking out more than a batter per inning as a reliever while walking just five in 29 innings. Even when he's not getting saves, he should help out in other categories.
Quick hits
• The Red Sox tried Junichi Tazawa in the ninth, but it's unlikely they'll want to go down that road again. They'll keep him in his setup role, in all likelihood. Jean Machi is currently the closer, and he hasn't been ideal for fantasy owners. Beyond him, there's Alexi Ogando and Robbie Ross Jr. The Red Sox could also decide to go young and try out Heath Hembree, Noe Ramirez or Jonathan Aro, but they are all basically the same player, and that player is not exciting.
• Roberto Osuna had a rough week, appearing in two games and allowing a run in both of them. That doesn't matter in the grand scheme of things, as it's been an impressive first season for the 20-year-old. For fantasy owners who need good performances every week from here on out, it was a noteworthy performance, even if there's little to be worried about moving forward.
• Jeurys Familia may be the most impressive new closer in baseball this year. His numbers are incredible, but you have to watch him to appreciate him. Familia's splitter, which reaches 96 mph with huge movement, is amazing to see.
• Tom Wilhelmsen has taken over the Mariners' closer job. He's gotten saves in each of his past eight appearances while not allowing a run and striking out two batters versus two walks over 9 2/3 innings. For those in long-term leagues, I wouldn't be too worried about Carson Smith, as I'd imagine he'll get another shot at the ninth inning in 2016.
A version of this story originally appeared on Baseball Prospectus.
Matt Collins is a contributor to MLB.com. This story was not subject to the approval of Major League Baseball or its clubs.