Mariners to open '16 vs. rival Rangers on road
Seattle scheduled to face NL Central clubs in Interleague matchups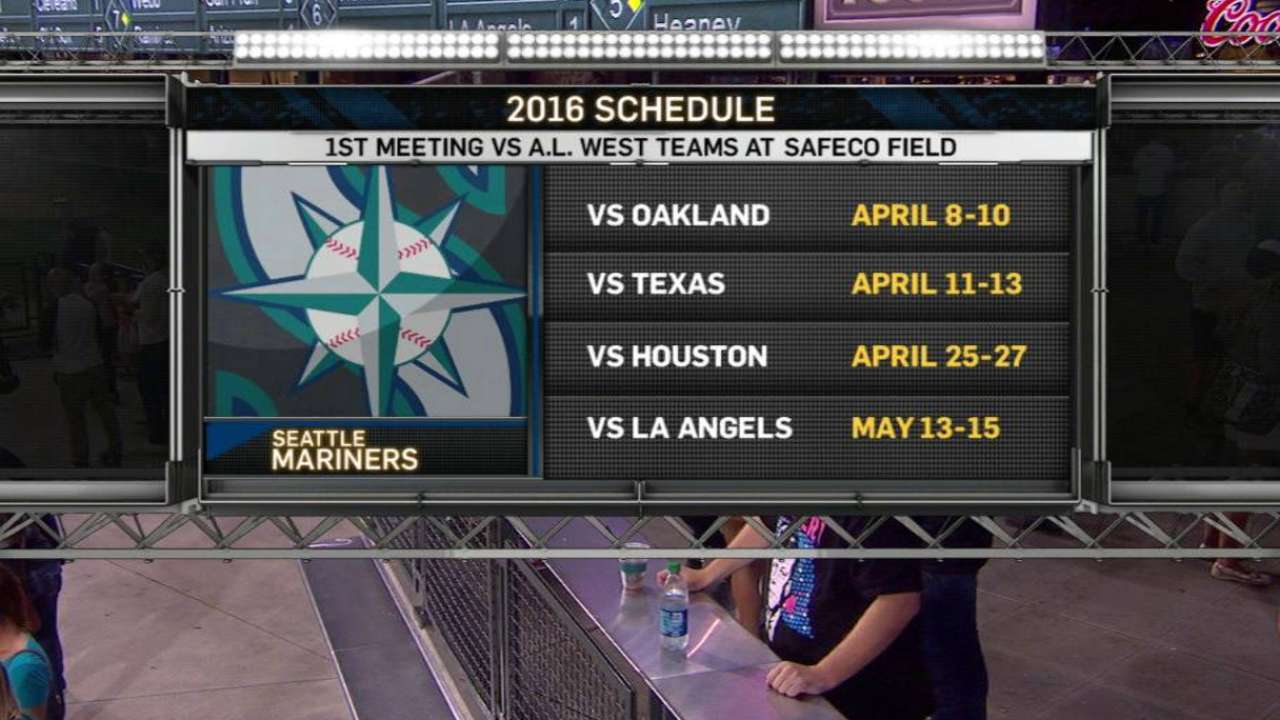 SEATTLE -- For the seventh time in eight years, the Mariners will open their season on the road next April when they kick off their 2016 campaign in Arlington against the American League West rival Rangers.
Major League Baseball released its tentative 2016 schedule on Tuesday, and the Mariners are lined up to face Texas in a three-game series starting Monday, April 4. Seattle's home opener will be Friday, April 8, at 7:10 p.m. PT against Oakland at Safeco Field.
• Tentative 2016 Mariners schedule
The Mariners broke a six-year run of opening on the road this year when they started the season at Safeco Field against the Angels.
Seattle's opening homestand will feature the A's and Rangers, and then the Mariners will head back out on the road for a nine-game, 10-day trip to face the Yankees, Indians and Angels.
Next season's Interleague matchup has the AL West facing the National League Central. The Cardinals come to Safeco for a weekend series on June 24-26, followed by the Pirates on June 28-29 and the Brewers on Aug. 19-21.
The Mariners will travel to Pittsburgh on July 26-27 and play a three-game set against the Cubs at Wrigley Field on July 29-31.
Seattle's annual back-to-back Interleague series against the Padres will be at Safeco Field on May 30-31 and then Petco Field in San Diego on June 1-2.
Other Safeco Field highlights next year will include the Red Sox in town for four games from Aug. 1-4 and the Yankees for a three-game series from Aug. 22-24.
The season concludes with a four-game series against the A's at Safeco from Sept. 29-Oct. 2.
The complete tentative schedule can be seen on Mariners.com. The final schedule, including all start times, will be released by MLB in January.
Greg Johns is a reporter for MLB.com. Follow him on Twitter @GregJohnsMLB, read his Mariners Musings blog, and listen to his podcast. This story was not subject to the approval of Major League Baseball or its clubs.