O'Brien, Brito called up as D-backs make 7 moves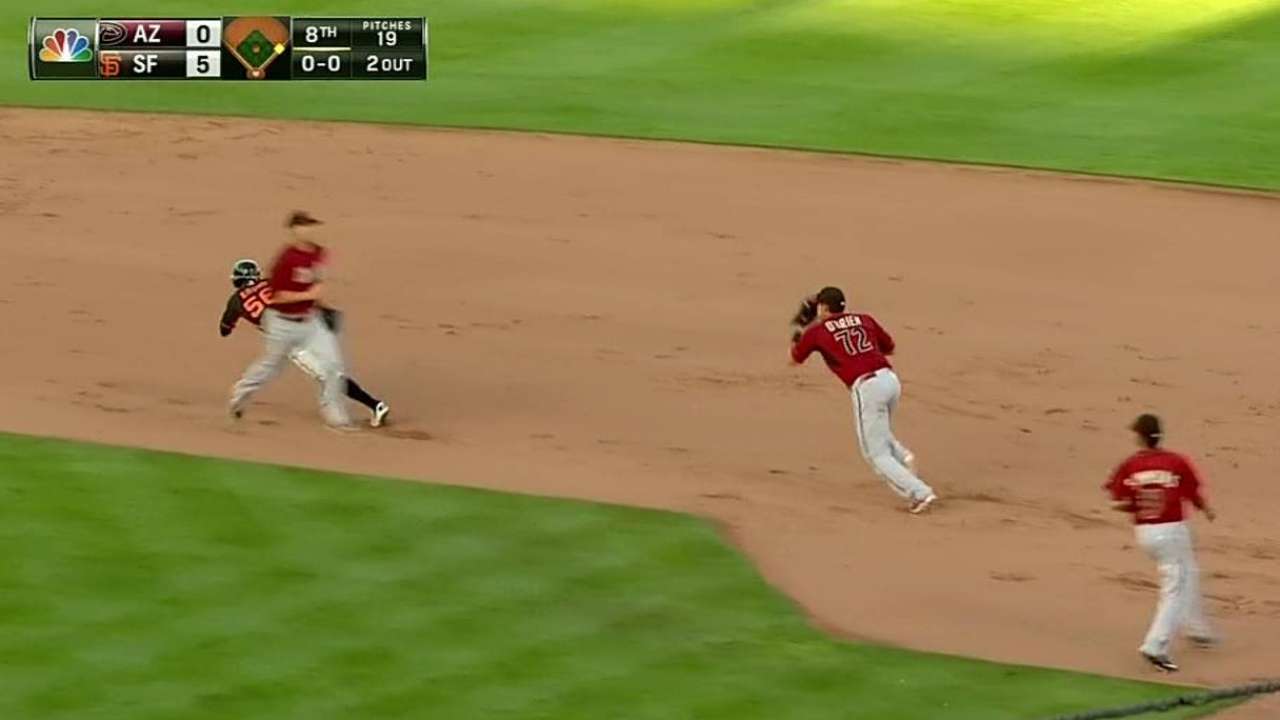 PHOENIX -- The D-backs called up Triple-A outfielder Peter O'Brien and Double-A outfielder Socrates Brito, among the seven roster moves they made on Tuesday afternoon.
The club also recalled right-hander Jhoulys Chacin, left-hander Andrew Chafin, infielder/outfielder Jamie Romak and right-hander Allen Webster from Triple-A Reno, along with O'Brien, ranked No. 9 on the team's top prospects list from Reno.
O'Brien entered Spring Training as a catcher and was converted to the outfield early in the season. He said he brought his catching equipment with him to Phoenix, but is no longer considered an option behind the plate.
"Early on it was a smooth transition, and you get more repetitions out there, and you get a lot of different balls hit to you," O'Brien said. "I feel good, and I feel confident. I'm happy with where I am at right now. I wouldn't necessarily say that I knew catching would not be my best spot, it's just how I felt at the moment. I felt really good at the plate, and I wanted to get out there and give myself the most success."
O'Brien hit .284 with 26 home runs and 107 RBIs at Triple-A this season. He also notched 35 doubles and nine triples.
"I wouldn't consider myself a Major League hitter because I have not had an AB yet," O'Brien said. "But once I get in there, I'm going to do what I do at every level. It's the same game I've been playing since I was two years old. Hopefully, I have all of the pieces to be successful."
Said D-backs manager Chip Hale: "I've heard [Peter] is doing better. He's learning where to throw the ball and limit the damage. Sometimes, outfielders that are new at being out there will throw the ball to the wrong base a lot and I think he's getting a lot better at that."
Brito, ranked No. 15, was called up from Double-A Mobile, and right-hander Evan Marshall was recalled from Triple-A Reno and placed on the 60-day disabled list.
When O'Brien and Brito set foot on the big league field for the first time, it will mark their Major League debuts.
Hale explained that club chose not to promote Archie Bradley, the No. 2 prospect, because the D-backs have seven starters, and there are not enough innings with Allen Webster and A.J. Schugel pitching in long relief if needed.
Jesse Sanchez is a national reporter for MLB.com. Follow him on Twitter @JesseSanchezMLB. This story was not subject to the approval of Major League Baseball or its clubs.