Pedroia's bat, glove, competitive fire return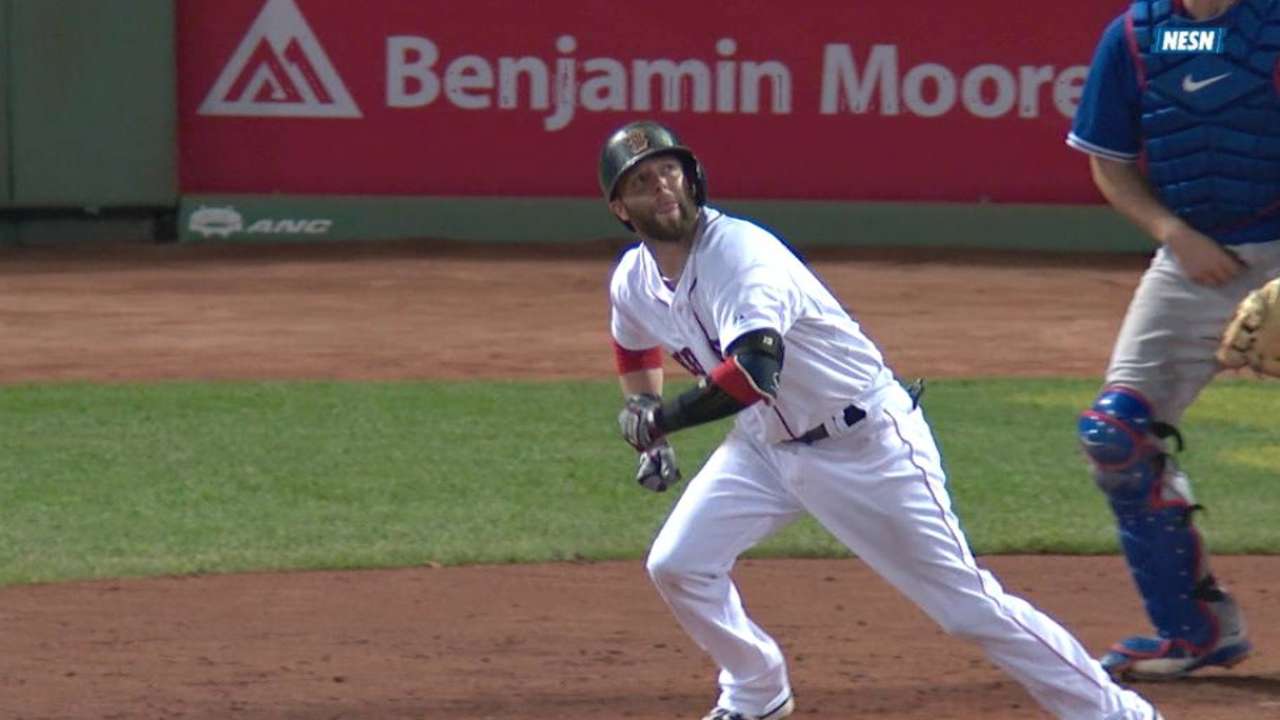 BOSTON -- There were welcome sights both offensively and defensively in Dustin Pedroia's return to action on Tuesday night. With the bat, he belted a double off the wall in left in just his third at-bat since July 22. In the field, there was Pedroia, holding his own around the bag to turn a couple of key double plays.
And the competitive fire didn't take long to resurface either. In a game the Red Sox lost to the Blue Jays, 5-1, in 10 innings, interim manager Torey Lovullo took his second baseman out of the game after nine.
"I was a little upset they took me out after the ninth," said Pedroia, who went 1-for-4. "But I felt great, just wish we won. We played hard, just couldn't find a way to score some more runs."
This is a unique return from an injury, in the sense there was no time for Pedroia to get at-bats in a Minor League rehab assignment. In addition, the Red Sox aren't in realistic contention for a postseason berth, and the club wants to make extra sure one of its cornerstone players is healthy going into the winter.
"He did fight me when I took him out of the game. I was anticipating that," said Lovullo. "I explained to him that, 'I know you want to play tomorrow and the one chance you can play tomorrow is if you come out of this game right now.' We'll re-evaluate him tomorrow and see where he's at.
"We have, like I said, a soft template in place," said Lovullo. "But it's all going to be contingent on how he feels tonight and tomorrow morning. Everything was fine. He saw the ball well. Nothing moved too fast for him at the plate. Made some really nice double-play turns. Made a couple of really nice overall plays on defense. He ran the bases well without any limitations. That's what we're looking for."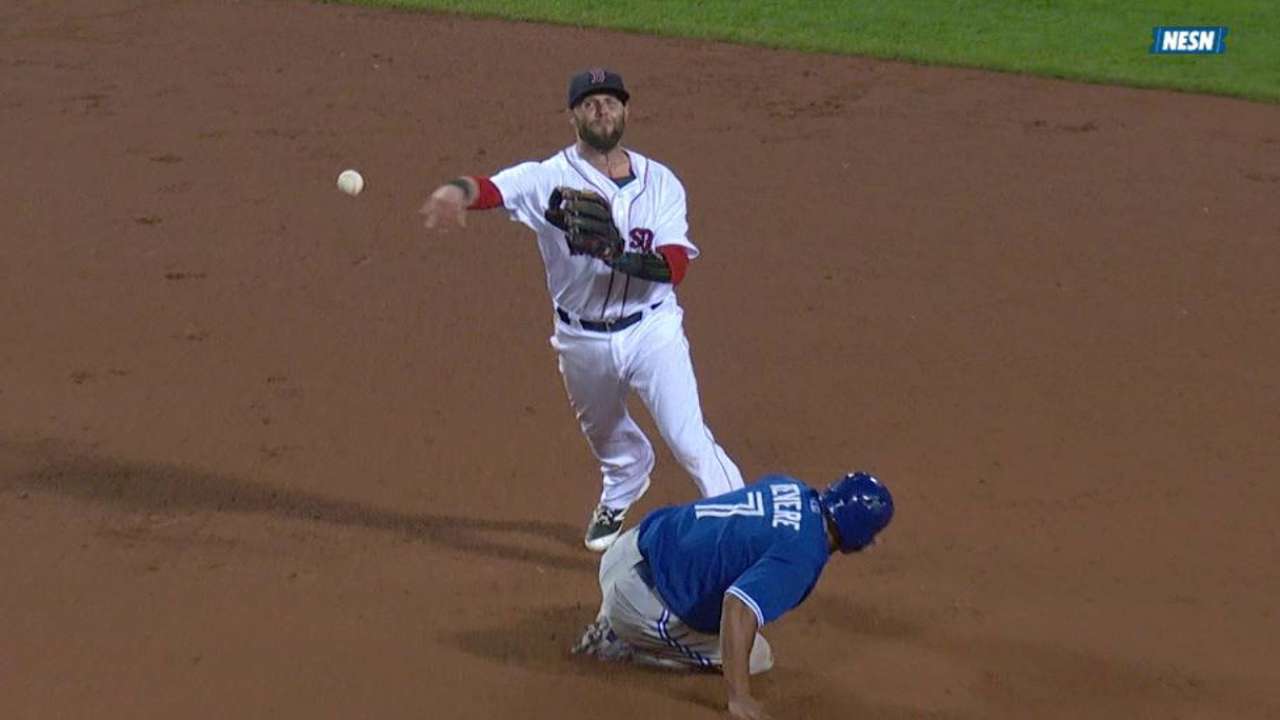 Typically, when Pedroia has come back from an injury, his role has been to energize the team. This time, however, Pedroia looks forward to surrounding the new wave of young players who have created so much excitement at Fenway Park in recent weeks.
"It's been fun to watch," said Pedroia. "The guys are playing hard. Just the way they're approaching the game, it's been just fun to watch and exciting. It's going to be great to get out there with them."
Make no mistake about it, though -- Pedroia remains a pivotal piece of where the Red Sox are going in 2016 and beyond.
Even while Pedroia was sidelined for 58 of 64 games, he stayed involved in all things Red Sox.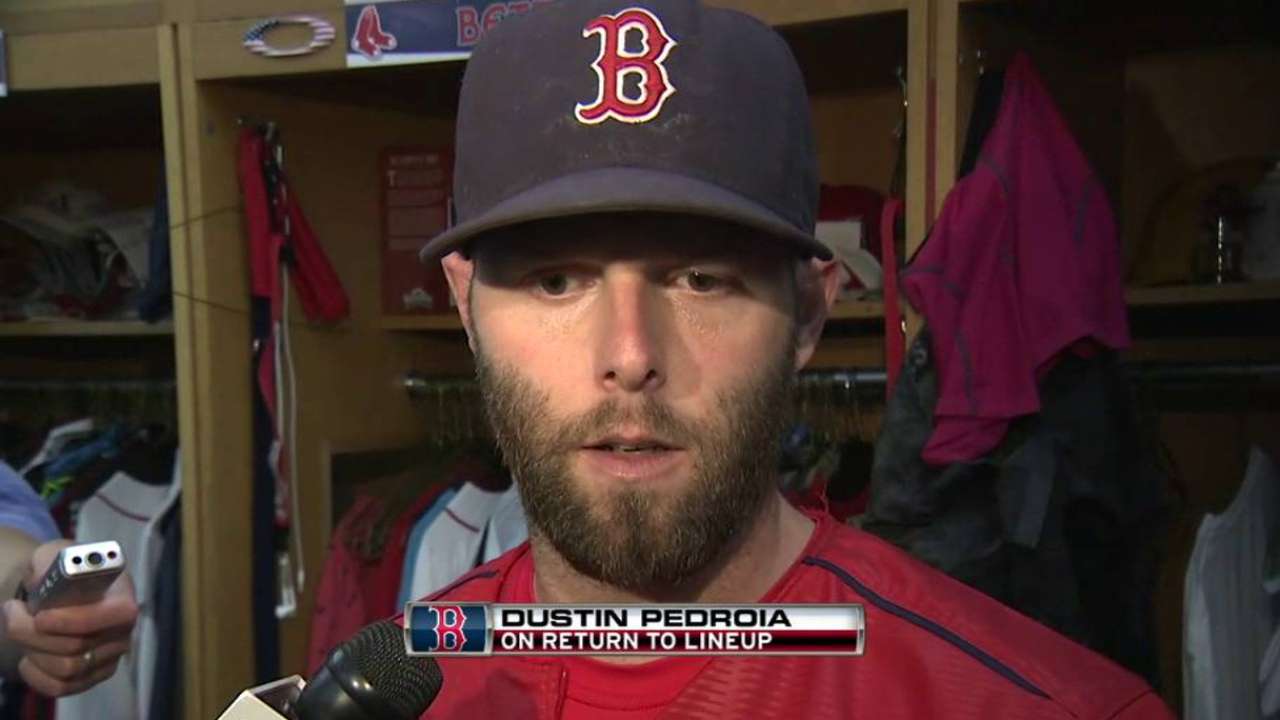 "Off the charts," said Lovullo. "He's always engaged, always available to anyone on any level. Example of that was in New York. If you remember correctly, David [Ortiz] came out of the game, Pablo [Sandoval] got thrown out of the game and we were down to nobody on the bench.
"I turned around and asked, has anyone seen Joe Kelly? Next thing I know, Dustin runs out with Joe Kelly's spikes saying, 'I'll make sure I get him ready.' He's just engaged on every level. It's a small example of something he has no business paying attention to, but it was just his way of being there and contributing. Always talking shop with the guys, always keeping it light, keeping it real in his special way."
Pedroia says he is far healthier during this comeback than his ill-fated return that started after the All-Star break and lasted just six games.
"You turn the page from that, learn from it and that's where we're at today," said Pedroia. "I worked real hard with a lot of different people to get to this point. I'm excited to move forward and play with these guys."
Ian Browne is a reporter for MLB.com. Read his blog, Brownie Points, follow him on Twitter @IanMBrowne and listen to his podcast. This story was not subject to the approval of Major League Baseball or its clubs.