Castillo's baserunning mistake costly
Chance to walk off thwarted on stolen-base attempt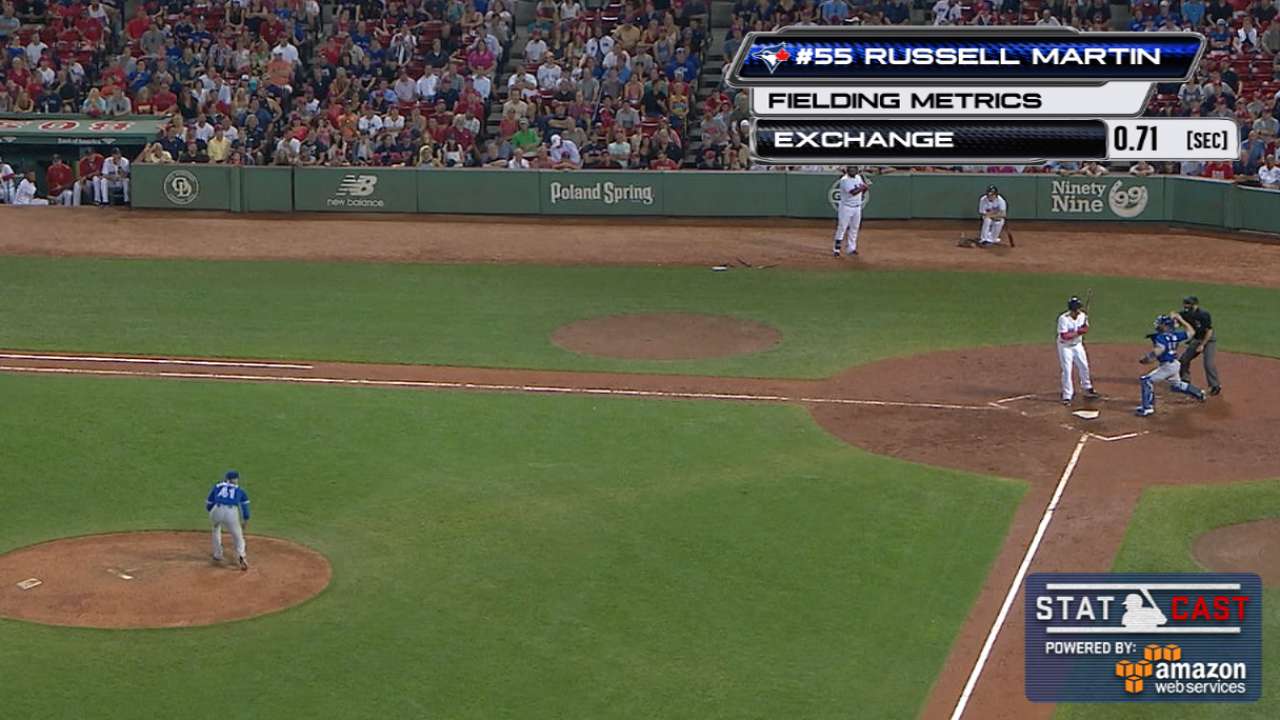 BOSTON -- Rusney Castillo bounded off the bench as a pinch-runner at first base for David Ortiz in the bottom of the ninth, hoping to score the walk-off run. Instead, the outfielder thwarted the rally when he was easily caught trying to steal second. The Red Sox went on to lose to the Blue Jays, 5-1, in 10 innings.
For all the excitement the young players have created around Fenway Park in recent weeks, there will be mistakes along the way. Castillo's play was a reminder of that.
"It wasn't what we were looking for," said interim manager Torey Lovullo. "In a vacuum, it didn't happen the right way -- the timing of it didn't happen the right way."
However, when the Red Sox get to next season, and Castillo is no longer making the same type of mistakes, both sides will likely be thankful for learning experiences like the one that occurred Tuesday.
Dustin Pedroia almost foreshadowed it when he was talking about his own experiences as a young player before the game.
"I remember my first couple of years, I made some ridiculous mistakes on the bases," Pedroia said. "I needed to do that to learn to not do that, and that's a part of the process. All of our guys, we're communicating, talking baseball all the time and trying to learn."
Castillo's mistake Tuesday was likely a subtle one.
"You know what? We do a lot of work behind the scenes to look at keys and tips on each pitcher," said Lovullo. "[First-base coach] Arnie Beyeler works really hard on that. We thought we had a good key in that situation. Unfortunately it didn't work out."
Castillo did not get the steal sign, Lovullo confirmed. The outfielder is 3-for-6 in stolen-base attempts this season.
Ian Browne is a reporter for MLB.com. Read his blog, Brownie Points, follow him on Twitter @IanMBrowne and listen to his podcast. This story was not subject to the approval of Major League Baseball or its clubs.