Donaldson once again delivers in clutch
After just missing homer, MVP candidate hustles for triple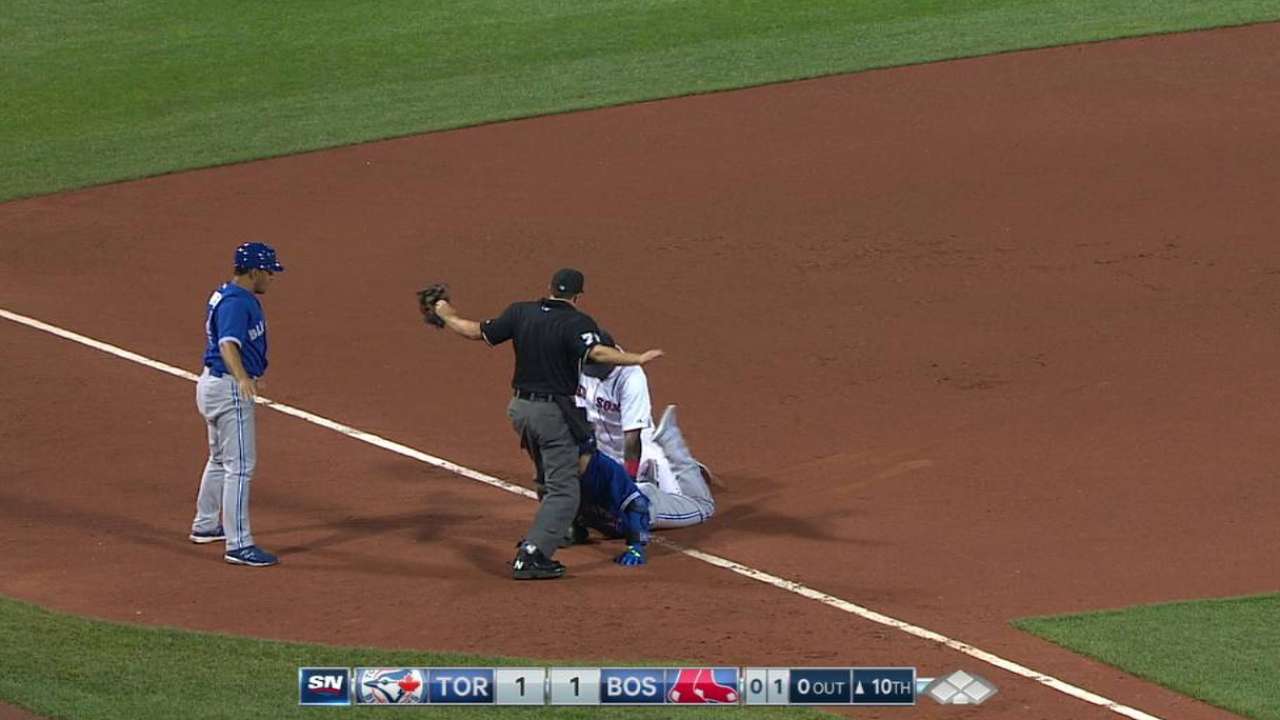 BOSTON -- A matter of inches could have been the difference between two homers and none for Blue Jays slugger Josh Donaldson on Tuesday night, but the third baseman's bat and baserunning remained a deciding factor in sparking his team's 5-1, 10-inning victory over the Red Sox at Fenway Park.
Leading off the 10th inning, Donaldson pummeled an 0-1 fastball from Boston reliever Alexi Ogando that bounced off the top edge of the Green Monster and back onto the outfield grass. Unsure if it had cleared the wall, he sprinted around second base and quickly set his sights on third.
"After I hit it, I realized we are playing at Fenway," Donaldson said. "I wanted to make sure I was going to be able to get to second, and then I saw the ball hit up and go straight up in the air."
And so Donaldson took off, flashing one of the many skills that has him among the leading candidates for American League MVP honors, and slid into the bag ahead of the throw for a triple.
"Josh, he has instincts," Blue Jays manager John Gibbons said. "There's times he hits some ground balls, he doesn't bust it all the way hard. I don't expect him to. But he's got a feel of the game. When he senses something, he's all out."
The frenetic play led to a pair of crew-chief reviews: One confirming that the ball never left the field of play, and the other confirming that Donaldson reached base safely -- and, more importantly, never came off the bag.
"What worries you a little bit is that you've seen so many calls on slides into bases where they're there early enough, but they come off the base just a hair and it gets overturned," Gibbons said. "Because he hit, it looked like it hit his hand in plenty of time. But you just hope there's no gap in between."
While not a homer, Donaldson's swift stroke did begin a four-run rally by Toronto, which to that point had gone 0-for-13 with runners in scoring position. With one out, Edwin Encarnacion drew an intentional walk to put men on the corners. Troy Tulowitzki then smacked a base hit to left that plated Donaldson, and then Chris Colabello singled home another run to make it a 3-1 lead.
After that, Ogando balked in a third run, and Kevin Pillar added one more for good measure after grounding into a double play and stranding two men on a lineout in his previous two at-bats.
"We were frustrated at the plate all night, kind of hitting balls right at people," Donaldson said. "All of a sudden we break through in the 10th inning. ... Everybody did their part. It was nice to come out with a win, because the way the night was going, it didn't look like it was going to happen."
Donaldson's other near-homer, a foul ball that flew out of the park, was confirmed to have curved away from the left-field foul pole.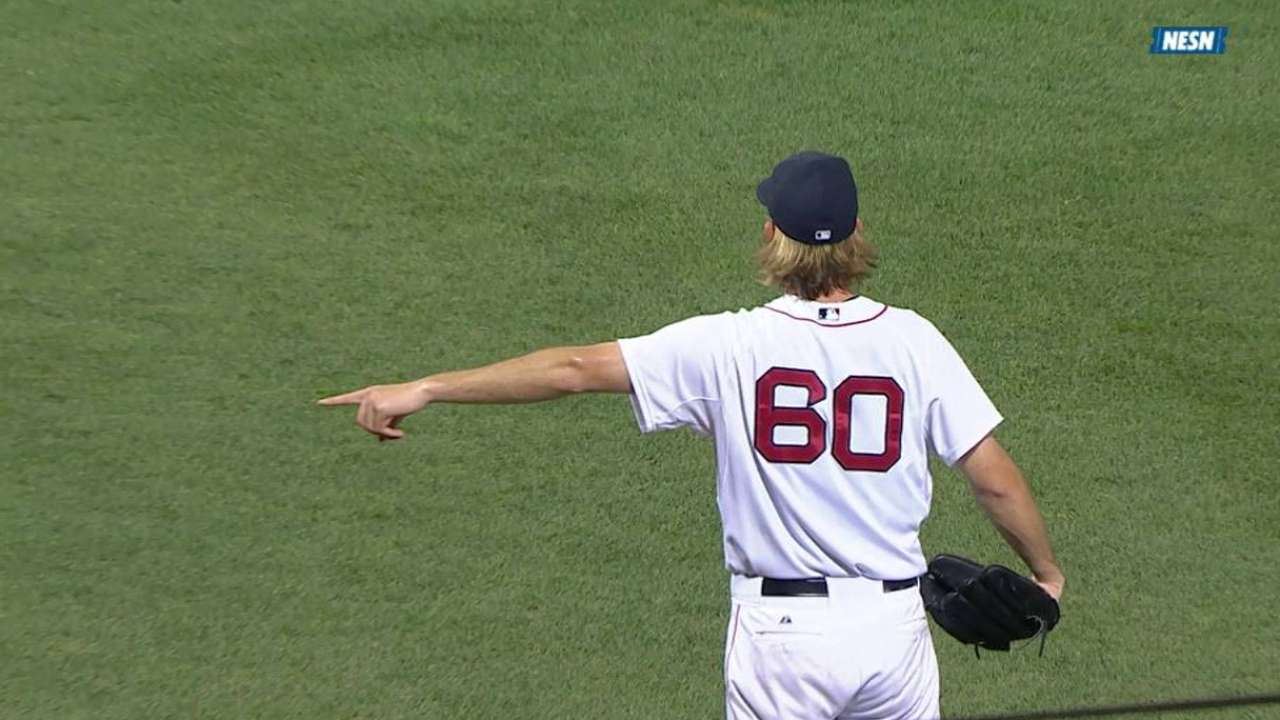 "The cameras are 100 feet away from the line. It's kind of hard to tell," he said. "It's not the umpire's fault. It's a tough call. From my viewpoint, it was fair long enough when it left the field, but obviously it doesn't matter at this point."
What certainly does matter is the galvanizing effect of Donaldson's presence as the Blue Jays continue trying to stave off the Yankees in their chase for the American League East crown. With the Yankees losing to the Orioles on Tuesday, Toronto increased its division lead to 1 1/2 games.
The box score will only show Donaldson as going 1-for-4 with a walk, but his penchant for picking up game-changing hits cannot be overlooked.
"We count on him, and he knows that. He never changes," knuckleballer R.A. Dickey said. "That's what's so fun to watch about Josh. Regardless if he's been 0-for-3 that night with three punchouts or he's hit three home runs, he's the same guy in that batter's box and he wants to win that battle every time. You can tell it."
Alec Shirkey is an associate reporter for MLB.com. This story was not subject to the approval of Major League Baseball or its clubs.