Buehrle gets cortisone shot in shoulder
Left-hander's start pushed back to next Tuesday in Atlanta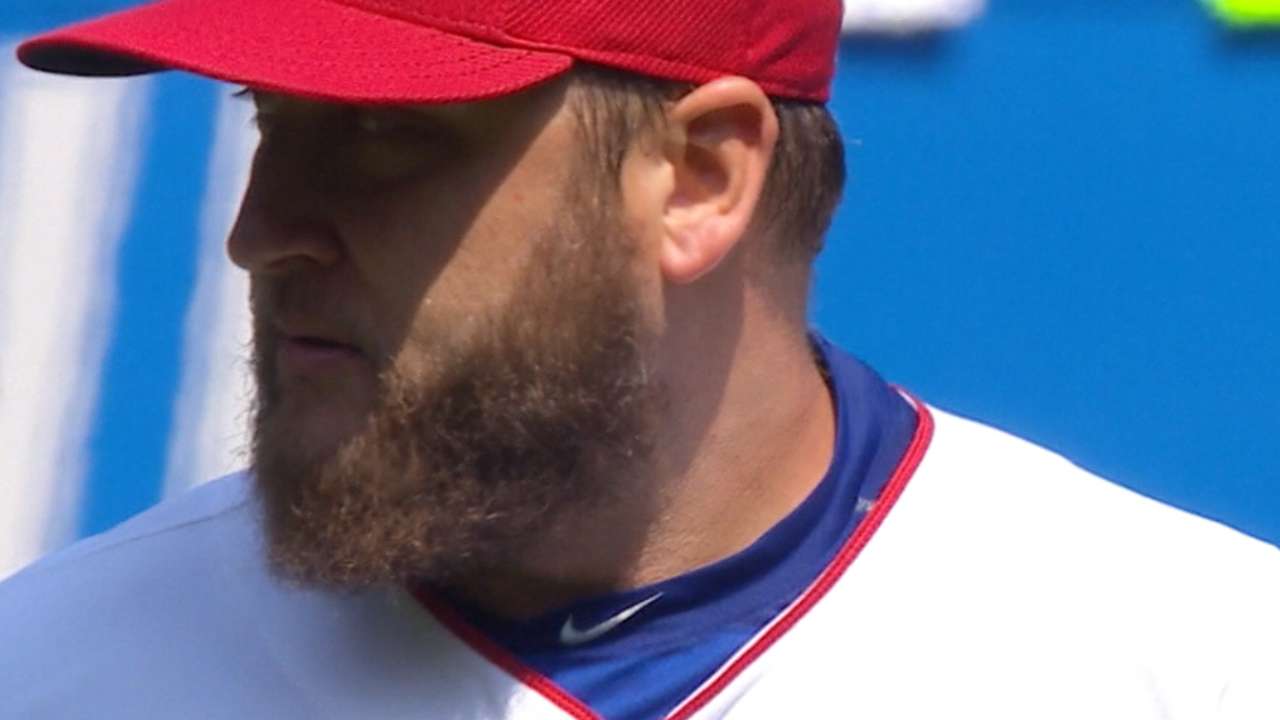 BOSTON -- Blue Jays southpaw Mark Buehrle returned to Toronto to receive a cortisone shot in his left shoulder on Tuesday, and as a result he will have his next scheduled start pushed back to next Tuesday, when the team plays Atlanta at Turner Field.
The three-day delay for Buehrle comes after the Red Sox hit him for five runs over 3 1/3 innings on Monday, his shortest outing of the season. Manager John Gibbons has since revealed that his veteran starter is suffering from inflammation in his throwing shoulder.
Buehrle has a 6.98 ERA over his last four games. General manager Alex Anthopoulos, however, was not overly concerned.
"He's done this before. He's been streaky. He can go on long runs and do really well, and then he can have a few starts in a row where he's not as [in control] performance-wise," Anthopoulos said. "The big thing is that he feels good. The guy's been doing it so long. You know better than to bet against him."
The treatment is apparently nothing new for the 36-year-old Buehrle, who received cortisone shots earlier this season and did not miss any of his starts. Ultimately, the Blue Jays determined that Buehrle could use the extra rest, and they also considered his past performance against the Yankees -- a lifetime 2-14 record with a 6.03 ERA.
Gibbons fully expects Buehrle to be ready for the Braves next week.
In Buehrle's place, the Blue Jays have elected to pitch right-hander Marcus Stroman against the Yankees on Saturday. Stroman will be making his first start since suffering a left ACL tear during Spring Training.
"I've been talking to him throughout this whole process," Stroman said. "There's no tension at all. We are as close as it can get. I am like his son. It is what it is. I'm praying and hoping. He's been in my prayers since he's been up there, and I hope he comes back 100 percent, feeling great."
If Buehrle pitches as expected, Toronto would have the option of using a six-man rotation down the stretch. Anthopoulos said the team would reevaluate its options next week, toward the end of the current road trip, but Gibbons seemed open to the idea, provided that ace David Price continues pitching on regular rest.
"If we did that, it would allow some guys a little extra breathing room," Gibbons said. "We'll keep Price on his [turn]. Keep him working. This time of year, guys are hanging. It does some good to get that. We've been pretty fortunate. We've basically run the same rotation all year long."
Entering Tuesday, Price had thrown 196 1/3 innings, Buehrle had thrown 174 1/3, R.A. Dickey had thrown 182 2/3 and Marco Estrada was 3 1/3 innings away from tying his career high. Their health and workloads will be crucial for the postseason-hopeful Blue Jays.
"I'd be very shocked if they didn't have some inflammation or were hanging a little bit," Gibbons said.
Alec Shirkey is an associate reporter for MLB.com. This story was not subject to the approval of Major League Baseball or its clubs.