MLB.com Columnist
Lyle Spencer
Dodgers thriving as Mattingly rolls with punches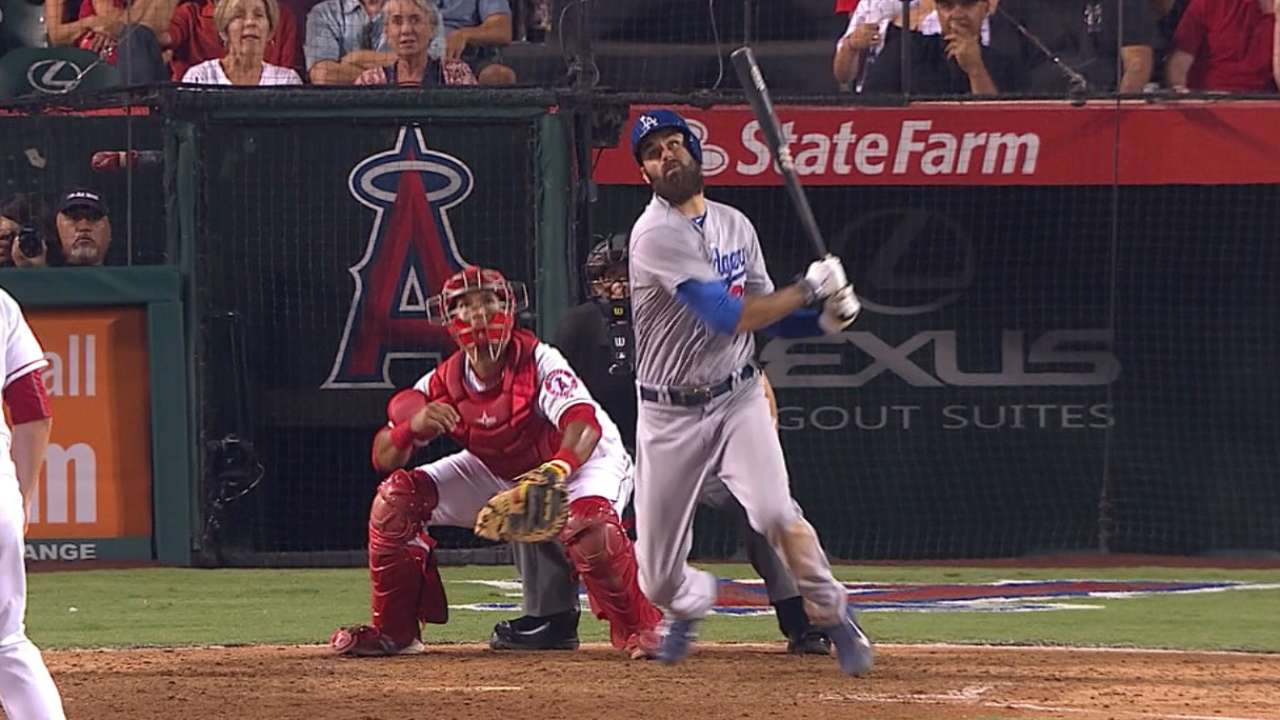 ANAHEIM -- Don Mattingly, who grew up in Indiana and made his reputation in New York, lives in Manhattan Beach during the baseball season. But that doesn't mean his head is buried in the sand.
Mattingly is fully aware of how a segment of Southern California fandom assesses his managerial performance with the Dodgers. Let's just say there are folks who don't share the enthusiasm and reverence Yankees fans once held for their wonderful first baseman.
In his fifth season as leader of his troupe of high-profile stars, Mattingly has learned what to absorb and retain and what to filter out. This time of year, when every pitch matters, almost everything is filtered out as he reduces a complex game to its basics.
"It's different, the mentality," Mattingly said on Monday in the afterglow of another big win, a 7-5 victory over an Angels club fighting for survival in the American League postseason scramble. "What you learn in September is you've just gotta go -- grind it. Nothing else matters. Just go after it.
"We faced the Giants at home, and they beat us all year long, and we just went after it [and swept three games]. Then we went to San Diego and were trying to push the limit there [taking three of four]. You've just gotta go, grind. Don't look back. Go after it today and forget about everything else."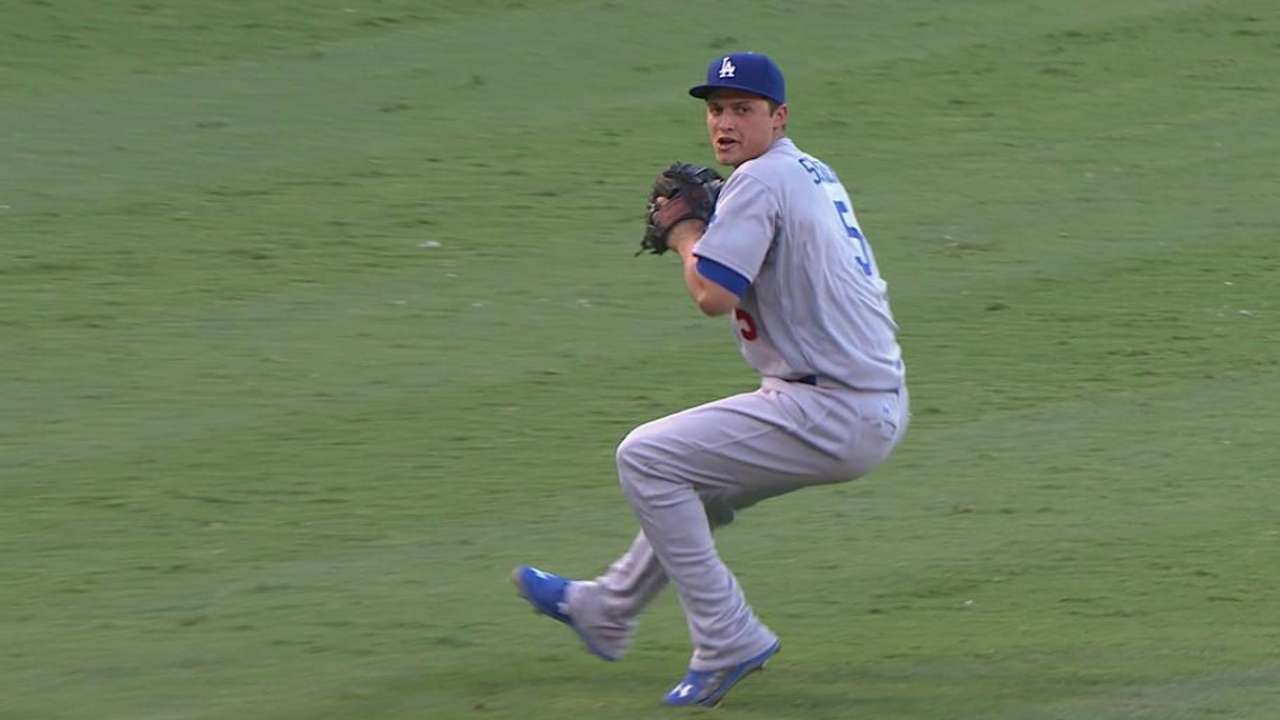 Their National League West lead was reduced to 1 1/2 games on Aug. 23 with an 0-5 trip through Oakland and Houston, but the Dodgers came together in Cincinnati with a three-game sweep and they have been rolling since.
By subduing the Angels, who are in third place in the AL West and trying to stay alive in the Wild Card hunt, the Dodgers won for the 12th time in 14 games. Their division lead over the defending World Series champion Giants has mushroomed to 8 1/2 games.
With very little attention, Mattingly has been playing all the right cards. If folks don't rush to credit him, so be it. When you cut your teeth in the profession with George Steinbrenner as your owner, you can handle just about anything.
Locked into an endurance test with Angels manager Mike Scioscia, Mattingly made a week's worth of decisions in one night. Almost every decision was the right one, judging by results.
With regulars Jimmy Rollins (right knuckle) and Yasmani Grandal (left shoulder) sidelined, Mattingly juggled his lineup -- and never stopped maneuvering.
Twice he pinch-hit in the No. 5 spot, originally occupied by hot-hitting Andre Ethier. Justin Ruggiano stroked a two-run double in the fifth for a 3-1 lead. Scott Schebler, hitting for Ruggiano three innings later, singled and scored.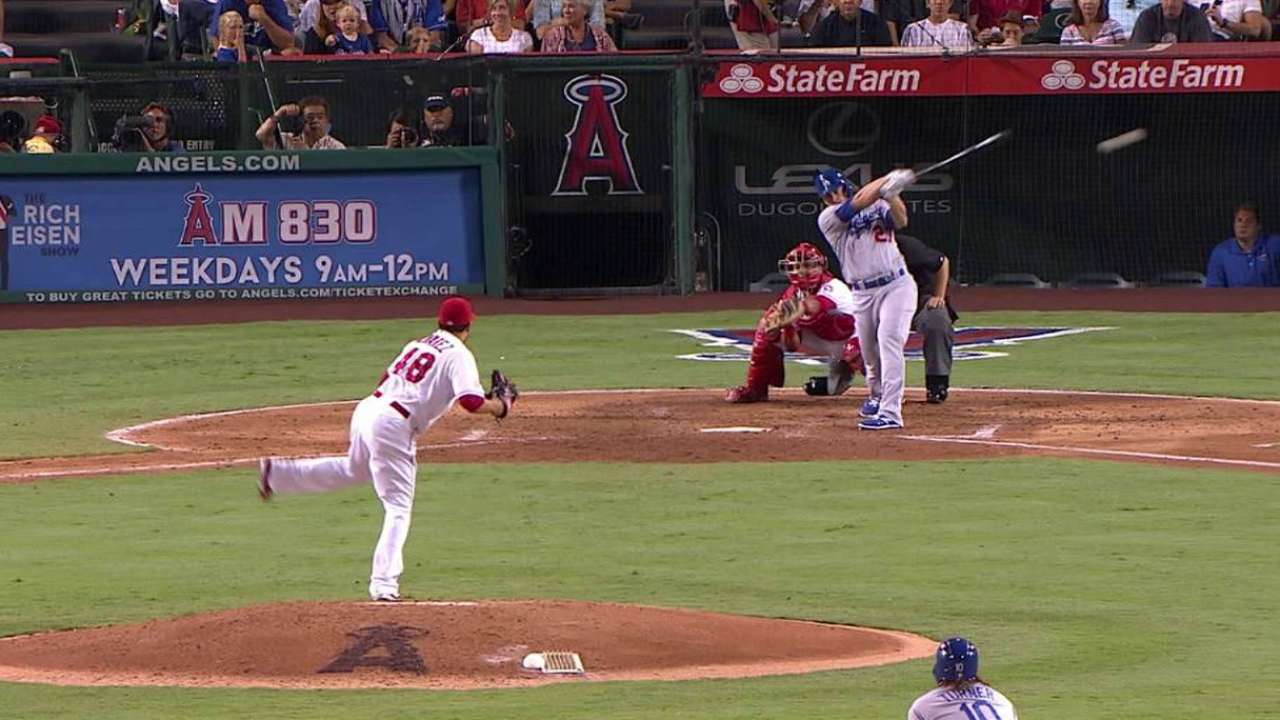 In the sixth, after Ruggiano was hit by a pitch and impressive rookie Corey Seager walked, Mattingly had A.J. Ellis bunt. Successful, it brought the infield in, and Scott Van Slyke (four hits, four RBIs) found his way through it with a wedge of a two-run single.
Manufacturing runs is not ordinarily the bashing Dodgers' style, but this time of the year you take runs any way you can get them.
Mattingly had the conviction to let Clayton Kershaw go for 132 pitches -- a staggering number in today's pitch-conscious world -- to beat the Giants last week and removed Greinke after 89 on Monday. Different deals for different aces.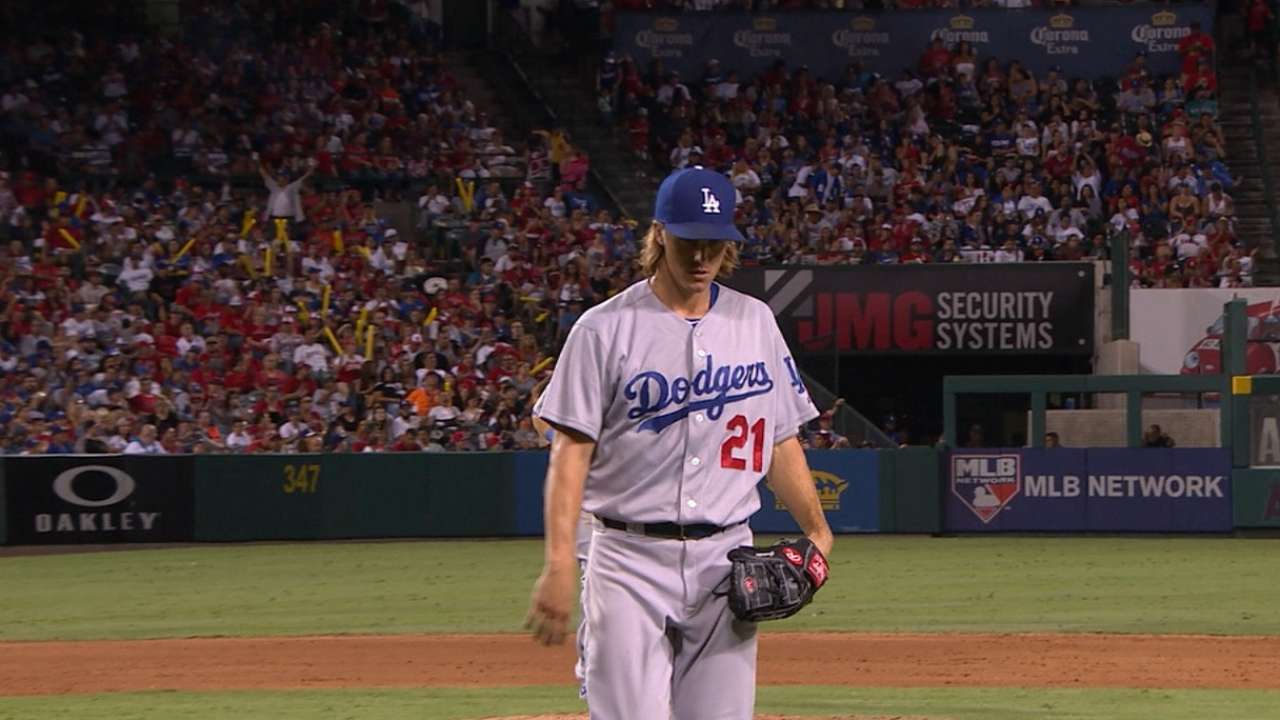 "We're at that time of the season," Mattingly said. "We're playing good right now. Nothing wrong with riding that."
The Dodgers' bullpen has caused a massive run on antacids, and it was put to an acid test in the seventh.
Mixing and matching, Mattingly called on four relievers. The Angels scored twice on Albert Pujols' RBI single and Jim Johnson's wild pitch before escaping on C.J. Cron's groundout leaving two men in scoring position.
This was one of those nights that could have had his critics calling for Mattingly's banishment. But everything fell into place.
In a sense, Mattingly has been in a no-win position all year. When his team wins, it's because of Kershaw or Greinke or Adrian Gonzalez or the highest payroll in the sport's history. When it loses, it's convenient to point the finger at the manager. It's been that way forever.
It takes a secure person to hold his ground and not lose his balance under duress. Mattingly handles hard times with grace, never turning on his players, calling them out. It's not his heartland style.
When the Cardinals eliminated the Dodgers the past two Octobers, the fallout was immense. It will be reenacted if the same script plays out. But there's something to be said for winning divisions and getting to October. Mattingly is positioned for a third straight NL West title.
The Dodgers have improved each season under Mattingly. They're a nice blend of cool veterans and energized kids, and they are hot at the right time, led by two of the best pitchers on the planet.
"It's been fun," Mattingly said, grinning. He didn't look like a man under fire.
Lyle Spencer is a national reporter and columnist for MLB.com. Follow him on Twitter @LyleMSpencer. This story was not subject to the approval of Major League Baseball or its clubs.