Angels use franchise-record nine pitchers
ANAHEIM -- In front of a sold-out crowd of 44,488 at Angel Stadium, playing in what felt like a playoff atmosphere, the Angels managed Monday's series opener against the Dodgers like a playoff game. Knowing they were facing the Major League ERA leader in Zack Greinke, manager Mike Scioscia set up every matchup he could to try to beat him -- they just didn't win enough of them.
With the flexibility afforded by expanded September rosters, the Angels used nine pitchers -- a franchise record for a nine-inning game -- in their 7-5 loss that started the Anaheim leg of the Freeway Series. The Dodgers used seven, with the 16 combined pitchers a record for a game between the two teams and the second-most in a nine-inning game in Major League history.
The Angels and Dodgers also each used three pinch-hitters. But when the substituting was done, the Angels found themselves on the short end too often.
"It just came down to a matchup game," Scioscia said. "You have a lot of moves you can make, a lot of pinch-running, a lot of pinch-hitting. Unfortunately, we just didn't quite get there."
The first of all the moves came in the fifth inning, when the Angels pulled starter Nick Tropeano for Jose Alvarez with runners on second and third and one out, to set up a lefty-lefty matchup with Andre Ethier.
"I feel like I had more," Tropeano said. "We were just playing the matchup."
Dodgers manager Don Mattingly responded in kind, removing Ethier for Justin Ruggiano. Ruggiano came through with a pinch-hit, two run double.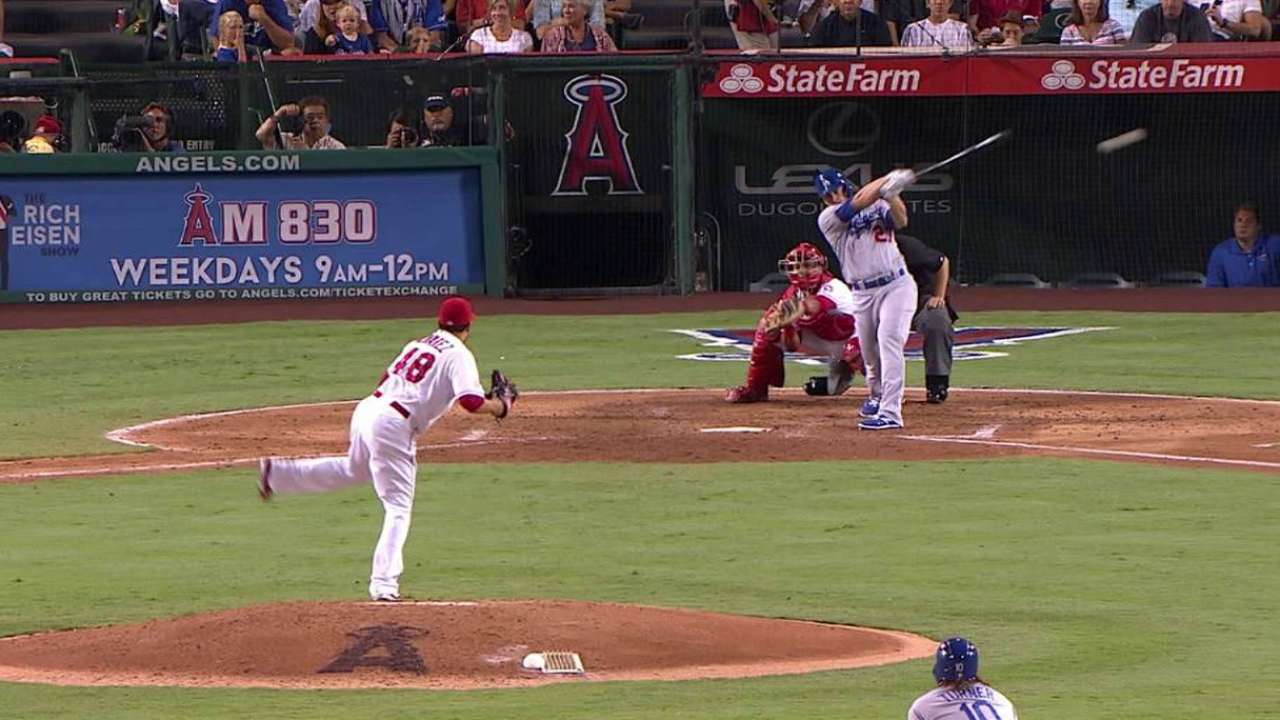 "Definitely a September game," Mattingly said, also arguing that Monday's three-hour, 52-minute game supported the case for limiting roster expansions. "There was a lot of crazy stuff, hits and guys everywhere. It started off [Scioscia] brings in a lefty; that's a good spot for Ruggiano."
That wasn't the only matchup the Angels lost. An inning later, they brought in Cesar Ramos to face Adrian Gonzalez with the bases loaded, and Ramos gave up a go-ahead sacrifice fly. Trevor Gott and Joe Smith both gave up runs out of the bullpen when the Angels were trying to keep the game close in the late innings.
On the offensive side, Mike Trout struck out with two runners on in the seventh against Juan Nicasio, who was brought in to face him. In the eighth, the Angels pinch-hit Matt Joyce with two outs and a runner on third, and he struck out, too.
"It's September, it's crunch time -- we're doing everything we can to win a game," said reliever Cam Bedrosian -- who turned in the Angels' only 1-2-3 inning of the night in the ninth. "That's huge, [the matchups,] especially for us now. You're trying to win those little battles, and then hopefully at the end of the game you're on top."
David Adler is an associate reporter for MLB.com. Follow him on Twitter @_dadler. This story was not subject to the approval of Major League Baseball or its clubs.