Statcast: Seager shows off impressive arm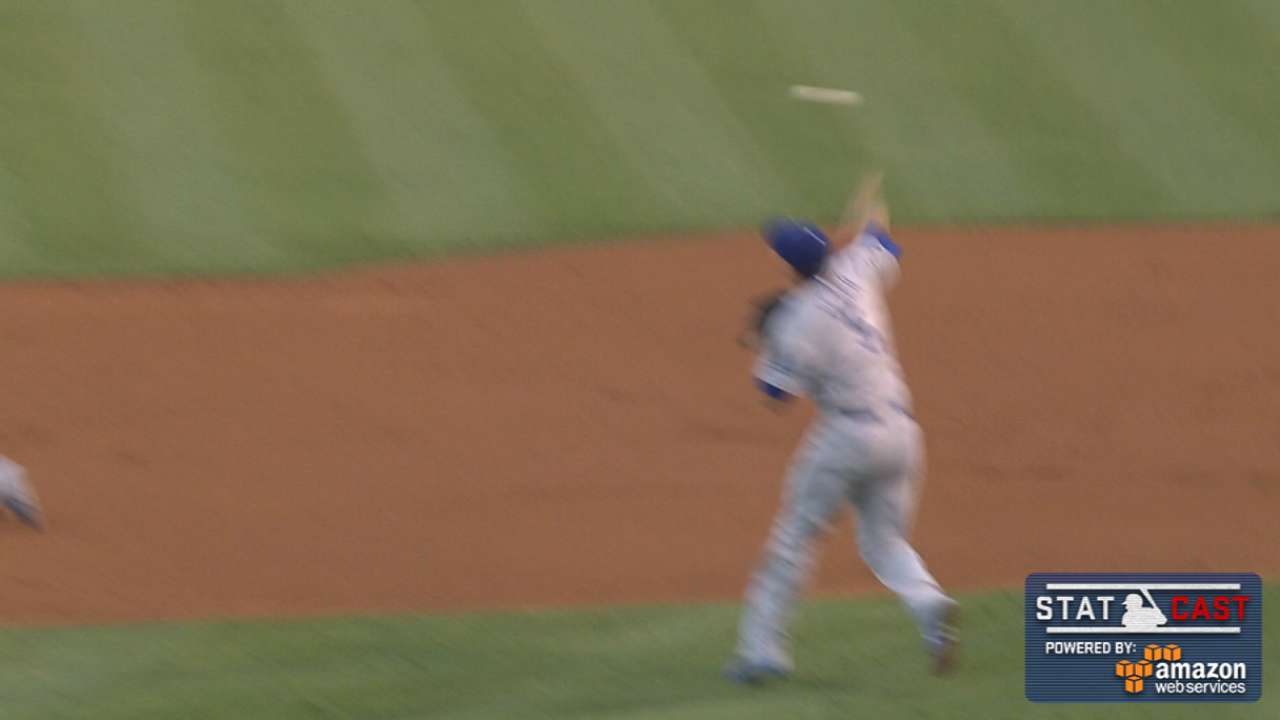 When it comes to tenure or status, Statcast™ doesn't discriminate. The state-of-the-art system tracks rookies and veterans, All-Stars and substitutes, providing a wealth of data along the way.
On a baseball-filled Labor Day, Statcast™ was there for some fine defense from a Dodgers rookie who was called up only last week, just as it was there for the hard-charging baserunning of the Mets' captain, who is helping to guide a long-awaited postseason push in his 12th season.
Here's a Statcast™-driven look at those two plays, plus a high-flying homer and a pair of outfield gems from a busy day across the Majors.
Seager throws long
The Dodgers' Corey Seager, who debuted last Thursday, made his fourth career start and second at shortstop in Monday night's 7-5 win against the Angels. And if a play he made in the bottom of the first inning is any indication, the 21-year-old will be spending a lot more time as a big league shortstop.
When the Angels' Albert Pujols smacked a bouncing ground ball to the left side that got past diving third baseman Justin Turner, Seager had to range way to his right to make the stop. He did just that, grabbing the ball with his backhand and stopping his momentum before setting himself as best he could and firing across the diamond.
Though he benefited from Pujols' slow journey to first, Seager still had to cover a distance of 135.507 feet with his throw, which traveled at 74.936 mph.
"A great play by the kid shortstop," legendary Dodgers broadcaster Vin Scully said on the telecast. Indeed.
Wright's hustle burns Nats
The Mets opened a crucial three-game series in Washington by coming from behind for an 8-5 victory over the Nationals, snapping a 5-5 tie with a three-run seventh inning against the Nats bullpen.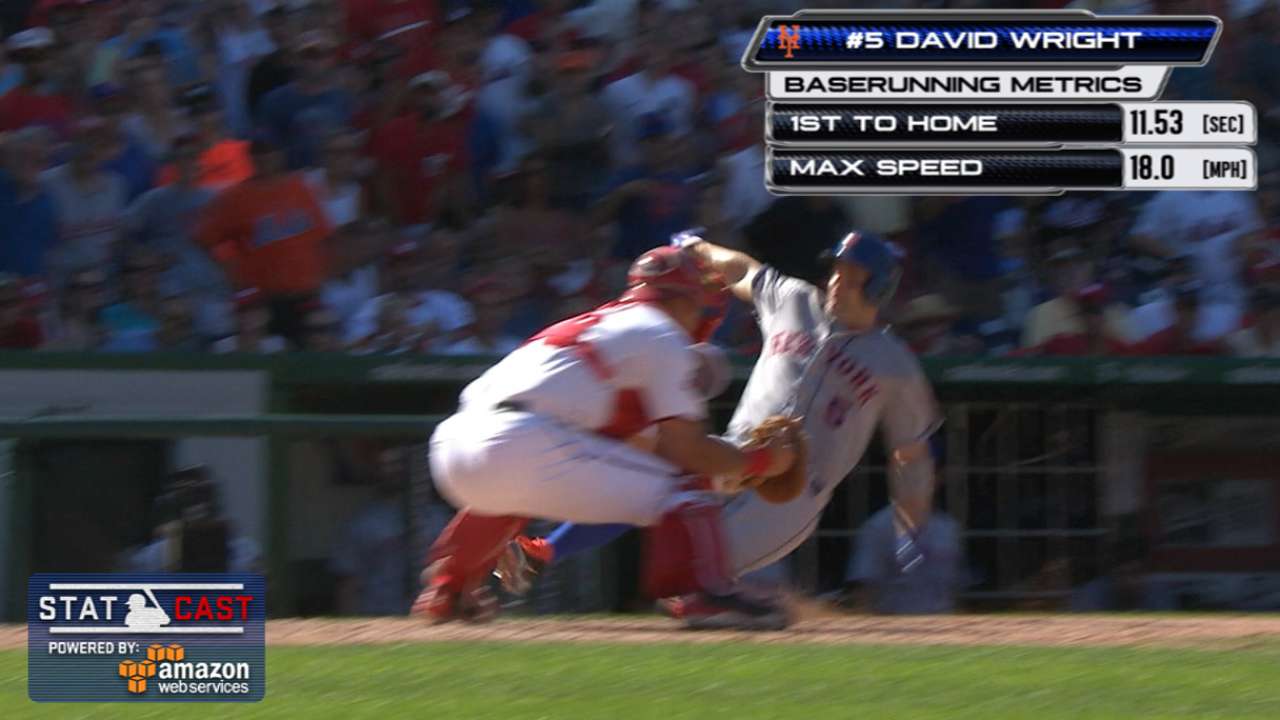 Yoenis Cespedes capped that outburst by lining a double to the wall in right field to score David Wright from first base -- but not without a challenge. Once right fielder Bryce Harper picked up the ball, he fired to the cutoff man, second baseman Anthony Rendon, who whipped an accurate 84.454-mph throw to the plate that was 145.45 feet away.
Wright, whose negative first-step time shows he was moving before contact, reached a top speed of 17.982 mph as he raced from first to home in 11.529 seconds. He slid in just ahead of catcher Wilson Ramos' tag. The third baseman lett out a triumphant yell, and a first pump for good measure.
Cespedes goes deep -- and high
Back in the fourth inning of that game, with the Mets ahead 2-0, Nats starter Max Scherzer fed Cespedes a 94.6 mph fastball over the plate. Cespedes connected at 109.72 mph, lofting an arcing drive that left field Jayson Werth chased until he finally ran out of room, leaping as the ball dropped just over the wall.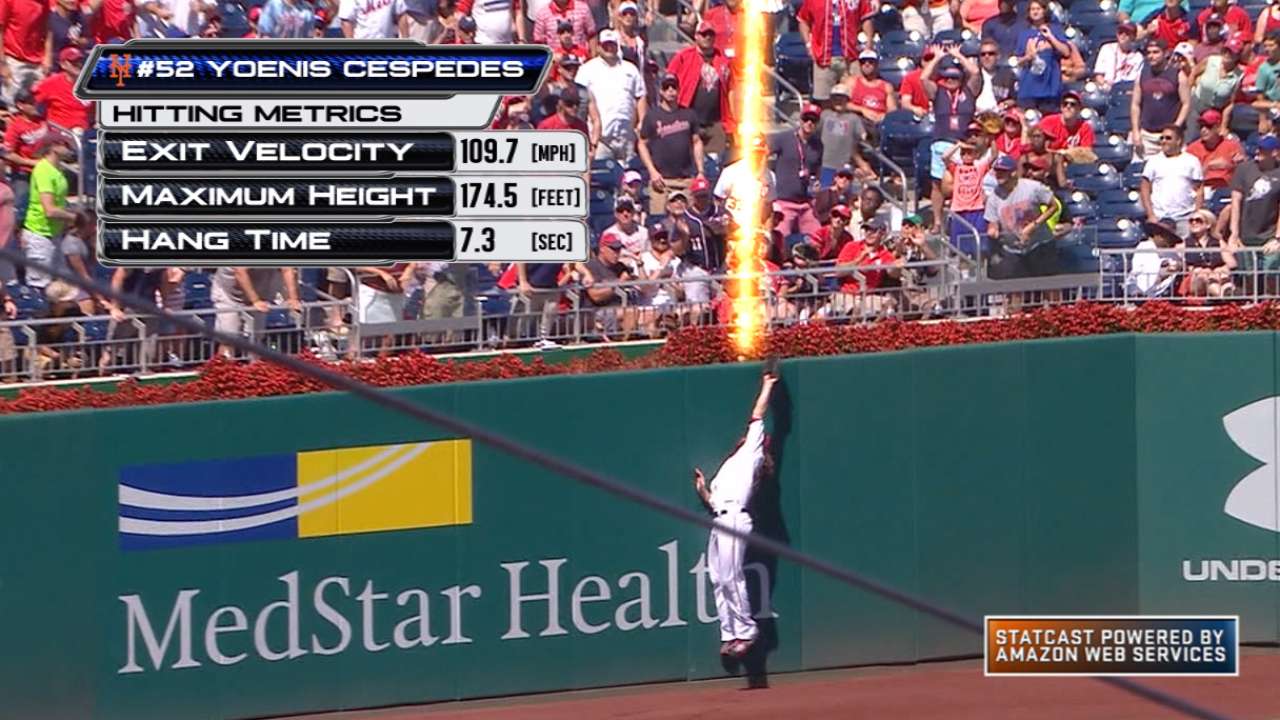 While the solo home run's 346-foot distance was barely enough, its 174.56-foot height was the second-greatest recorded by Statcast™ this season, as well as Cespedes' highest by more than 50 feet. At 47.84 degrees, it also was easily his steepest launch angle of the year.
Pillar's electric slide
Though the Red Sox beat the Blue Jays 11-4 at Fenway Park, Toronto center fielder Kevin Pillar pulled off his latest excellent play in a season full of them.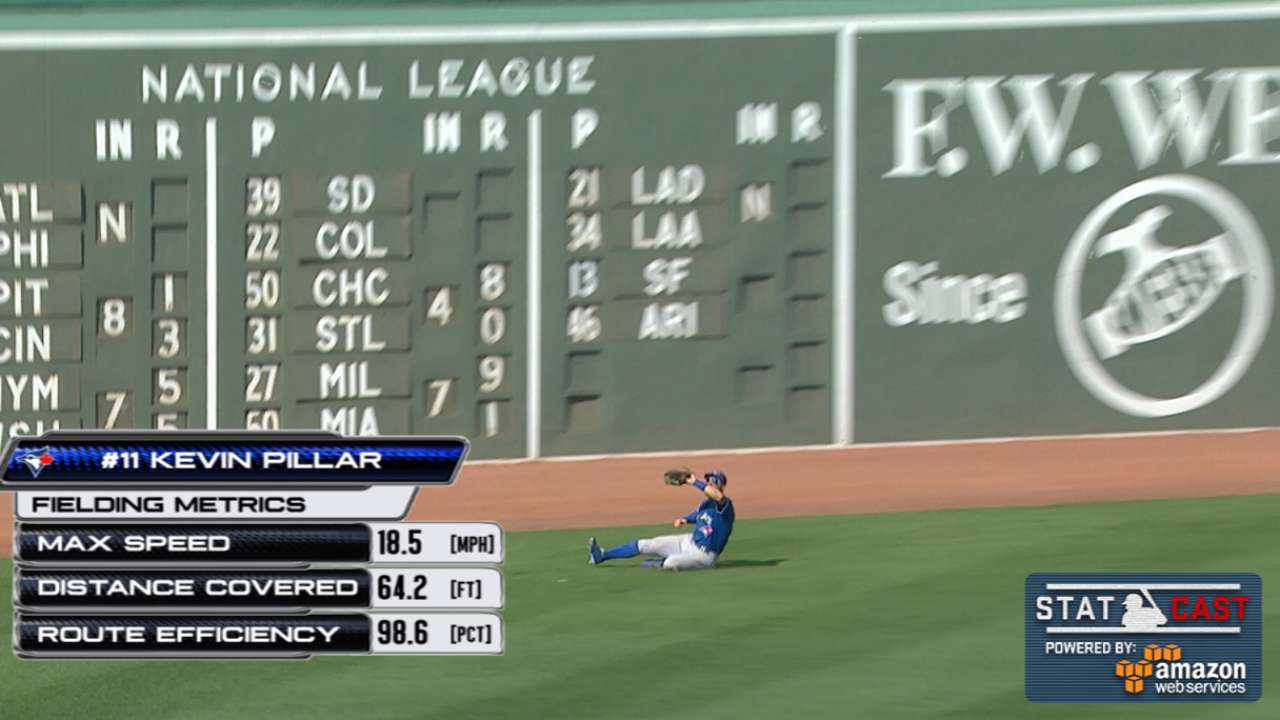 With a runner on first, and no outs in the seventh inning, Boston's Brock Holt sent a liner into the left-center gap. Pillar took his first step in 0.368 seconds, then reached a top speed of 18.251 mph as he quickly covered 64.197 feet of ground before sliding on his left leg to make the grab.
Statcast™ measured Pillar's route efficiency at an impressive 98.595 percent.
Gillespie holds on
The Marlins suffered a 9-1 home loss to to the Brewers that might have been worse if not for a web gem from Cole Gillespie.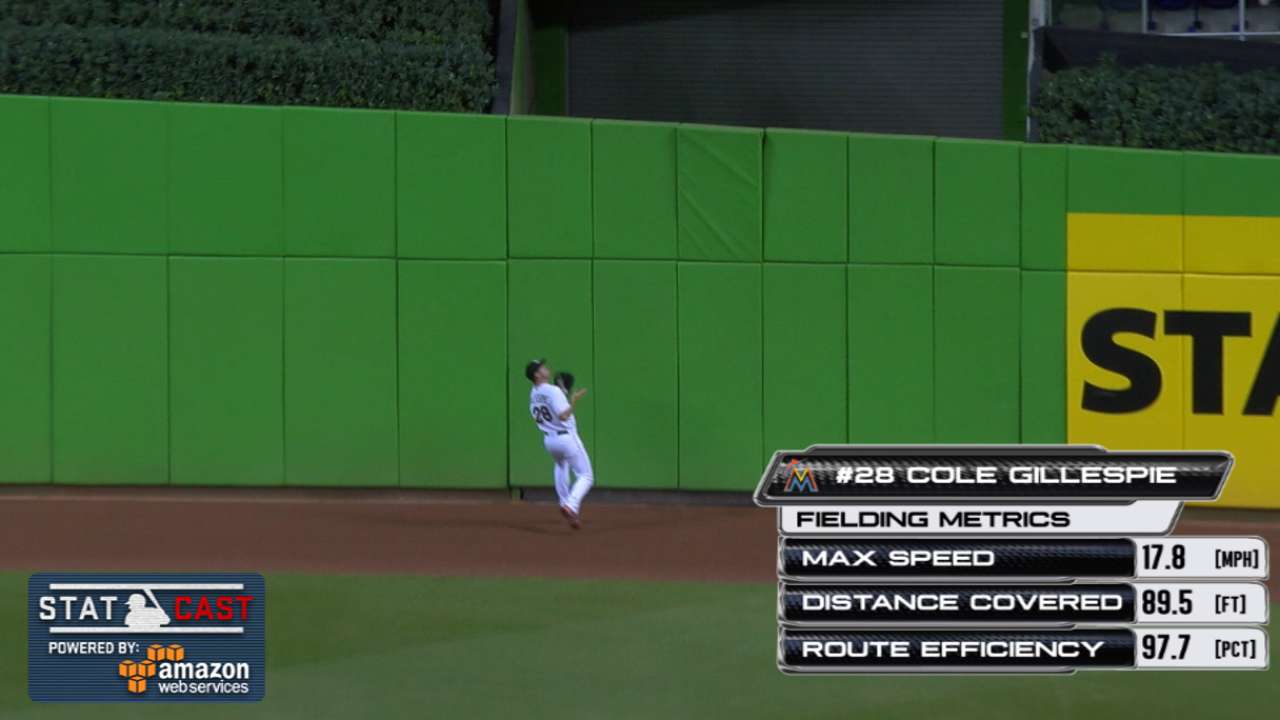 Inserted into center field in the eighth, Gillespie soon faced a challenge, when Milwaukee's Domingo Santana pummeled a fly ball more that 400 feet to dead center. Gillespie took his first step in 0.462 seconds, turning and running -- at a high of 17.82 mph -- as he tracked the ball over his right shoulder.
After Gillespie covered 89.486 feet with a route efficiency of 97.668 percent, he and the ball arrived at the wall at roughly the same time. The Miami center fielder made it work, however, pulling off a basket catch an instant before smacking into the padding, while also keeping the ball in his possession.
Andrew Simon is a reporter for MLB.com. Follow him on Twitter @AndrewSimonMLB. This story was not subject to the approval of Major League Baseball or its clubs.