Van Slykedelic! Peculiar night nets 4 RBIs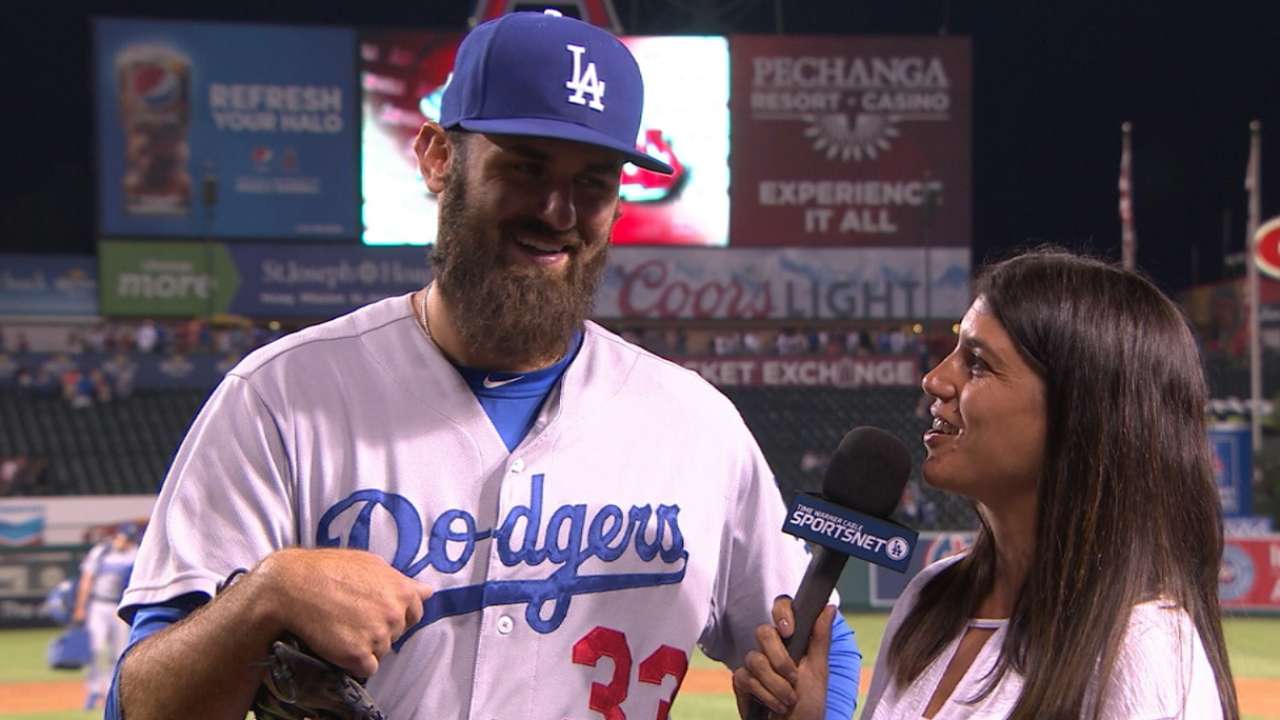 ANAHEIM -- Just looking at the box score won't do justice to the game that Scott Van Slyke had on Monday night.
Van Slyke stuffed the stat sheet by going 4-for-5 with two doubles and four RBIs as the Dodgers staved off the Angels, 7-5, at Angel Stadium. With the win, the Dodgers pushed their lead in the NL West over the Giants to 8 1/2 games.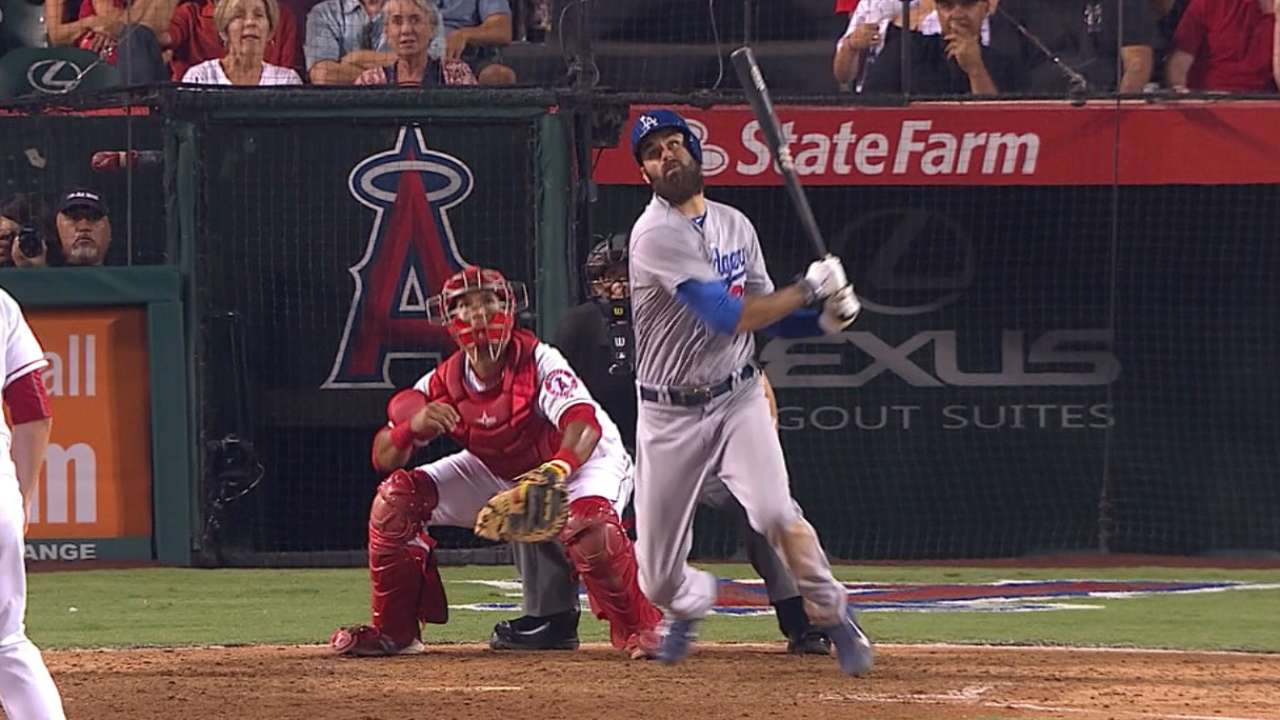 Van Slyke's four hits were a career high, and it was his second career game with four RBIs, with the other coming on June 9, 2014, against the Reds.
"Fours are hot. Maybe I can do that four days in a row," Van Slyke joked. "It's nice to contribute. It's nicer to get the win. We see the finish line, so we're just trying to get as many wins as possible before the season is over."
While it might look like Van Slyke was tearing the cover off the ball, he had an RBI infield single and a two-run double that barely rolled into the outfield grass.
With two runners in scoring position and just one out, the Angels pulled in their infield in an attempt to keep the Dodgers' lead at 4-3 in the seventh. Van Slyke hit a comebacker at pitcher Trevor Gott, who jumped off the mound and deflected the ball toward left field. With shortstop Erick Aybar already on the infield grass and charging up the middle, the ball got by him and dribbled into the outfield.
"When you start to approach the first baseman, you start to read the first baseman. You see he's just standing there, you realize something is up," Van Slyke said.
Two runs scored and Van Slyke slid into second base with his second double of the game.
The next inning, Van Slyke came up to the plate with runners on the corners. On the 3-1 pitch, Van Slyke spiked it straight down onto the plate, causing the ball to bounce high into the air. By the time the ball finally came down, Aybar didn't even attempt a throw.
"As soon I heard it hit the plate, I knew I was going to be safe," Van Slyke said.
Van Slyke, who also had an RBI double in the second inning, added 15 points in his batting average -- raising it from .243 to .258. He provided the offense, however abnormal his hits were, in what was a wacky game that saw the Dodgers pound 16 hits, go 7-for-22 with runners in scoring position and have just a single 1-2-3 inning.
"I think if you get enough at-bats in the year, those things are going to happen," Van Slyke said.
Steve Bourbon is an associate reporter for MLB.com. This story was not subject to the approval of Major League Baseball or its clubs.