Playing every day paying off for Escobar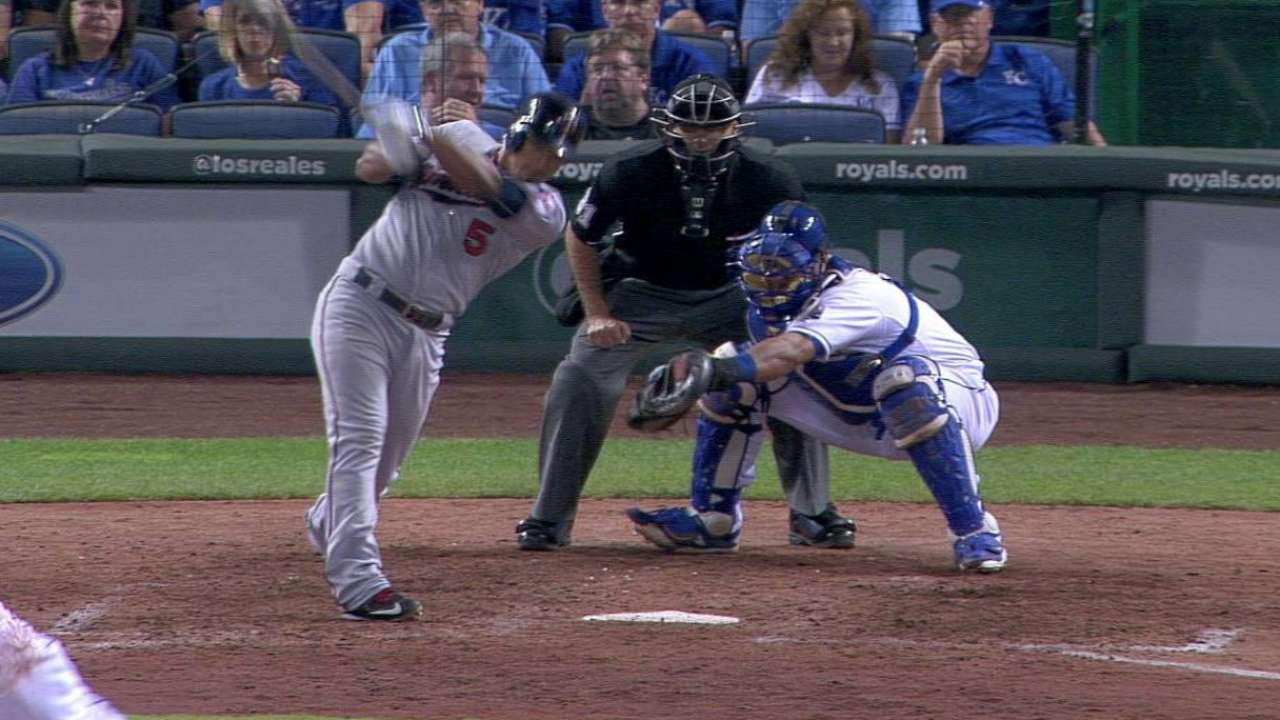 KANSAS CITY -- Before the non-waiver Trade Deadline on July 31, much was made about the Twins' need to upgrade at shortstop, as the combination of Danny Santana and Eduardo Escobar had struggled to that point.
But instead the Twins stuck with Escobar, and it's paid off in a big way, as he's been one of the club's best players since essentially taking over regular duties on July 28. Escobar was at it again on Monday, going 3-for-3 with three RBIs and a walk to lead the Twins to a 6-2 win over the Royals at Kauffman Stadium.
With the win, the Twins remain 1 1/2 games behind the Rangers for the second American League Wild Card spot.
Escobar doubled on the first pitch he saw from Yordano Ventura in the fourth and sent home the go-ahead run with an RBI single on a first-pitch fastball from Ventura in the sixth before plating two insurance runs in the seventh on a bloop single to left.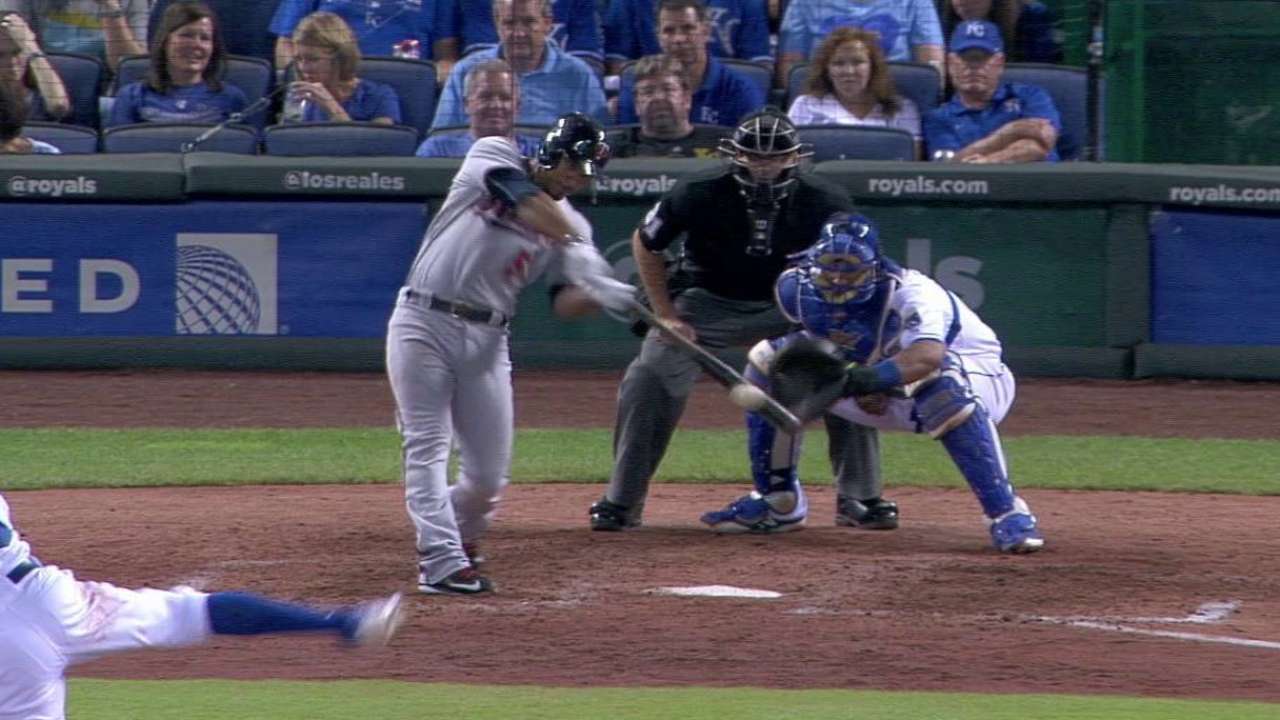 "Some of the things we've talked about includes confidence," manager Paul Molitor said. "When you're putting the barrel on the ball and seeing the ball better, one thing he's improved upon of late has been his patience and keeping the ball in the zone a little bit better. When you're pressing and trying to get into the lineup, you can get a little overaggressive at times. But it just seems like he's doing a good job being aggressive with strikes."
In the 36 games dating back to July 28, a span of 36 games, Escobar is hitting .313/.375/.565 with five homers, 14 doubles and 18 RBIs. For comparison's sake, Troy Tulowitzki -- who was traded to the Blue Jays that same day -- is hitting .225/.311/.373 with five homers, six doubles and 15 RBIs over that span.
"The most important thing is playing every day," Escobar said. "I think playing every day has been the biggest change. Your body is good and your swing is ready, so I think that's why I'm hitting good now."
Escobar said his plan against Ventura was to be aggressive early in the count, as his first two hits came on first-pitch fastballs. His single in the sixth helped spark a three-run rally that helped the Twins pull away from the Royals.
"I was ready for the first pitch and was able to get a base hit up the middle," he said. "I was able to make good contact."
He was luckier in the seventh, as he hit a pop fly down the left-field line with two outs, but Paulo Orlando couldn't make a sliding catch to end the inning, and two runs scored. The hit was reminiscent of Eddie Rosario's bloop two-run triple in Minnesota's 3-2 win over Houston on Saturday.
"The guy got a glove on it close to the line," Molitor said. "It was kind of like the play in Houston, where a guy makes a good play and closes the gap and he wasn't able to finish it. Those were two big insurance runs."
Rhett Bollinger is a reporter for MLB.com. Read his blog, Bollinger Beat, follow him on Twitter @RhettBollinger and listen to his podcast. This story was not subject to the approval of Major League Baseball or its clubs.