Statcast sheds light on Harvey's spin rate
Data shows slight dip in effectiveness of Mets righty's four-seamer in August
All eyes will be on Matt Harvey on Tuesday night, when the right-hander takes the ball for the National League East-leading Mets in the second game of their crucial series against Jordan Zimmermann and the second-place Nationals in Washington.
But Harvey already has been the center of attention for days now, thanks to the discussion over how much he will pitch over the last month of the regular season and possibly into the playoffs. Nothing seems to be set in stone for Harvey beyond Tuesday. His agent, Scott Boras, has talked about a strict 180-inning limit, while Harvey (currently at 166 1/3) wrote in "The Players' Tribune" that he will pitch in the postseason.
The major issue at hand is whether the Mets would be endangering Harvey's future health by having the 26-year-old push significantly beyond the career high of 178 1/3 innings he set in 2013, before undergoing Tommy John surgery. That's a complicated question to answer, but Statcast™ provides one way to check in on Harvey's level of fatigue at this late stage of the season: spin rate.
When it comes to four-seam fastballs, spin rate helps explain the "life" on a pitch, and four-seamers with particularly high spin rates tend to give the pitch the "rising fastball" effect, which typically leads to more swings and misses. As MLB.com's Anthony DiComo wrote about Harvey in advance of his Aug. 28 start against the Red Sox -- which came on 11 days' rest -- the right-hander's four-seam spin rate (and velocity) had been trending downward in the second half of the season, as had his strikeout rate. Meanwhile, his fellow right-handed flamethrowers in the Mets' rotation, Jacob deGrom and Noah Syndergaard, were trending in the opposite direction.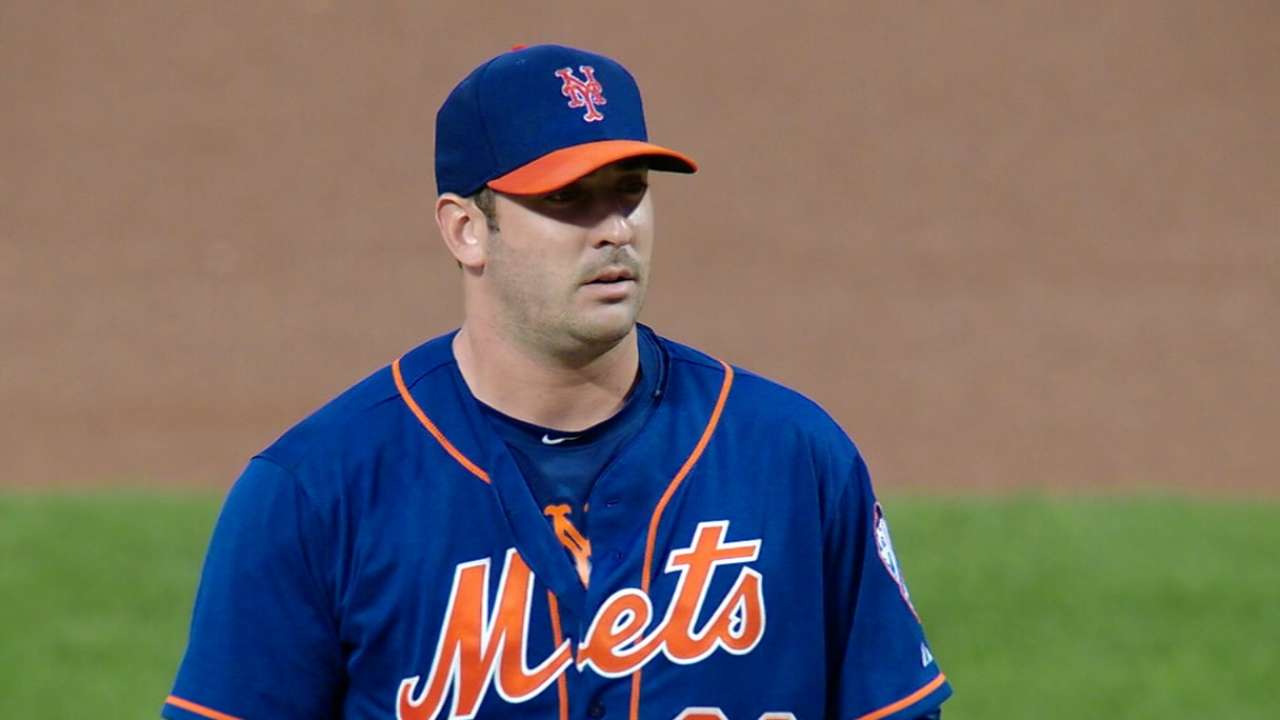 Before that Aug. 28 game, Statcast™ showed that Harvey's average four-seam fastball velocity, which had peaked at 96.44 mph in June, was down to 95.9 over his first three starts of August. Meanwhile, the spin rate on that same pitch had dropped from a high of 2397.74 rpms in June down to 2335.93 rpms.
"I think I got tired a little bit earlier than I kind of expected," Harvey said at the time. "I think going down the stretch, going into September and hopefully October, this little rest will mean a lot."
Did that rest benefit Harvey's arm? In his first start on extra rest, he shut down the Red Sox over six innings, allowing no runs to go with eight strikeouts and a walk. His next outing, last Wednesday against the Phillies, wasn't quite as stellar, as he allowed four earned runs over 6 1/3 innings, though he did fan nine.
Yet despite the 17 strikeouts across 12 1/3 innings, Harvey has not seen an accompanying spike in his four-seamer velocity and spin rate. The former did jump to 97.28 mph on Aug. 28 but then dipped back to 95.61 mph in Harvey's most recent start. That was his third-lowest mark of the season and lowest since May 18.
Harvey's four-seam spin rate paints an even clearer picture, with average rpms of 2326.12 and 2303.86 rpms in his last two outings.
@statcast A look at Matt Harvey's fastball spin rate, which has been on the decline of late. pic.twitter.com/g5oM3xhhbn

— Andrew Simon (@AndrewSimonMLB) September 8, 2015
Once again, Harvey's average from last Wednesday's game was his lowest since May 18 after he saw a small bump in rpms when the Mets skipped one of his starts in August.
Statcast™ data suggests that something has changed for Harvey on the mound over the past two months, whether it's a different approach, rising fatigue or some combination of the two. While that's up for debate, it's possible that some extra rest might turn out to be just what Harvey needs.
But with the potential for the Mets to grab a series-clinching victory and a six-game division lead on Tuesday, that rest will have to wait at least a little bit longer.
Andrew Simon is a reporter for MLB.com. Follow him on Twitter @AndrewSimonMLB. This story was not subject to the approval of Major League Baseball or its clubs.