Faulkner steps up to help Rangers grab key win
Southpaw strikes out three in 1 2/3 perfect innings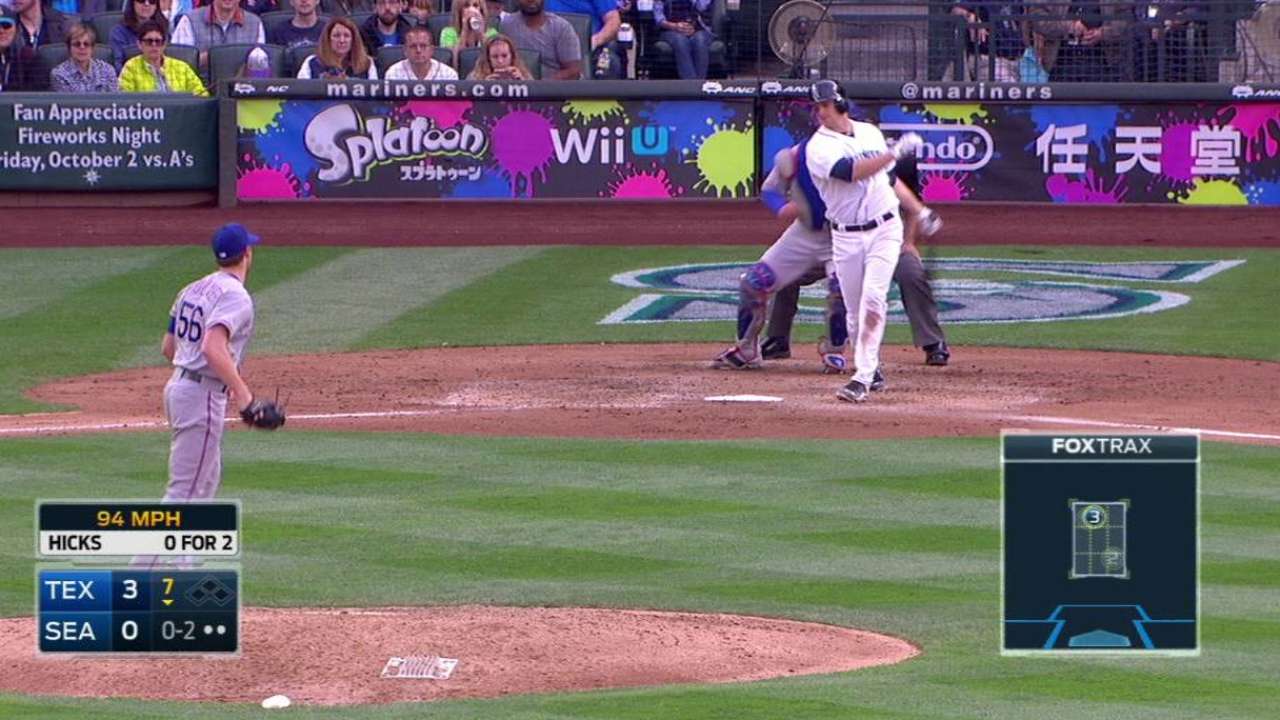 SEATTLE -- Rangers rookie left-hander Andrew Faulkner made his third appearance in a Major League game on Monday. This time it wasn't in a mop-up role with the Rangers trailing by 6-7 runs.
This time, manager Jeff Banister used Faulkner in a significant moment of a pennant race. The Rangers led 2-0 with one out and one on in the bottom of the sixth and the Mariners had Robinson Cano waiting to hit.
Faulkner seized the moment spectacularly in relief of starter Yovani Gallardo. He retired five straight hitters, including three by strikeout, and the Rangers held on to a 3-0 victory at Safeco Field.
"They have a good lineup, it's cool to face guys like that," Faulkner said. "I feel good they have confidence putting me in there. When I got to the mound, I took my time warming up and caught my breath, bring everything down. But at the same time, it's just baseball."
Gallardo had been pitching well, holding the Mariners to five hits and two walks while striking out four. He had also thrown 92 pitches and Banister wanted a left-hander for Cano and Seth Smith, both left-handed hitters.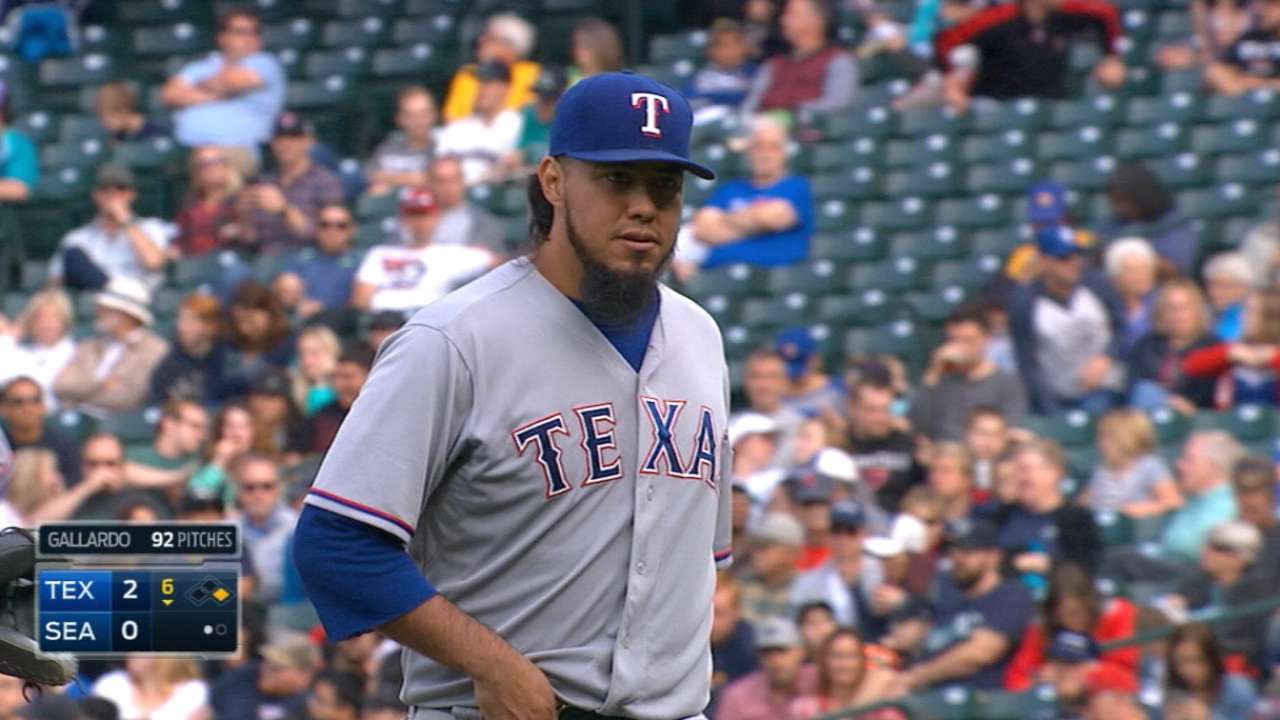 He has three options in veterans Sam Freeman and Jake Diekman, as well as Faulkner. He went with the rookie, who had thrown a scoreless inning in Sunday's 7-0 loss to the Angels. Faulkner's only other outing was one-third of an inning in a 7-0 loss to the Padres earlier on the road trip.
"That's why he's here," Banister said. "Yovani got us to a point where we felt we needed to get to, we had a marginal lead and felt it was time to go to the bullpen. We needed the guy to step up. We didn't think Yovani was losing it, we wanted another look on those left-handers. We felt it was time to make a move."
Faulkner was converted from a starter to a reliever in the middle of the Minor League season with an eye on him possibly reinforcing the Rangers' bullpen down the stretch. He did that on Monday.
Cano lined out to center and Faulkner struck out Smith. Faulkner stayed around for the seventh and retired the side in order. Two went down on strikeouts.
"He did a great job, especially getting those first two guys out," Gallardo said. "He's got good stuff and he showed it. He took control, that's what you want to see."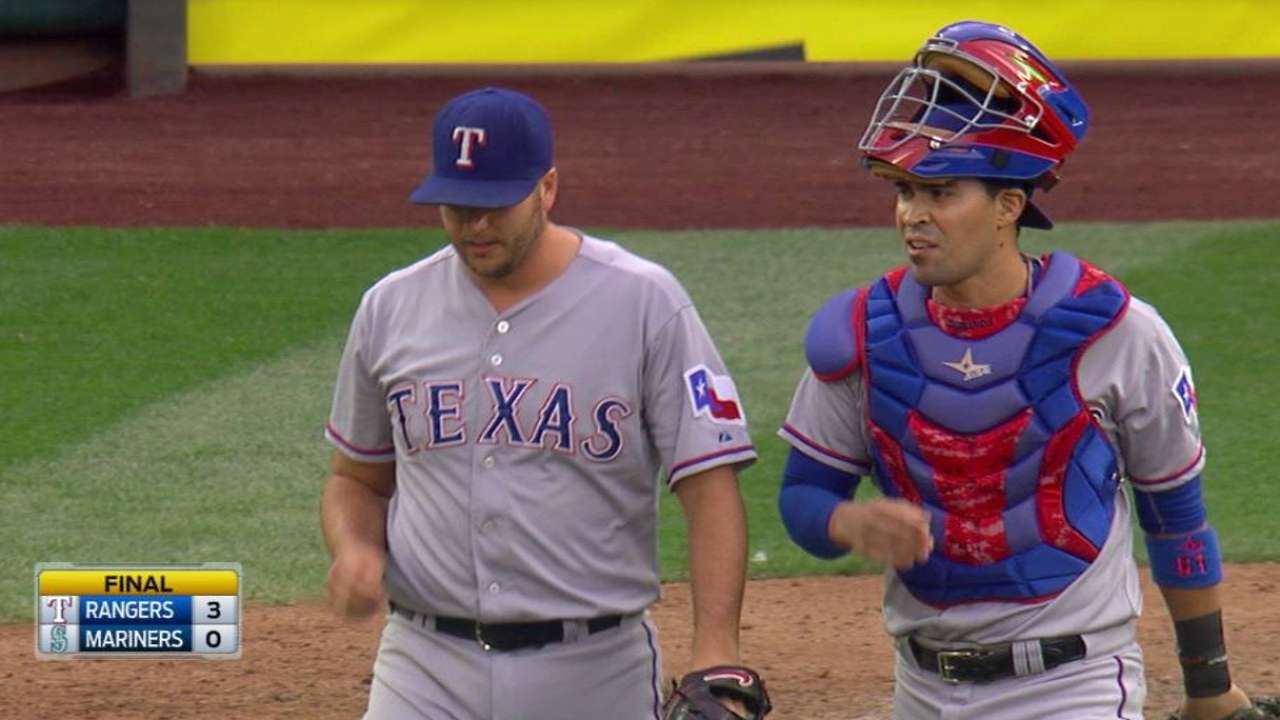 Sam Dyson took over and pitched a scoreless eighth. That left the ninth for closer Shawn Tolleson and he finished off the shutout for his 30th save of the season. He is the ninth different Rangers reliever with a 30-save season.
Faulkner was awarded his first Major League "hold." It was a big one.
"He was awesome today," Tolleson said. "He got big outs in a big part of the ballgame. His stuffed played really well. Today will make him more confident he can get these guys out and help in big situations."
T.R. Sullivan is a reporter for MLB.com. Read his blog, Postcards from Elysian Fields, follow him on Twitter @Sullivan_Ranger and listen to his podcast. This story was not subject to the approval of Major League Baseball or its clubs.