MLB.com Columnist
Jesse Sanchez
Gosselin's desert debut one to remember
Infielder making late-season mark with D-backs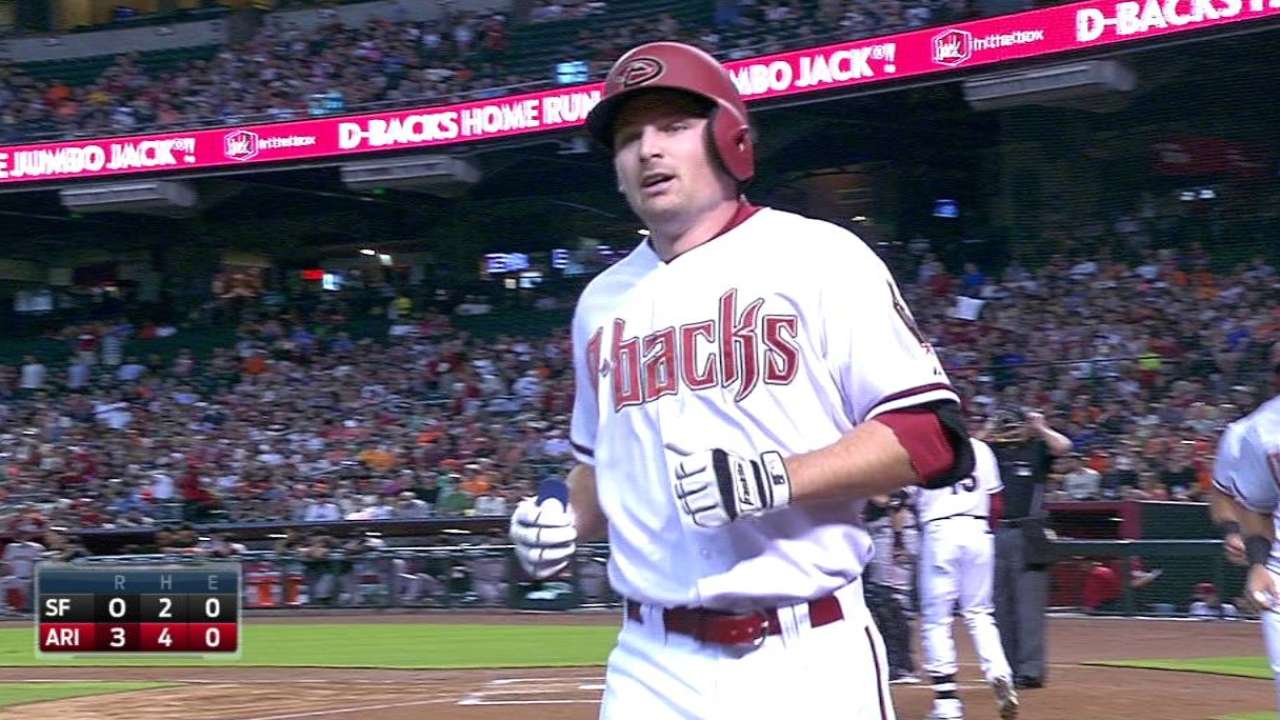 PHOENIX -- Phil Gosselin's first game with the D-backs at Chase Field was one to remember. It's already been a week he'll never forget.
Gosselin, who was activated from the 60-day disabled list last on Monday, finished 2-for-4, including a three-run home run in the second inning, in Arizona's 6-1 victory against the Giants on Monday at Chase Field.
"When you miss that much time at the Major League level you never really know what's going to happen when you come back," Gosselin said. "I feel healthy and I feel good, but you never really know, especially with a new team. You want to do well and show these guys you can play, but at the same time, you don't want to put too much pressure on yourself."
Gosselin added a single in the fourth inning and eventually raced home from third on a sacrifice fly to right field off the bat of center fielder A.J. Pollock to extend Arizona's lead to 5-0. Pollock's solo home run in the sixth, his 16th of the season, made it a 6-0 game.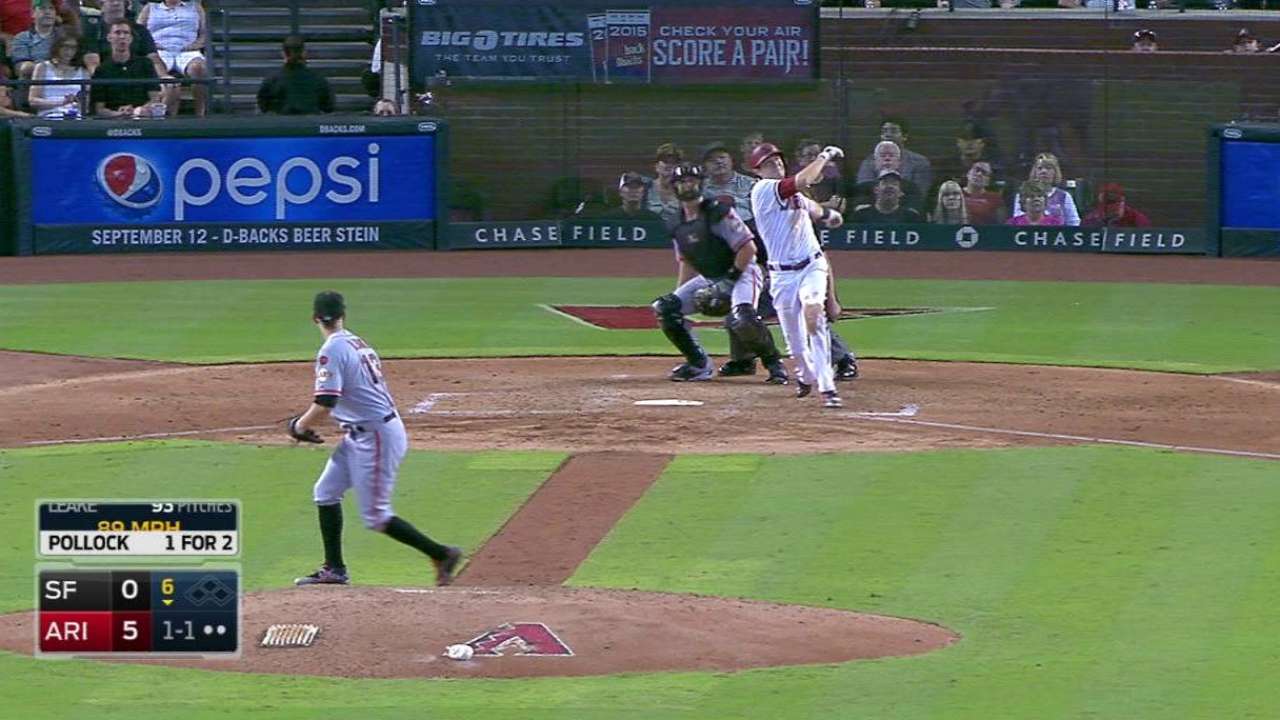 Gosselin was acquired on July 23 from the Braves for pitchers Bronson Arroyo and Touki Toussaint.
"I'm not a real flashy or toolsy guy so nobody ever thought I'd play in the big leagues," Gosselin said. "I felt like whenever I played against guys that were really good, I did well. I'm not the fastest guy or have the most power so nobody is going to give me a lot of credit, but at the end of the day, I'm good enough to be here and help a Major League team win."
How Gosselin fits into the club's bigger picture is to be determined. One thing is certain: He is giving the front office something to think about with his recent play.
"I think we all want to show what we can do because going into the offseason, this is the last impression or first impression for me," Gosselin said. "It's important. We are not out of the playoff race, either, and we are going to keep fighting until we are mathematically eliminated. I think if we can get hot here, you never know. Crazier things have happened."
In eight games with the D-backs, Gosselin has 20 hits in 63 at-bats with two home runs and 10 RBIs. He hit a three-run home run and racked up a career-high four RBIs against the Rockies in his second game with the D-backs last Tuesday.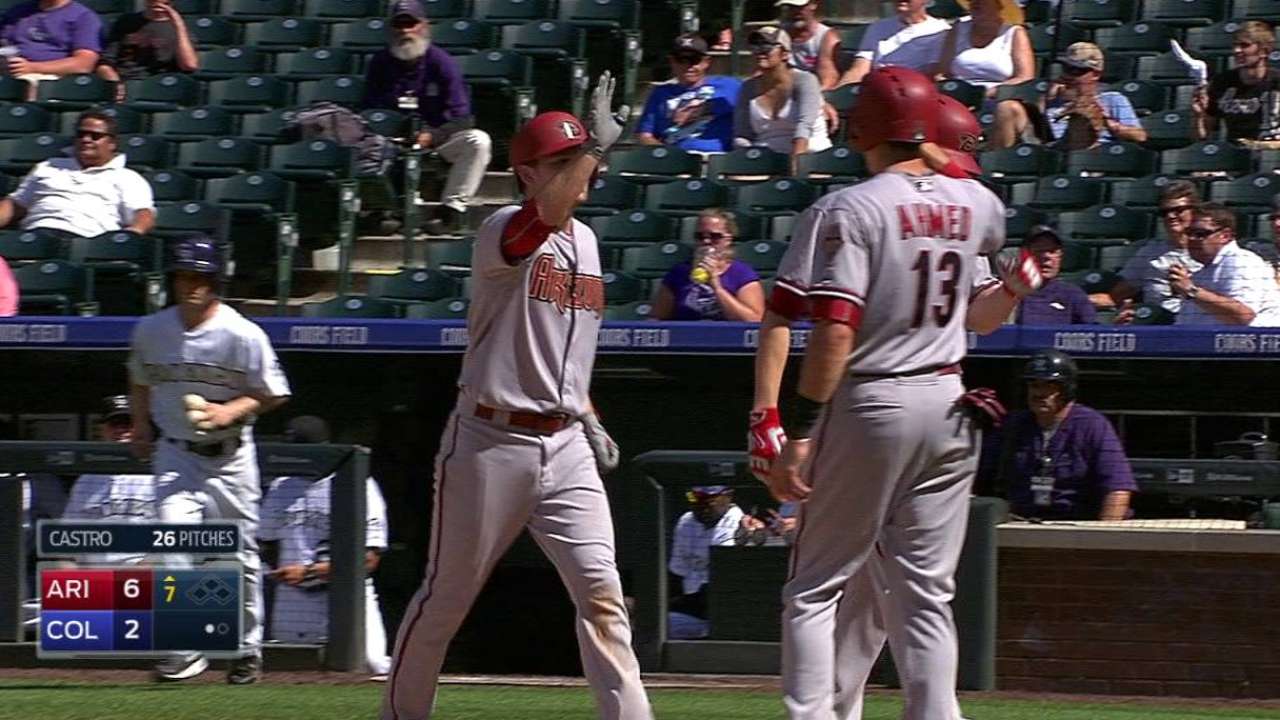 "We like his game. He has a nice, short swing. He's able to take pitches and get deep in counts and uses the whole field," D-backs manager Chip Hale said. "He could be a possible good hit-and-run guy for us. He played second, third and has some experience in the outfield, which is important as a bench guy if that's where it ends up going for next year."
Gosselin's lone blemish of the afternoon came in the fifth when he grounded into an inning-ending double play with the bases loaded.
"It's been fun," Gosselin said. "I didn't know how much I was going to play when I came back or how I was going to do. There was a lot up in the air and I'm trying to take it all in stride. Good day today, and move on to tomorrow and try to get another win."
Jesse Sanchez is a national reporter for MLB.com. Follow him on Twitter @JesseSanchezMLB. This story was not subject to the approval of Major League Baseball or its clubs.