Marte ends frame with stellar double play
Shortstop saves run with bases loaded in sixth inning of Monday's game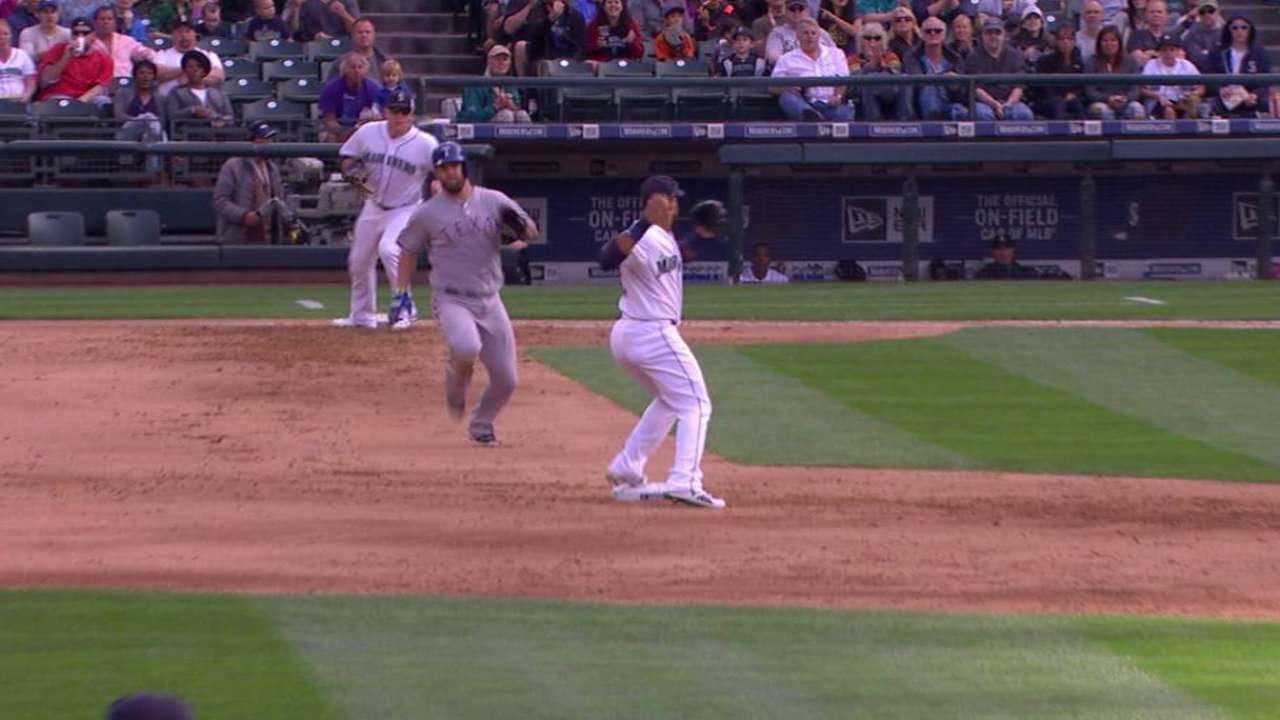 SEATTLE -- With two Rangers runs already across and the bases loaded with one out in the sixth inning, the Mariners were on the verge of letting their five-game win streak slip away.
The streak was ultimately snapped with a 3-0 Rangers victory, but if not for an exceptional defensive play by 21-year-old shortstop Ketel Marte, the result could have been much worse for the Mariners.
With a ball hit 100 mph off the bat of Rangers shortstop Elvis Andrus hurtling toward the outfield for what would have been a run-scoring single, Marte slid to his left and spun toward second base. He quickly tossed the ball to second baseman Robinson Cano, who threw to first baseman Logan Morrison for an inning-ending 6-4-3 double play.
The play was arguably Marte's most impressive in his 33 games with the Mariners, not only because of the quick glove work, but also because the young shortstop didn't see the ball rocketing toward him until right before it was secure in the webbing of his glove.
"When [Andrus] made contact, I never saw the ball. I just reached and made the catch, that's it," Marte said. "I just saw the ball at the last second and that's it."
The defensive gem drew a loud cheer from the 18,469 fans on hand at Safeco Field and got right-handed relief pitcher Mayckol Guaipe out of the Mariners' biggest jam of the game in just two pitches. Still, the Mariners couldn't capitalize on the momentum as Yovani Gallardo and later the Rangers bullpen held the Mariners scoreless over their final four innings at the plate.
Marte's double play turned out to be the club's biggest highlight as the Mariners posted their lowest offensive output since July 4.
"That was a big play, no question about it," said Mariners manager Lloyd McClendon. "He made a fantastic play right there."
Andrew Erickson is an associate reporter for MLB.com. This story was not subject to the approval of Major League Baseball or its clubs.