Greinke, Van Slyke help LA pad NL West lead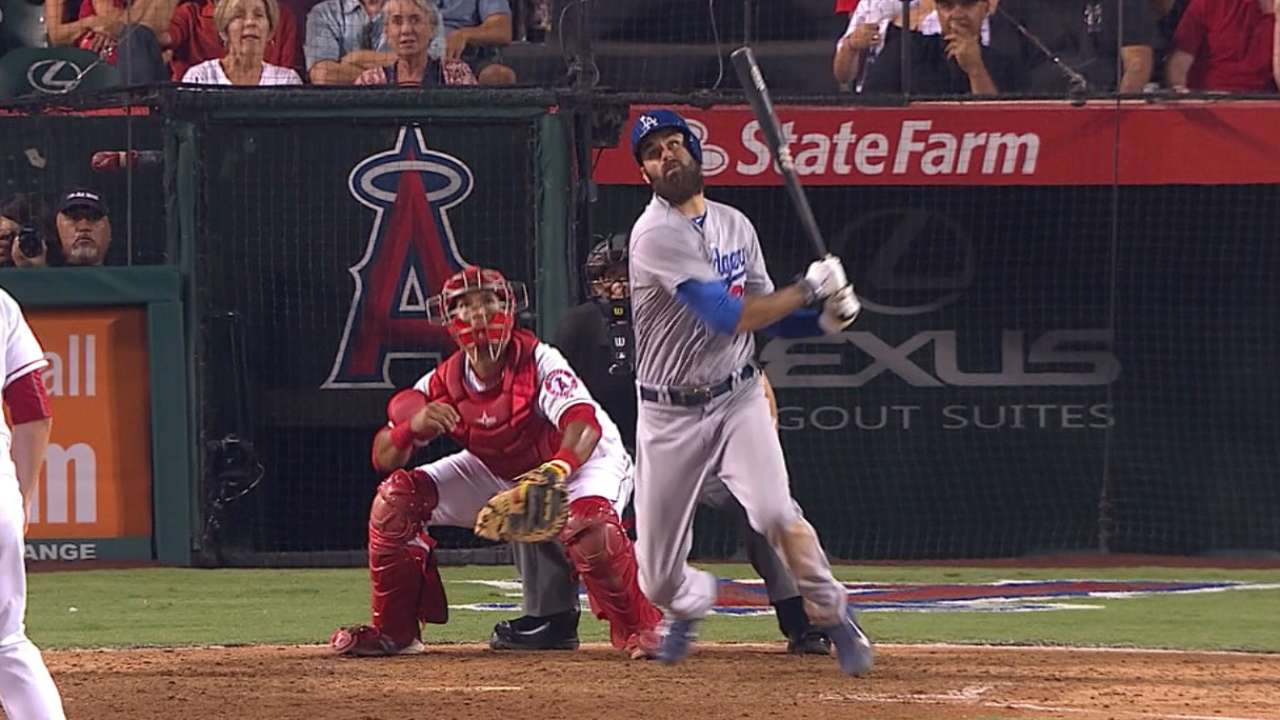 ANAHEIM -- Zack Greinke threw only 89 pitches and lasted six innings, allowing three runs and a pair of home runs, but the Dodgers' offense, led by Scott Van Slyke's four RBIs, backed him in a 7-5 win over the Angels on Monday night in the opener of the second half of the Freeway Series at Angel Stadium.
In front of a loud, sold-out crowd of 44,488, the Dodgers extended their lead to 8 1/2 games over the Giants in the National League West, while the Angels, who are fighting for an American League Wild Card spot, fell to 3 1/2 games back of the Rangers for the second slot.
Van Slyke went 4-for-5 with three run-scoring hits, while Justin Ruggiano chipped in a key pinch-hit two-run double for the Dodgers in the fifth.
"We're playing good now, and there's nothing wrong with riding the wave," said manager Don Mattingly. "You never know when things can change."
The Dodgers took leads three times, and although the Angels fought their way back into the game each time, the Dodgers finally held on, with closer Kenley Jansen tossing a scoreless ninth against the heart of the Angels' lineup for his 30th save.
"It wasn't the typical Zack," Mattingly said of the quick hook on Greinke. "He wasn't as sharp as he can be, and we didn't want to push him."
The Angels had their chances late, including in the ninth, when the Kole Calhoun led off with a single to bring up Mike Trout and Albert Pujols, both as the tying run. But Trout took a called strike three from Jansen -- who he took deep in Los Angeles in August -- and Pujols struck out waving at a fastball up and out of the zone for the second out. The next batter, David DeJesus, flied out to end the game.
MOMENTS THAT MATTERED
An important finger: Jimmy Rollins' jammed right index finger set in motion a chain reaction that helped the Dodgers win. If Rollins had been healthy, he would have started at shortstop, rookie Corey Seager would have played third base, Justin Turner would have started at first base so Adrian Gonzalez could be the designated hitter. Instead, Seager played short, Turner stayed at third and at first base Mattingly started Van Slyke, who had a career game on a night he wasn't scheduled to start.
"Scott knows his role," said Mattingly. "He doesn't fight for playing time. He knows he plays against lefties. He can play anywhere in the outfield and first base. He's embraced his role."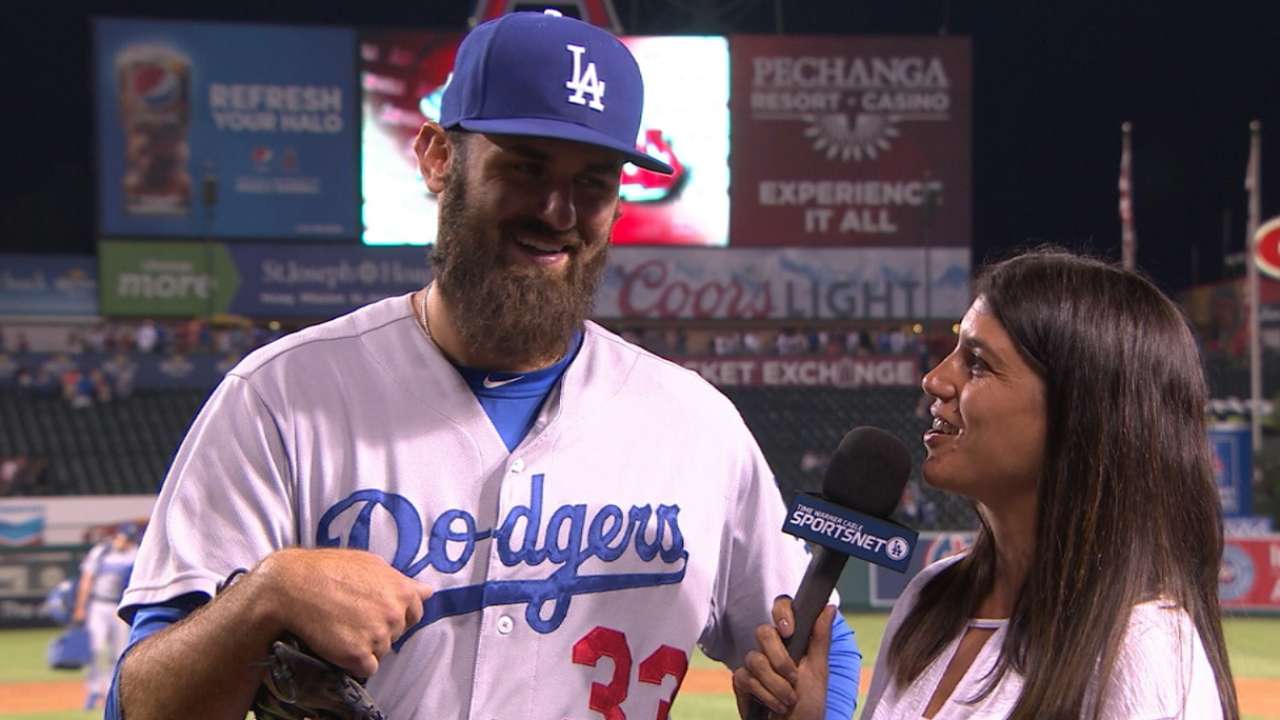 Angels get the worst of matchups: Both teams were managed like it was a playoff game, matching up at every opportunity. With expanded September rosters, the Dodgers and Angels used 16 combined pitchers, tied for the second-most in a nine-inning game in Major League history. The Angels used nine of them, setting a franchise record for a nine-inning game.
"It just came down to a matchup game," Angels manager Mike Scioscia said. "You have a lot of moves you can make, a lot of pinch-running, a lot of pinch-hitting. Unfortunately we just didn't quite get there."
The Kid: Pujols' first-inning ground ball shot past Turner, but backing up was Seager, who backhanded the ball in shallow left field and threw out Pujols, admittedly one of the slowest runners in the game. Seager started in place of Jimmy Rollins, out with a sprained finger.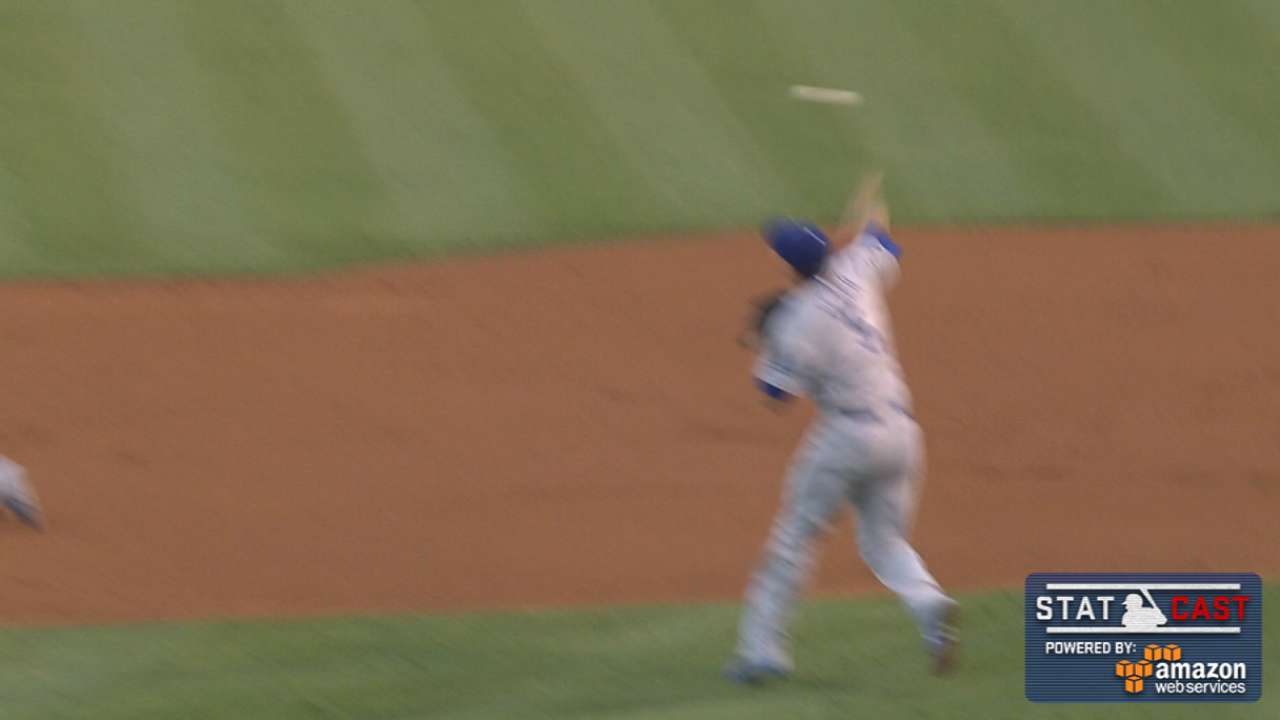 Angels answer against Greinke: In the second and the fifth, the Dodgers spotted Greinke leads, and both times the Angels responded with game-tying long balls off the Major League ERA leader. When the Angels fell behind, 1-0, in the second, C.J. Cron roped a line-drive homer to left to even the score, and when the Dodgers scored a pair to go up, 3-1, in the fifth, Calhoun went deep to right-center to tie the game again.
"I thought we had some pretty good looks at Zack. I thought we hit the ball hard. We got him out of there at six innings," Scioscia said. "Even when he's not quite at 100 percent, he's still good, and I thought we did a good job in the batter's box against him."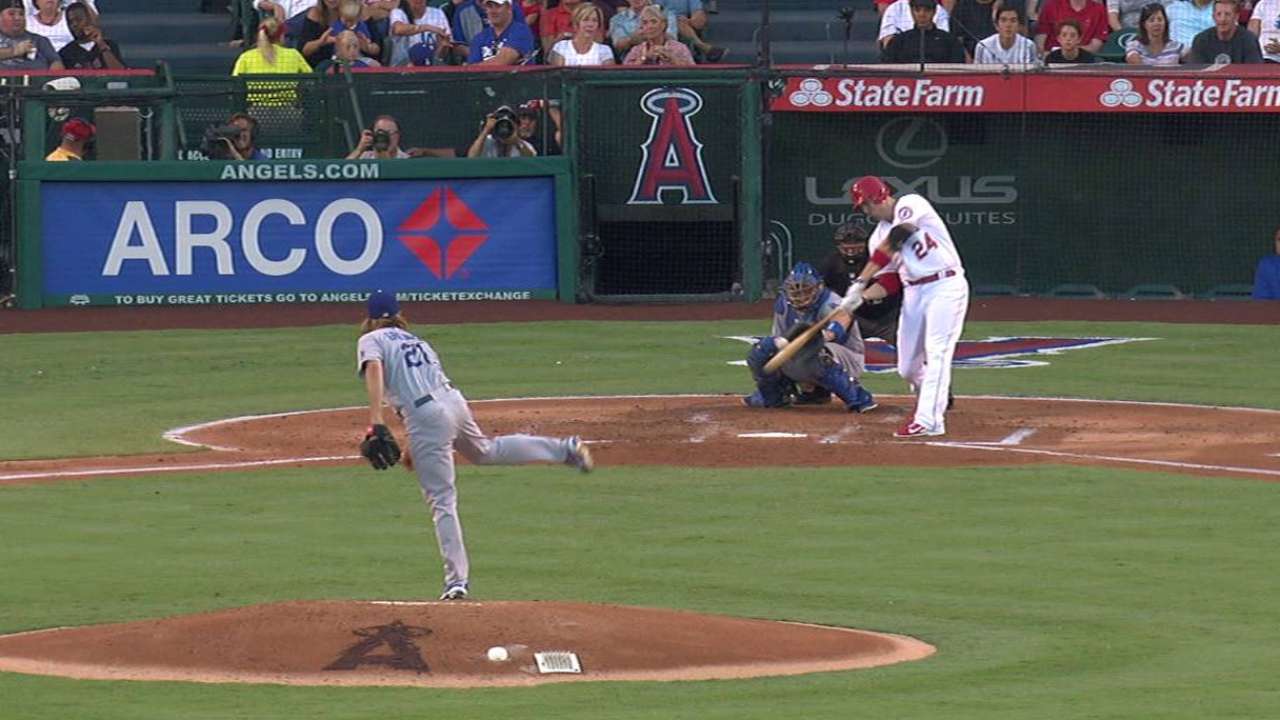 QUOTABLE
"I don't feel anything but trying to win a game every night." -- Mattingly, when asked if he feels the Dodgers are pulling away from the division
SOUND SMART WITH YOUR FRIENDS
The Dodgers have won seven straight games against the Angels, a franchise record. This was their first Interleague road win of the year after losing their first seven.
UPON FURTHER REVIEW
After a brief conversation between Mattingly and home-plate umpire Tripp Gibson, there was a crew-chief review of Calhoun's two-run home run in the fifth inning, checking for fan interference, but the call was confirmed.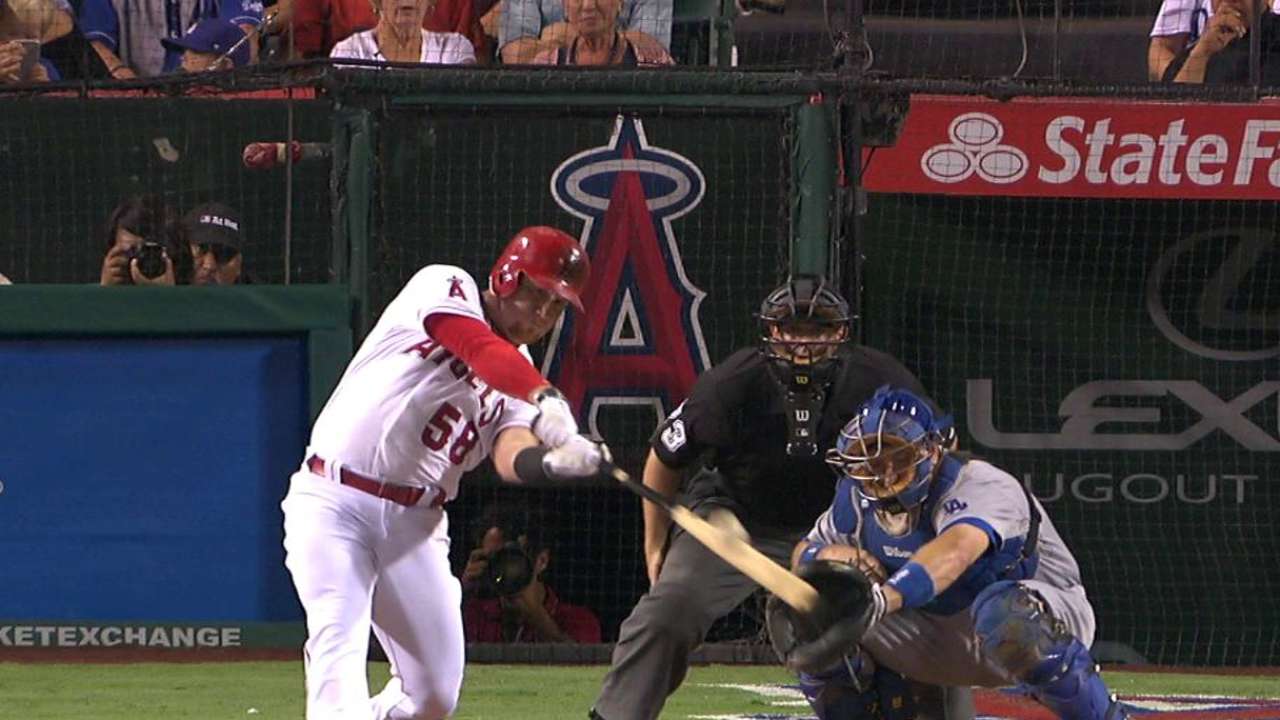 WHAT'S NEXT
Dodgers: Clayton Kershaw, coming off a complete-game six-hitter against the Giants, starts for the Dodgers in the second game of this series, at 7:05 p.m. PT on Tuesday. Kershaw made a career-high-tying 132 pitches in that start, but he'll take the mound on six days' rest. He is 7-0 with a 0.90 ERA in his last 10 starts, and he beat the Angels on Aug. 1 with an eight-inning two-hitter.
Angels: Rookie left-hander Andrew Heaney takes the mound for the Angels, having rebounded nicely with two quality starts after being shelled by Toronto on Aug. 22. Heaney matched up against Kershaw on that Aug. 1 start, allowing two runs in 5 1/3 innings at Dodger Stadium while taking his first loss as an Angel.
Watch every out-of-market regular-season game live on MLB.TV.
Ken Gurnick is a reporter for MLB.com and David Adler is an associate reporter for MLB.com. This story was not subject to the approval of Major League Baseball or its clubs.