Young Yanks play big role in crucial victory
Bird, Murphy combine to drive in five runs vs. the Orioles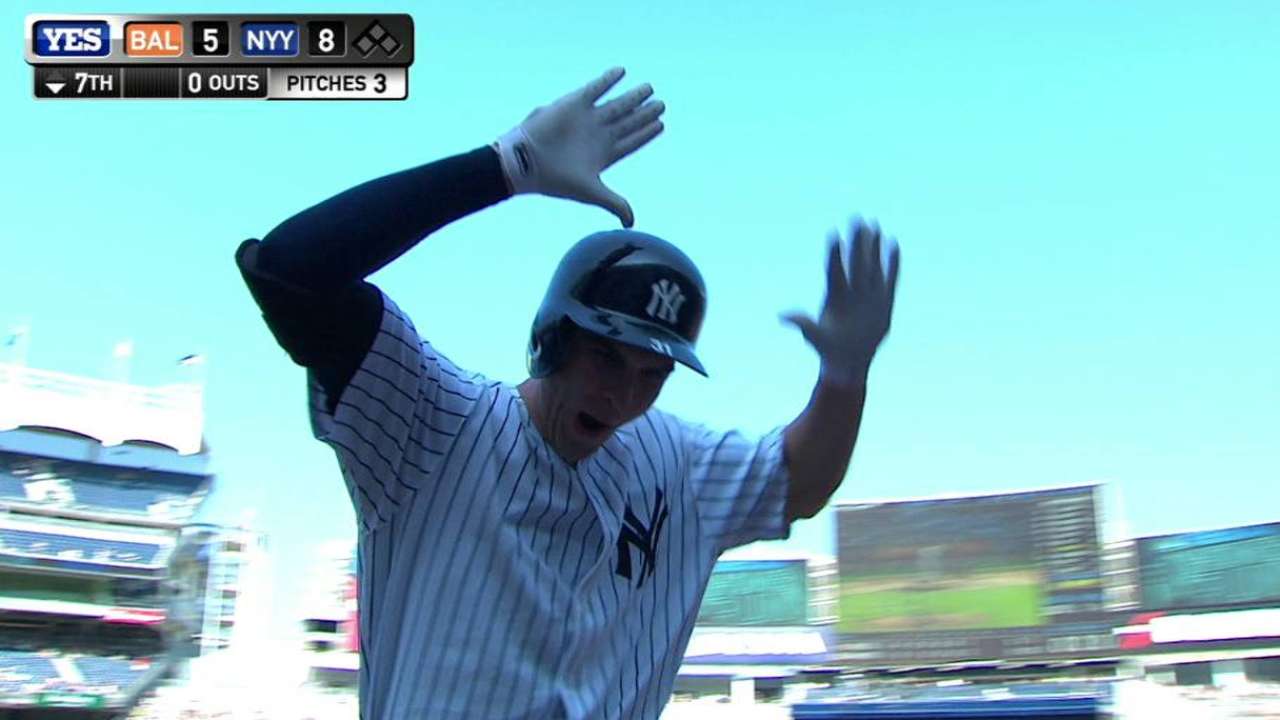 NEW YORK -- All eyes are on two teams in the American League East -- both vigorously chasing after the same division title, both regularly keeping up with what the other does on a day-to-day basis. On Monday, that race between the Blue Jays and Yankees got even closer.
With the Yankees' 8-6 win over the Orioles and the Blue Jays' loss to the Red Sox, the Yanks have pulled within a half-game of the Jays. A duo of young Yankees paved the way to make up significant ground Monday. Of the Yanks' eight runs, 22-year-old Greg Bird and 24-year-old John Ryan Murphy drove in five of them.
Murphy -- who also received Girardi's praises for his ability to help calm down a struggling Michael Pineda -- sent a two-run shot out to right field in the fifth to give the Yanks a lead after Pineda's dismal four-run second inning. Bird's go-ahead three-run homer in the seventh was the difference-maker for the Yankees. The homers were their third and fifth of the season, respectively, and the second time since Wednesday they both went deep in the same game.
"He's very calm, too, he's a lot like [Luis] Severino," said Girardi of Bird, who made his Major League debut Aug. 13. "He has a plan, he knows what he wants to do, he doesn't get too high or too low, same person every day. I don't think he has been nervous in this situation. I think his at-bats have been really good."
Both Bird and Murphy have continuously credited the older players in the Yankees' clubhouse for showing them the ropes and shedding some light on Major League competition. Bird went to Brett Gardner in the opening days of his Major League career to pick Gardner's brain, as well as to find out what time batting practice was.
Murphy, the backup catcher, works closely with Brian McCann, who has been in the Majors since 2005. Murphy also grew up watching Alex Rodriguez hit.
"He's been in the league as long as I've been alive and that's pretty cool," Murphy said. "I was a Red Sox fan, but I was just a baseball fan, obviously, so I watched a lot of him."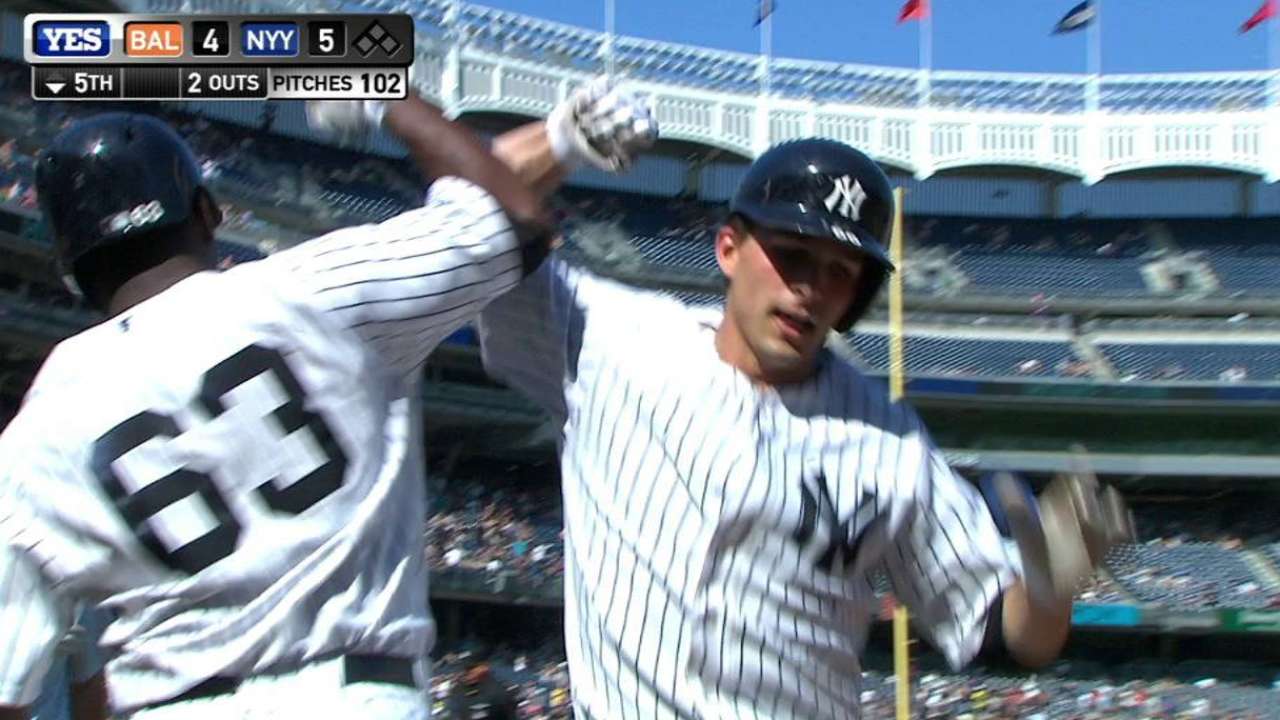 Now Bird and Murphy will both look to keep contributing as the Yankees continue to make their postseason push. While several of the Yankee players have maintained that they don't glance at the scoreboard in the outfield during games to see what the Blue Jays are up to, Girardi said he watches it every day and has since Opening Day.
Murphy echoed that sentiment, indicating that it's nearly impossible to not want to know what's going on with the standings.
"They're a really good team and they're playing really good baseball. We can't control what they do, but yeah, it's a good thing [when Toronto loses]," he said. "I think it's normal to look up there during games and want them to be losing."
Grace Raynor is an associate reporter for MLB.com. This story was not subject to the approval of Major League Baseball or its clubs.