Healthy Herrera, Rios return to Royals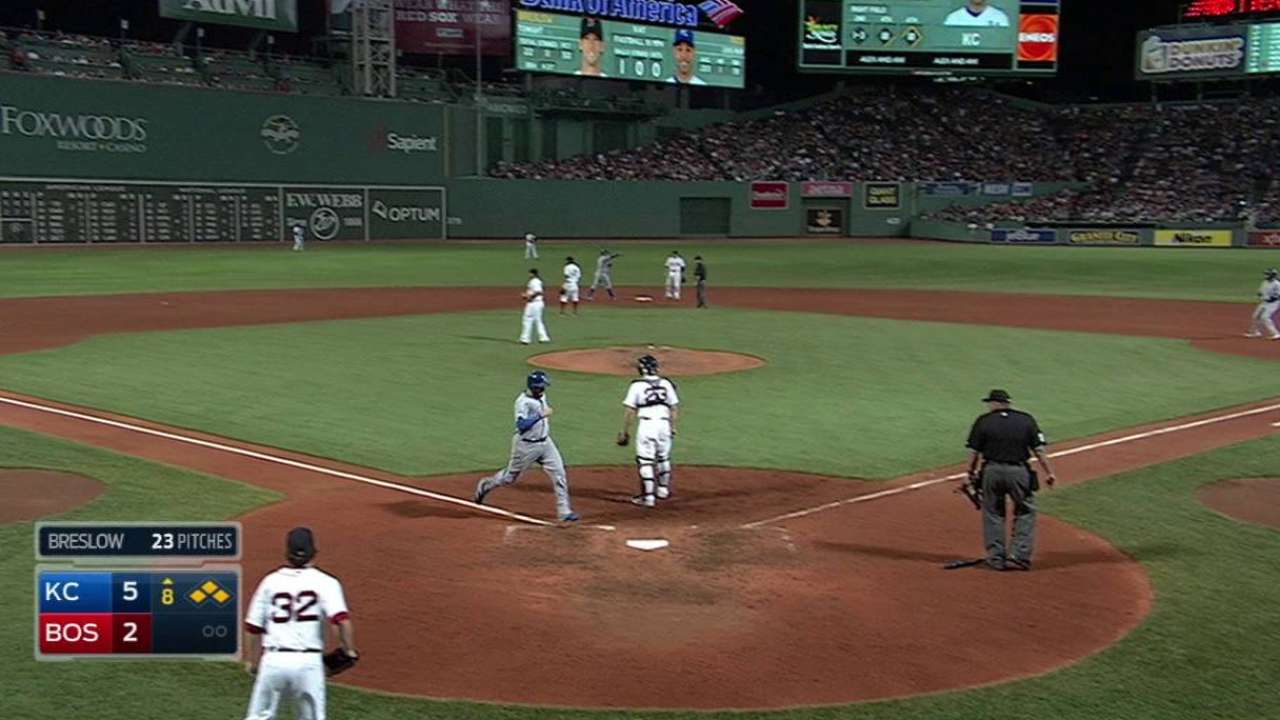 KANSAS CITY -- The Royals got some reinforcements on Monday, when right-hander Kelvin Herrera and outfielder Alex Rios, both of whom had been infected with the chickenpox virus, returned. The team also brought up right-handers Joba Chamberlain and Louis Coleman from Triple-A Omaha and added them to its September roster.
Manager Ned Yost said that both Rios and Herrera have been cleared to play.
"The doctors said the [lesions] had crusted over and they were cleared to go," Yost said. "They're ready. Kelvin had been throwing sides, and Alex has been hitting and doing baseball activities."
Symptoms began to appear on Rios and then Herrera more than a week ago while the team was in St. Petersburg. Rios said that it's virtually impossible to know where he could have contracted chickenpox.
"From what I understand, it could have been anywhere," Rios said. "We're exposed to so much, interacting with fans or in airports or wherever."
Rios said chickenpox was the last thing he ever expected to get.
"It was just really bizarre," he said. "But the good news was that there was never really any discomfort. There were just these bumps that came up, and I didn't know what they were.
"I was pretty sure I didn't have [chickenpox] as a kid, but I also didn't know whether I was vaccinated. I didn't think so. I'm just happy to be back."
Chamberlain was signed to a Minor League deal on Aug. 16. He opened the season in Detroit, going 0-2 with a 4.09 ERA for the Tigers. With Omaha he went 1-0 with a 6.43 ERA.
Chamberlain immediately made his Royals debut, giving up two runs in the seventh inning.
"He was throwing the ball good at Omaha, fastball was 95 to 97 with a good breaking ball," Yost said. "[Pitching coach] Dave Eiland was with him when they were with the Yankees and [Chamberlain] was at the height of his success. He knows him really well. Very durable guy, can go every day."
Chamberlain is eager to reunite with Eiland.
"He saw me as a starter in the Minors and then for two years in the big leagues," Chamberlain said. "If anyone knows me more than the next guy, it's him. I'm looking forward to getting back with him and seeing how I can help this team."
Chamberlain had been reunited at Omaha with his college teammate at Nebraska, Alex Gordon, who was rehabbing at Triple-A.
"It was great," Chamberlain said. "It had been a long time since we played together."
Coleman went 8-2 with a 1.69 ERA at Omaha.
To make room on the roster for Monday's additions, the Royals designated pitcher Yohan Pino and infielder Dusty Coleman for assignment.
Jeffrey Flanagan is a reporter for MLB.com. Follow him on Twitter at @FlannyMLB. This story was not subject to the approval of Major League Baseball or its clubs.