Bradley, Red Sox riding offensive surge
Center fielder goes 4-for-4 with four RBIs as Boston moves up in standings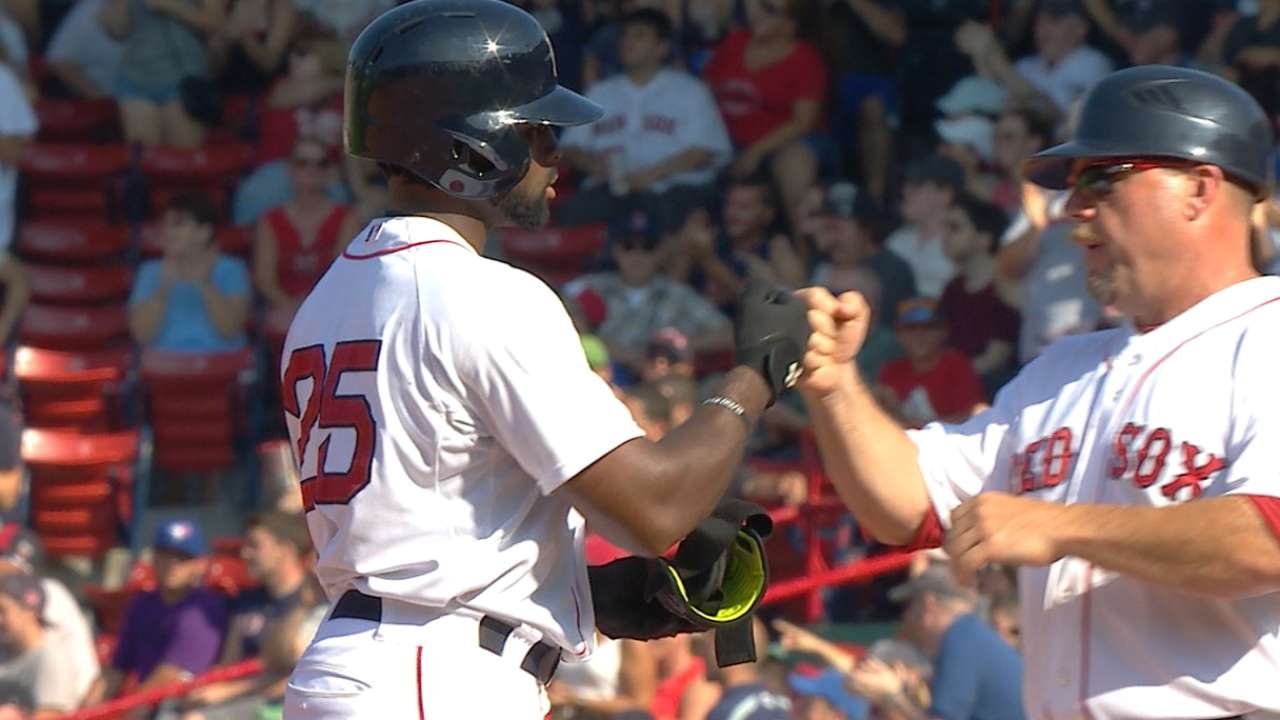 BOSTON -- The Red Sox are no longer in fifth place. On Monday, led by an explosive offense, they gave a first-place team fits.
With an 11-4 win over the Blue Jays, Boston moved into a tie with the Orioles for fourth place in the American League East. The last time the Red Sox were in fourth was June 8.
That might not have Red Sox Nation jumping out of its collective seat, but the club has won 13 of its past 19 games and eight of its past 11. Since Aug. 7, the team's run differential is plus-51.
"It's a quick-striking offense, we're capitalizing in key situations, we're not giving away at-bats, and it's going hand in hand with our pitching," said interim manager Torey Lovullo.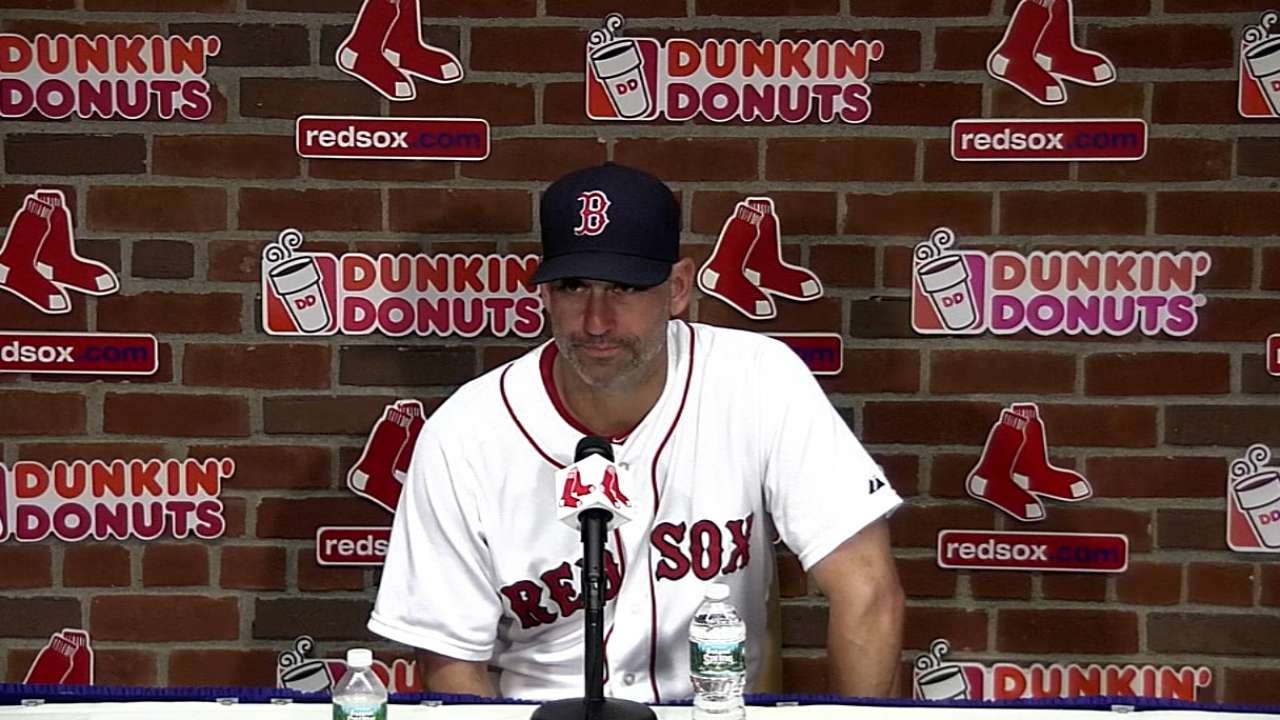 The Sox had 17 hits on Monday, including at least one from each of the starting nine and four from Jackie Bradley Jr., who had a home run, a double and four RBIs.
In 25 games since Aug. 9, Bradley has posted a slash line of .446/.489/.952. Twenty-one of his past 28 hits have gone for extra bases.
"I've always been amazed watching him play, even in the Minor Leagues, not only defensively, but offensively," catcher Blake Swihart said. "Everybody knew he could hit, but he's proving it to everyone now."
Bradley's homer was a two-run, opposite-field shot over the Green Monster to give Boston a 7-2 lead in the sixth.
"I think a young player comes up and all he wants to do is hit balls to the pull side, and you start to pull off," Lovullo said. "[Bradley] is staying in the middle of the diamond, which is enabling him to hit a lot of pitches and not be one-dimensional. We knew he had good power, we'd just been waiting to see it, and it's upon us."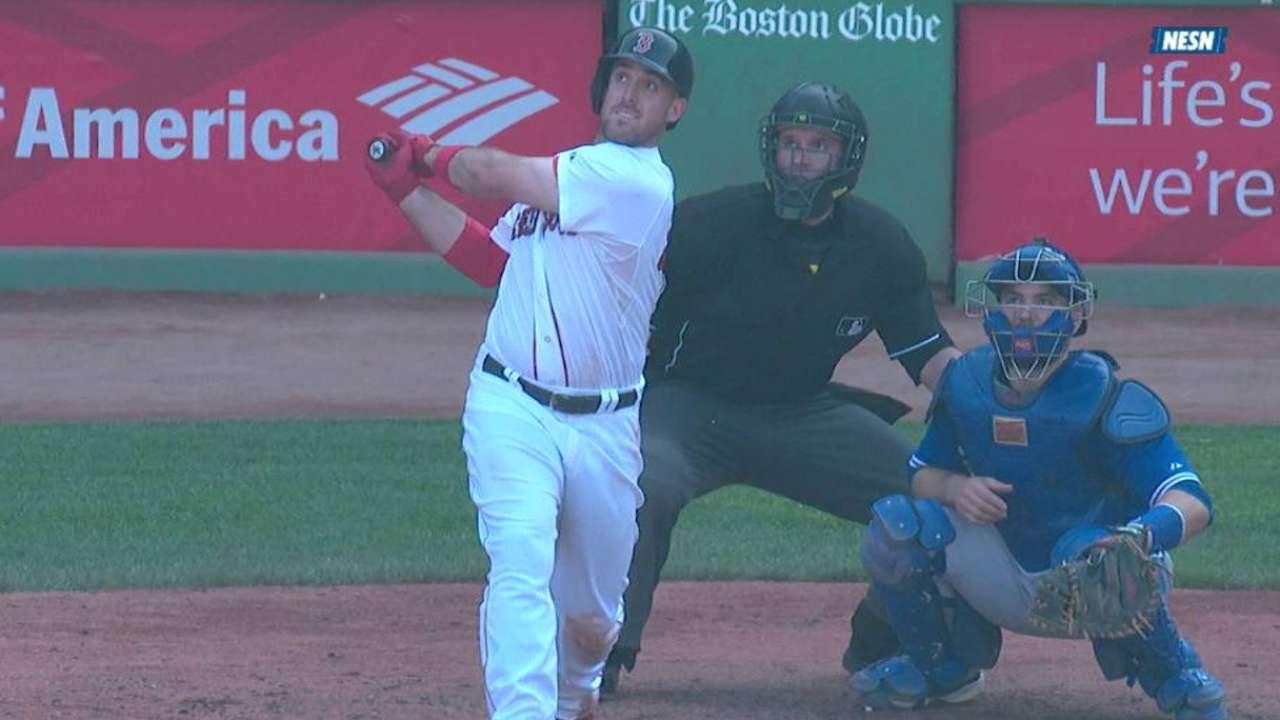 Monday's offensive outburst by the Red Sox included a rare sight in Lovullo's brief time at the helm: a pair of sacrifice bunts, one by Pablo Sandoval and another by Swihart, to advance runners to second and third with no outs.
Both players chose to bunt on their own. Lovullo would have preferred to see them swing away -- even though the bunts ultimately led to four runs.
"I'm more of the belief of breaking the game open in that [early] part of the game," Lovullo said. "The Boston Red Sox way is to go up and bang the ball, and they're going to slowly start to understand that."
Travis Shaw added a two-run homer in the eighth, Mookie Betts had three singles, scored twice and drove in a run and David Ortiz smacked a pair of doubles, one driving in a run.
The playoffs may be a pipe dream for these Red Sox, but they are far from an easy matchup for opponents with World Series aspirations.
"Rick [Porcello] and I were just talking," Swihart said, "about how it's enjoyable to come to the field every day knowing it's goin to be a good day."
Aaron Leibowitz is a contributor to MLB.com. This story was not subject to the approval of Major League Baseball or its clubs.