Olivera shows off power in night of firsts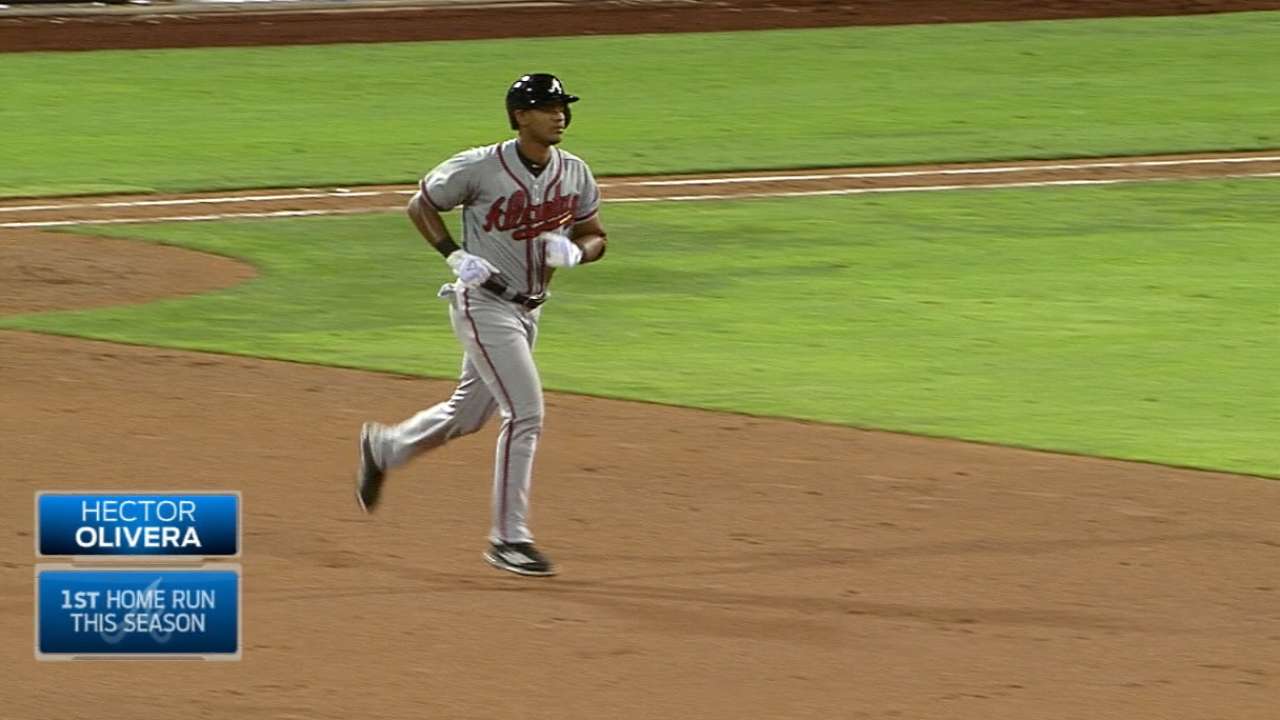 PHILADELPHIA -- Though the Braves have preached the need to have patience with Hector Olivera as he introduces himself to the Major League level, there is no doubt many members of the organization breathed a sigh of relief when the Cuban third baseman provided a glimpse of his power potential during Monday night's 7-2 win over the Phillies at Citizens Bank Park.
Because of the steep price that was paid to acquire him from the Dodgers on July 30, Olivera might be facing unjust pressure as he experiences his second full week in the big leagues. But he certainly had reason to smile as he quieted the doubters with a four-RBI performance that was capped by the first home run of his career -- a two-run shot in the ninth inning off Colton Murray.
Olivera's memorable night helped the Braves snap a 12-game losing streak and claim just their second win in their past 21 games.
"I feel great that I was able to help the team get a win," Olivera said through an interpreter. "I feel this will build more confidence, and the more that we get going, the more I'll start feeling better."
In some ways, this game served as a microcosm for what might develop over the final few weeks of this season. Olivera whiffed at two sliders outside the zone to conclude the strikeouts he recorded in his first two at-bats. But after huddling with assistant hitting coach Jose Castro, the 30-year-old Cuban took a more patient approach to the plate in the fourth inning, when he recorded a two-run double off Aaron Harang.
Like the homer he hit down the left-field line, Olivera did not necessarily make solid contact with the double that bounced off the left-center-field wall. But both hits provided further indication of his power potential.
"Yeah, I made an adjustment," Olivera said. "Let's be honest, those [strikeout] pitches weren't very good pitches at all. They were horrible pitches to swing at. I wasn't focused. I focused on the next few at-bats after that and looked for a pitch that I could drive. I got them and put a good swing on them."
Before the double, Olivera had recorded two hits (both singles) and seven strikeouts through his first 17 career at-bats. Though the sample size was small, the resulting concern was magnified by the fact that he had produced a meager .478 OPS in the 16 Minor League rehab games he played while recovering from a hamstring injury in August.
After not being able to match the six-year, $62.5 million the Dodgers provided the highly touted international free agent earlier this year, the Braves wanted Olivera bad enough to include both top prospect Jose Peraza and Alex Wood in the mega trade that was completed a little more than a month ago.
"This guy was not only traded in the middle of the season, but he came from a different country and is trying to get used to the language and all of that," Braves manager Fredi Gonzalez said. "It's going to take him a while. We have to be patient with him. But you saw what our scouts have seen, some power."
Mark Bowman is a reporter for MLB.com. This story was not subject to the approval of Major League Baseball or its clubs.