After string of strong starts, Nicolino off vs. Crew
Lefty gives up five runs on nine hits in 4 1/3 innings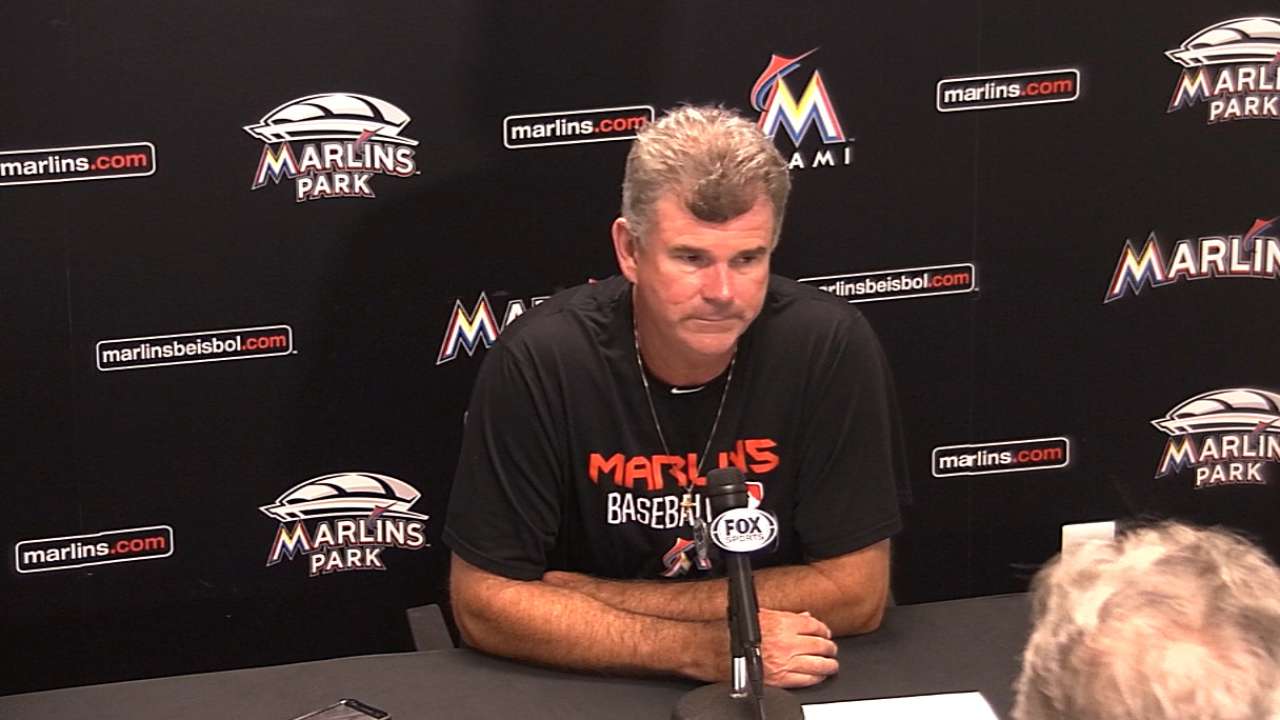 MIAMI -- For the first time in his past four starts, Marlins starter Justin Nicolino wasn't sharp when he faced the Brewers on Monday afternoon. The rookie lefty paid the price, as he tied a season-high in runs (five) and hits allowed (nine) in Miami's 9-1 loss at Marlins Park.
"It's baseball. Not every five days you're going to go out there and have your good stuff," Nicolino said. "You just have to battle. That fifth inning I went out there, and I threw [Jean Segura] an 0-2 pitch that stayed over the middle of the plate, and after that, it was the same thing to [Jonathan] Lucroy.
"I can't do that. At times, guys did pick me up, but I just didn't give them chances."
Nicolino (3-3, 3.72 ERA) was pulled after 4 1/3 innings, but he posted zeros through the first three. Then, Milwaukee's Khris Davis tagged him for a solo home run in the fourth inning, before the 23-year-old Nicolino surrendered four runs in the fifth.
"He was fine executing his pitches and utilizing his changeup," manager Dan Jennings said. "Then the home run to Davis -- and that fifth inning -- it was like he'd get to two strikes and couldn't finish the hitter."
Segura tripled to start the fifth, and Lucroy followed with an RBI double. After getting Ryan Braun to ground out, Nicolino allowed back-to-back run-scoring hits to Davis and Adam Lind before he was pulled for Brian Ellington.
"All year since I've been up here, guys have been picking me up in those big jams," Nicolino said. "I had an opportunity to make some pitches, but I left them out over the plate, and that's what they're supposed to do with it."
It was a very different outing for the young lefty compared to his previous ones.
He was coming off a seven-inning scoreless performance in Atlanta on Tuesday. Prior to that, Nicolino logged three quality starts in a row, allowing two earned runs in each.
The five runs Nicolino allowed on Monday tied a season high he set on June 26 vs. the Dodgers, while the nine hits tied a season high that he allowed on Aug. 11 against Boston.
"Location-wise, he got some balls up that really aren't good for him," Jennings said. "And with two strikes, he's usually been pretty good at expanding the zone a little bit or utilizing that changeup to get guys out front. He just wasn't able to do it today."
Steve Wilaj is an associate reporter for MLB.com. This story was not subject to the approval of Major League Baseball or its clubs.