Kinsler, Machado combine for game-saving out
Review confirms second baseman's foot stayed on bag for final out of game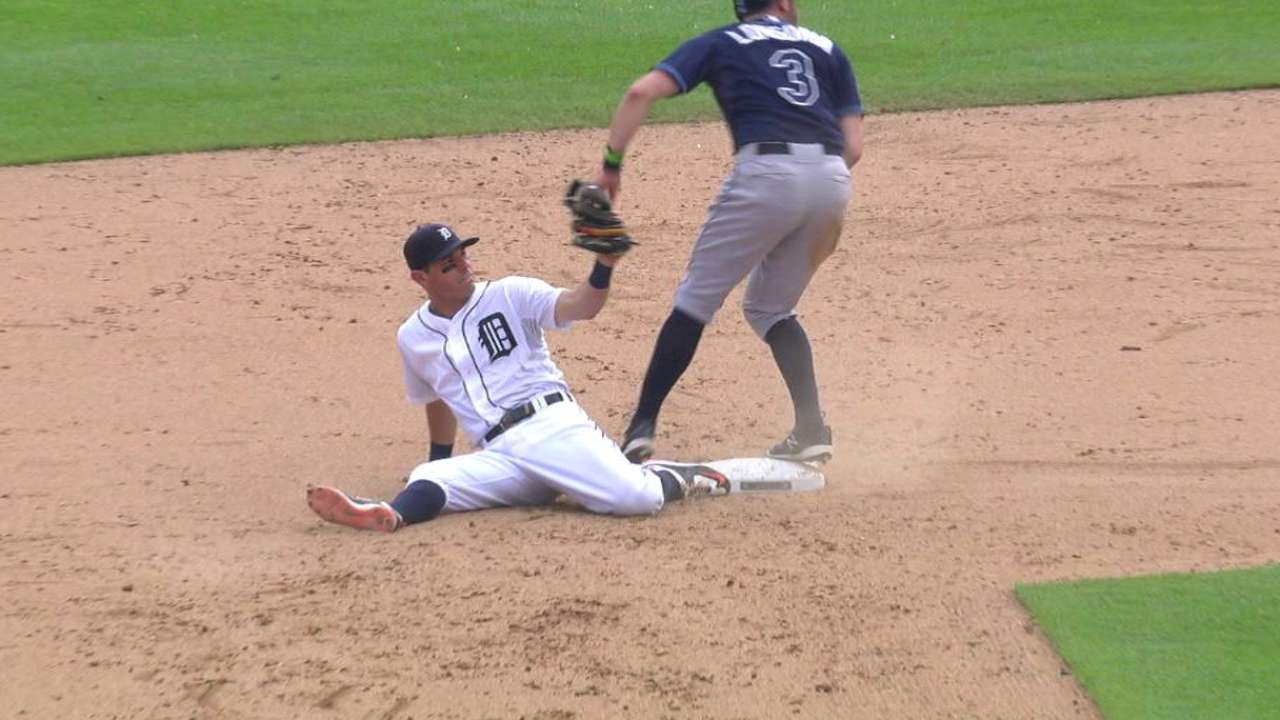 DETROIT -- Ian Kinsler and Jose Iglesias put together a highlight show's worth of double plays for more than five months. Kinsler is still getting to know Dixon Machado at shortstop, but they put together a game-saving out on Monday, literally by a toe.
"That's a big out there," Kinsler said in a vast understatement.
The save in the Tigers' 5-4 win over the Rays belonged to closer Bruce Rondon, but it was the Tigers' middle-infield duo that closed it out. It took a replay challenge that left most of the Tigers roster on the field, waiting to see if they could congratulate each other on the win or play on with a tie game.
It looked almost ordinary compared to the acrobatic plays with which Iglesias and Kinsler have spoiled Tigers fans, but it was a key out with a high degree of difficulty. What had been a one-out, bases-empty situation for Rondon became bases loaded with two outs, putting the potential tying run on third after an Evan Longoria walk.
Up came cleanup hitter Logan Forsythe, who got a 2-1 count and went after a 99-mph fastball, hitting a sharp grounder into the hole to the left side. Machado was positioned closely enough that he needed just a couple steps to get to the ball, sliding quickly to glove it.
"Dixon was in a great spot," Kinsler said. "He was deep in the hole, really the perfect spot to take away that hit."
The throw that followed was not perfect. With Kinsler darting for second to try to beat Longoria to the bag, Machado flipped a throw low and wide, sending Kinsler to the ground as he lunged toward the outfield side of the bag to try to corral it.
"It was really close," Machado said. "After I fielded it, I kind of hesitated because I wanted it to be perfect. But it was a bad throw."
Said Kinsler: "You anticipate a bad throw. You're ready for anything."
What followed was a simultaneous stretch, Kinsler lunging to get his glove hand across his body for the throw while still trying to keep his left foot on the bag. At first glance, it looked questionable whether he did, because the end result had him well off the bag and into the dirt. But second-base umpire Tim Timmons made the call immediately.
As Rays manager Kevin Cash emerged from the dugout to challenge, Machado wasn't sure. What he had was word of mouth.
"I asked [Kinsler], 'Were you on the bag?' And he said, 'Yes, I was,'" Machado said. "I was confident because he told me."
Said Kinsler: "My foot was on the base. It was on the base the whole time. My momentum just kind of took me off."
A slow-motion replay at least raised that possibility, if not confirming. In the end, Kinsler's left foot appeared to be on the bag as the throw carried into his glove. Once the foot slipped off, his left big toe seemed to be on the side of the bag.
After a 38-second review, the call was confirmed.
It was a nice cap to a day that included no shortage of action for the shortstop, including a nice double-play grounder that Kinsler flipped to him for the lead out. That kind of day, Machado said, feels better than a big night at the plate.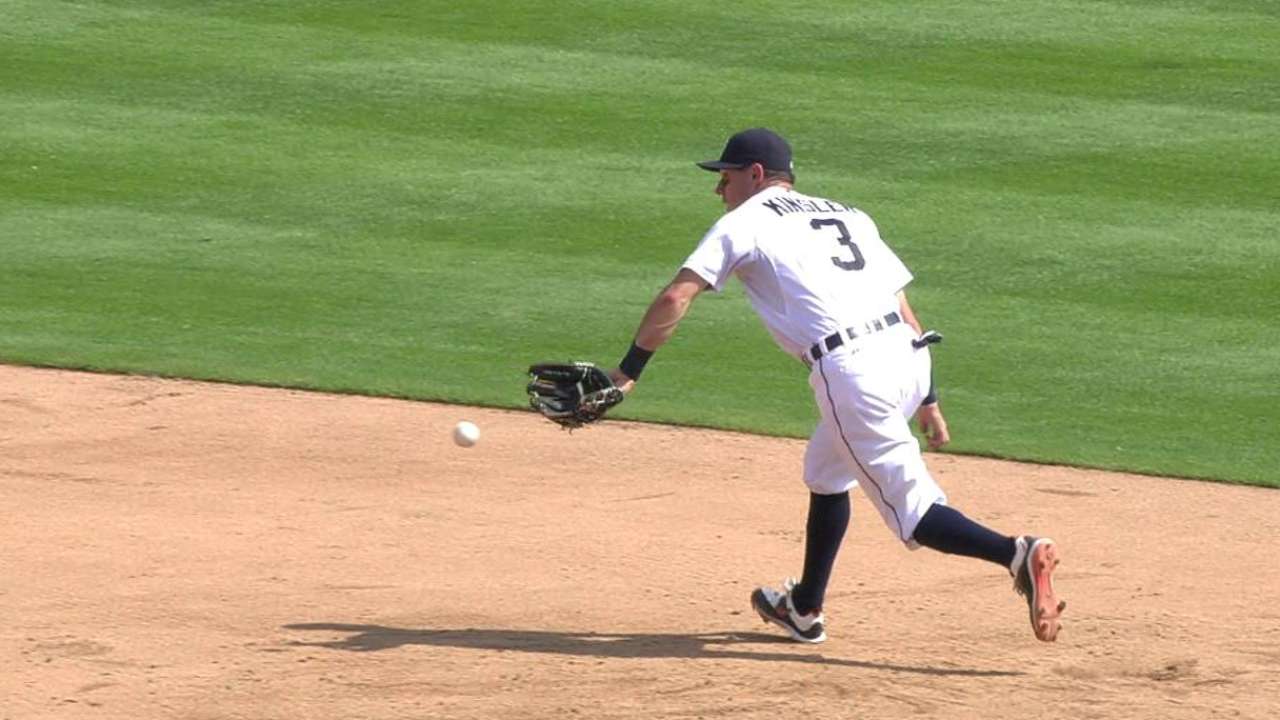 "I feel like I've always worried more about defense," Machado said, "because you're supposed to make every play every time. Hitting, there are going to be days when there's a good pitcher or you're just not going to get hits. Defense, you can be more consistent than offense."
Jason Beck is a reporter for MLB.com. Read Beck's Blog, follow him on Twitter @beckjason and listen to his podcast. This story was not subject to the approval of Major League Baseball or its clubs.