Davis recovers for two-homer game
After being checked by trainer in first, left fielder goes deep twice for difference in game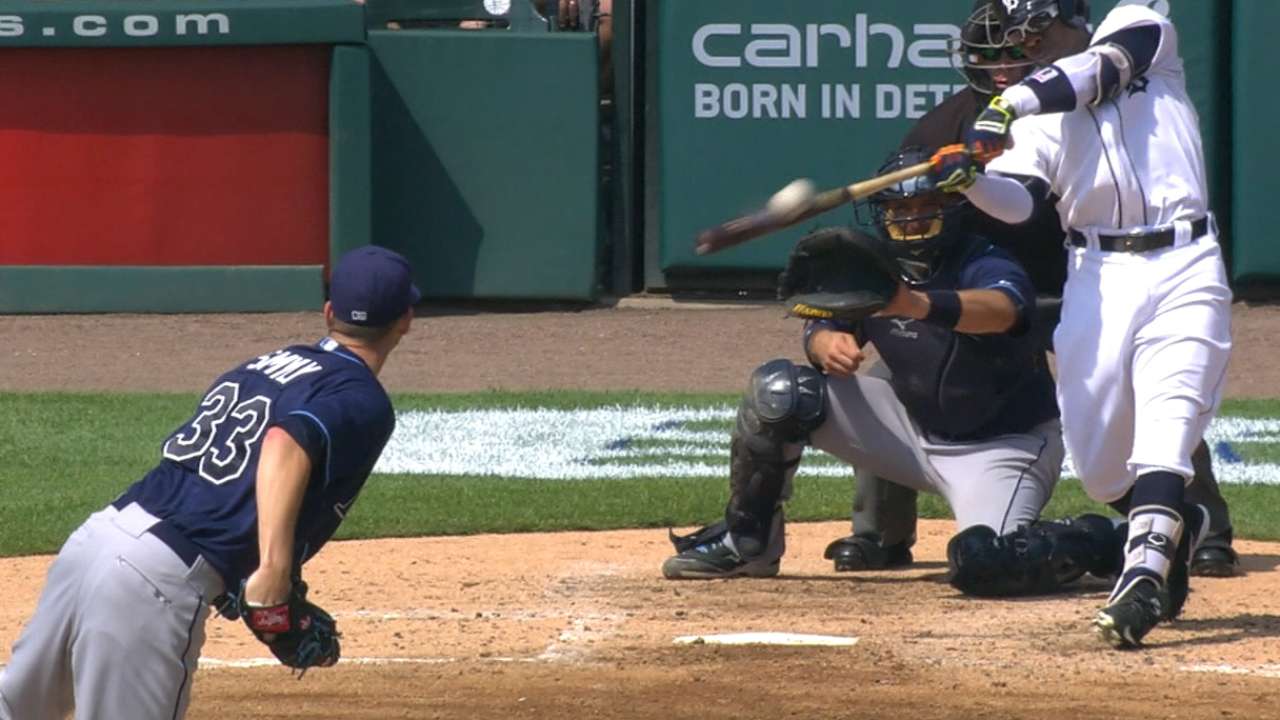 DETROIT -- Rajai Davis remembers a lot about his previous two-homer game.
"It was 2012, Toronto against the New York Mets," he said. "Niese, hanging breaking ball, and then a guy came in throwing 93."
It was May 18, 2012, and it was Jon Niese who hung the breaking ball. Manny Acosta gave up the other one.
He might remember his latest two-homer display in Monday's 5-4 win over the Rays -- not for the swings that sent two pitches over the left-field fence, but the swing that could've knocked him out before he had a chance at it.
He had a big swing in the first inning and grabbed around his left oblique, enough to bring head athletic trainer Kevin Rand out of the Tigers' dugout. But it wasn't his oblique, he said. He wasn't quite sure what it was.
"He said it was something in his stomach," manager Brad Ausmus said. "He said it wasn't muscular. He might have gas. I'm not really sure."
After a follow-up question, it did not sound like gas.
"I guess it's hard to describe, for me," he said, "because I haven't really felt one of those before. It kind of felt like my bones were rubbing against each other or something else, inside though, internally. Didn't feel too pleasant."
He was still stretching it when he went back out to left field for the second inning. When he got back up to bat in the third, he worked to a 1-2 count, then he turned on a hanging breaking ball from former teammate Drew Smyly and lined it over the left-field fence for a 2-0 Detroit lead.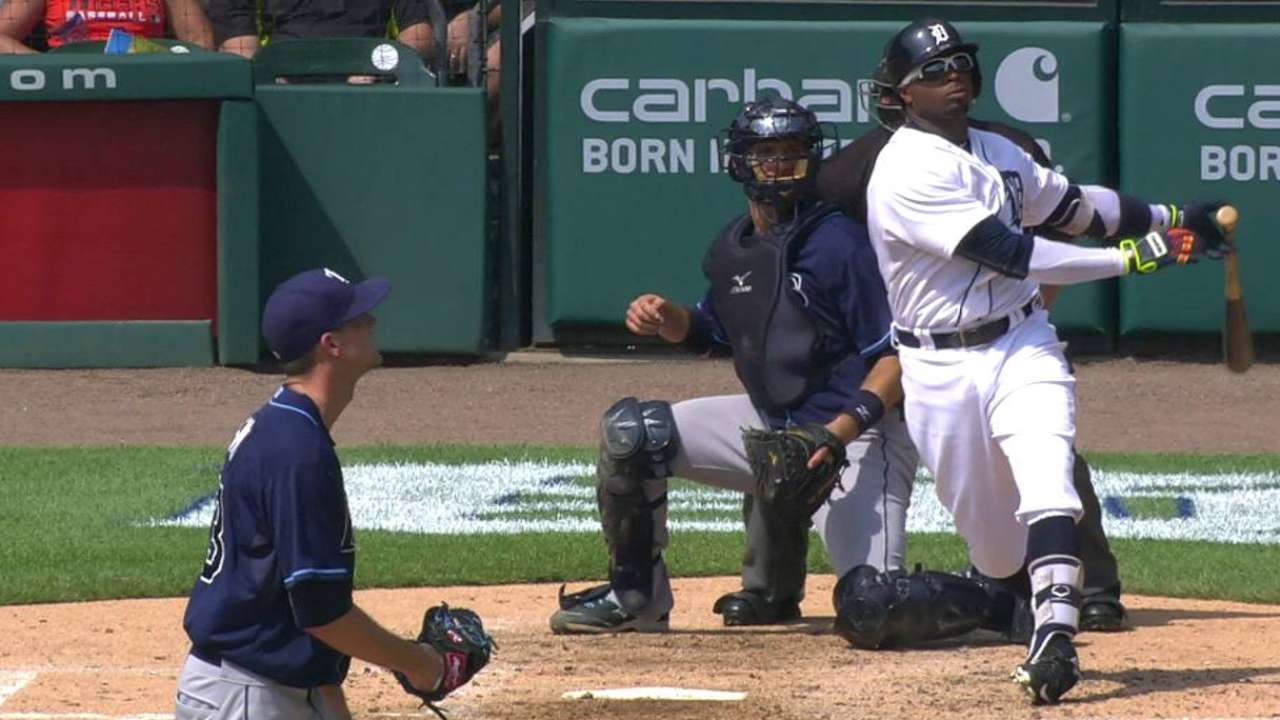 "I was able to square it up. I didn't think that one was going to get out," he said. "I knew I hit it hard, but I wasn't sure it was going to get over the fence. It was kind of a low liner."
Davis was a lot more confident -- not to mention much more comfortable -- on his next swing in the seventh, against reliever Brandon Gomes. Again, it was a breaking ball, but it was a pitch he got under and lofted. Usually, those are the pitches that require some power to get out. With the wind blowing out on a sticky afternoon with the temperature hovering near 90 degrees, Davis didn't need a whole lot of power.
"The wind is blowing out," he said, "so I knew this is the day to hit one of those."
Back went left fielder Grady Sizemore until he ran out of room. Davis kept going, rounding the bases and heading back in with a 5-4 lead.
That stood as the final margin, with Davis being the difference.
"He was kind of behind his home run count from last year," manager Brad Ausmus said, "so maybe he's playing catch-up."
Jason Beck is a reporter for MLB.com. Read Beck's Blog, follow him on Twitter @beckjason and listen to his podcast. This story was not subject to the approval of Major League Baseball or its clubs.