Cespedes, Mets capitalize on Scherzer's balk
Outfielder moves to third and scores on sac fly two innings after hitting a solo homer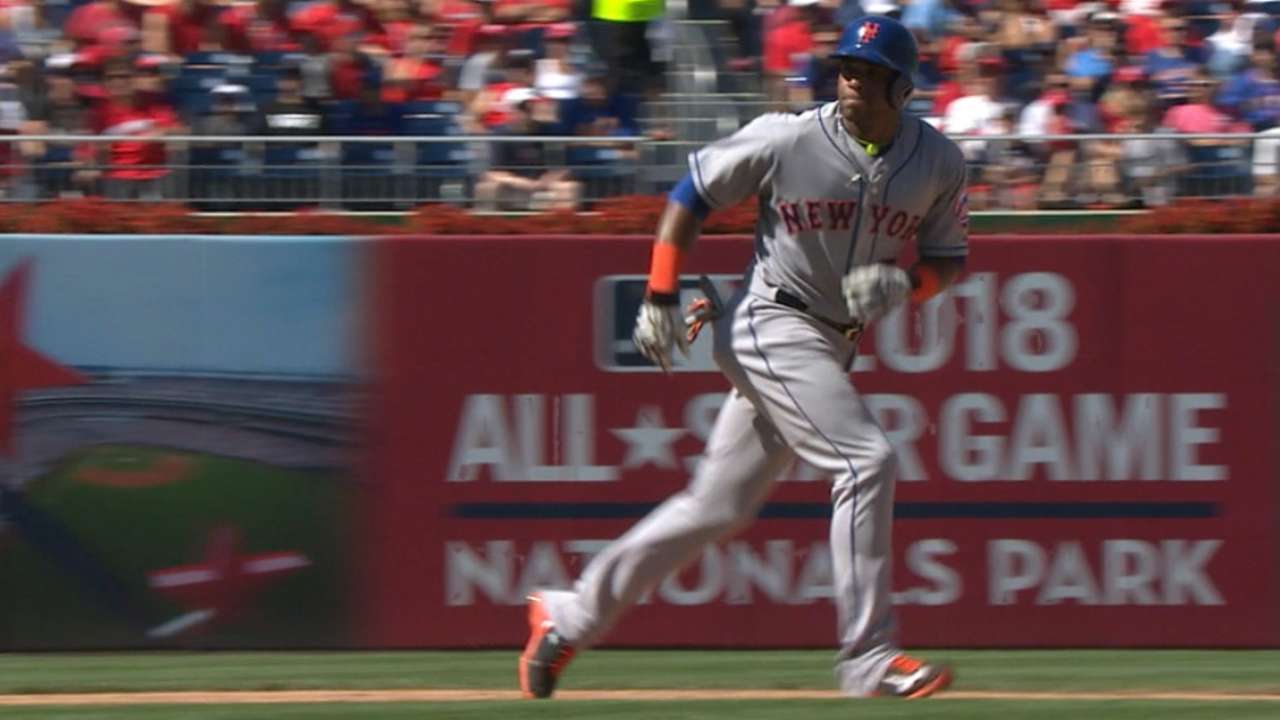 WASHINGTON -- Standing in the postgame clubhouse following the Mets' 8-5 win over the Nationals on Monday, wearing a fluorescent red sweater, a jewel-encrusted watch and a necklace with the letter "Y" emblazoned in its center, Yoenis Cespedes looked the part of a baseball-destroying cartoon character. And why not? In a way, he has been precisely that since coming to the Mets minutes before the July 31 non-waiver Trade Deadline.
Cespedes has hit 13 of his 31 home runs in 34 games since joining the Mets, including a solo shot off Max Scherzer in the fourth inning of Monday's game. He has homered in five of his past six contests and, since the start of September, he is slashing .464/.483/1.214. Nine of his 13 hits have gone for extra bases, adding to the illusion that he is, indeed, larger than life.
"There's a reason why we went and got him," Mets manager Terry Collins said of Cespedes, who brushed off talk of his impending free agency -- due to a unique contract structure, he is exceedingly unlikely to re-sign with the Mets -- after the game. "There's a reason why we traded what we traded to get him."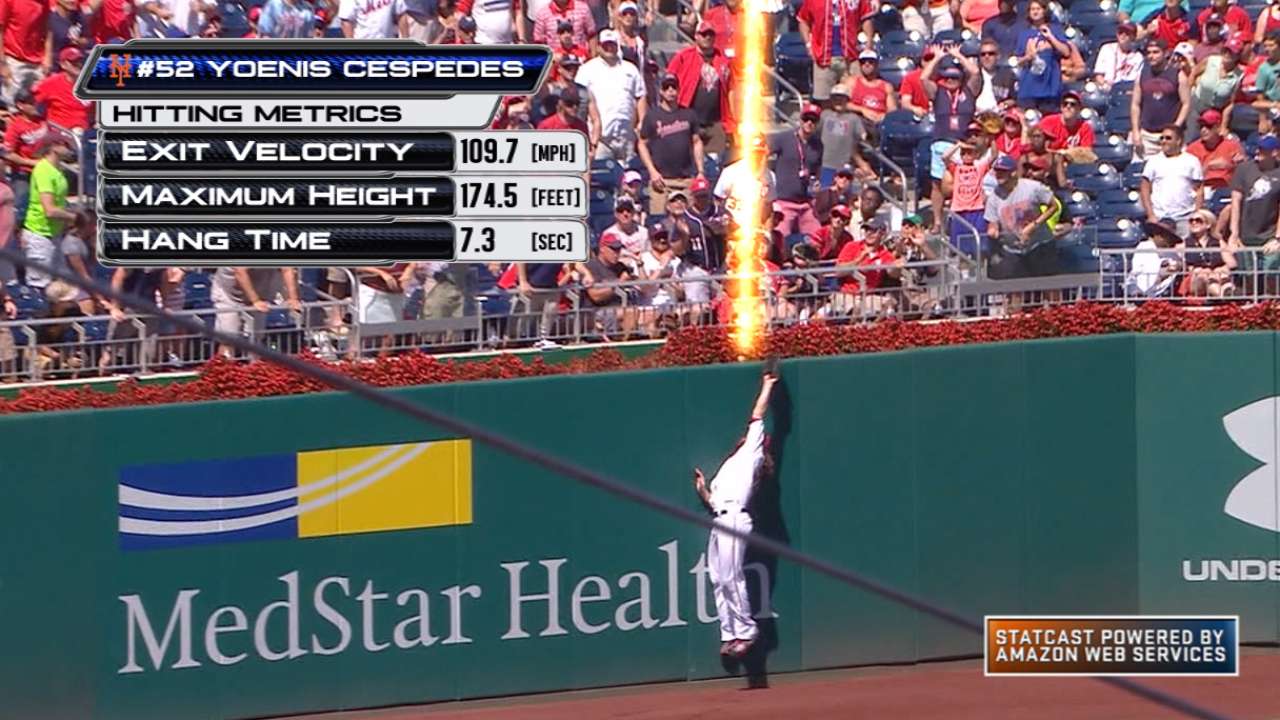 Contrary to popular opinion, it is not just highlight-reel damage at the plate that is earning Cespedes praise. He has also been a better-than-expected defender for the Mets in center field, a position they were not sure he would be willing to play.
And then there is what happened in the fifth inning Monday, when the Mets tied their NL East showdown with the Nationals and never looked back. Doubling to lead off the inning, Cespedes faked a tag-up on Michael Conforto's flyout one batter later to right to draw a throw. Nationals shortstop Ian Desmond nearly tagged him out as he nonchalantly walked back to second base, unaware that Desmond had corralled the cutoff throw and was chasing after him.
Cespedes was safe, and apparently still on the Nationals' minds at second base; before throwing another pitch, starting pitcher Max Scherzer committed a balk before whirling around to check on him. That put the tying run on third, allowing Cespedes to scamper home as soon as Jayson Werth dove to catch Travis d'Arnaud's ensuing sacrifice fly -- or sacrifice line drive, to be precise.
In the dugout, one of Cespedes' teammates turned to Collins and said simply, "Man, he is good."
"I'm just going out there and concentrating on hitting the ball hard," Cespedes said, his "Y" necklace glinting in a camera's glare. "It's a great feeling."
Anthony DiComo is a reporter for MLB.com. Follow him on Twitter @AnthonyDiComo and Facebook, and listen to his podcast. This story was not subject to the approval of Major League Baseball or its clubs.