Blue Jays' lead down to half-game over Yanks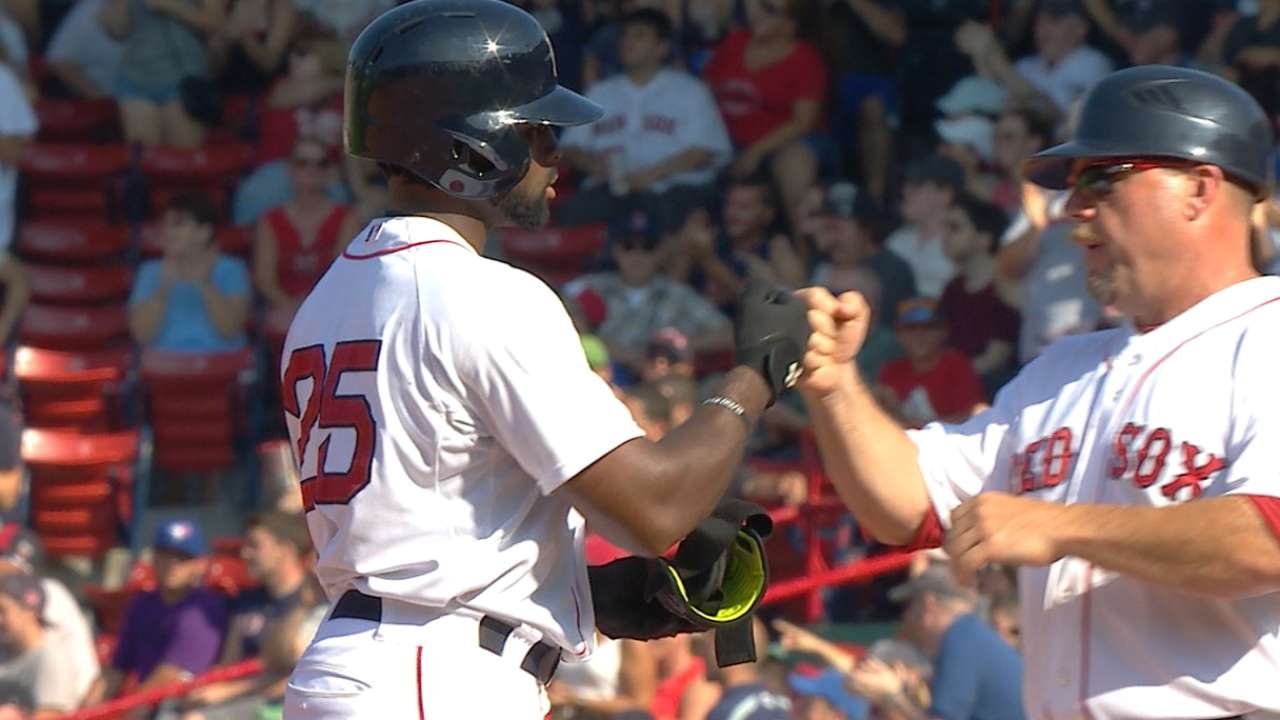 BOSTON -- Coming into Fenway Park as one of the league's hottest teams, the Blue Jays were quieted in Monday afternoon's 11-4 Labor Day loss to the Red Sox and lost ground atop the American League East.
Toronto's division lead fell to a half-game with the Yankees picking up a victory over the Orioles. The Red Sox have won 13 of their last 19 games.
"It was a tough day for all our pitching, really," Blue Jays manager John Gibbons said. "We got hit around pretty good. We just couldn't get anybody out. All through that lineup, they just kept coming at us. A tough day all the way around."
Boston steadily buried the Blue Jays and collected 17 hits, including four from Jackie Bradley Jr. (4-for-4, four RBIs) and three by Mookie Betts. Right-hander Rick Porcello continued his rebound, limiting Toronto's touted lineup to four runs (three earned) and eight hits across 7 1/3 innings, and posted his third quality start in three outings since coming off the disabled list.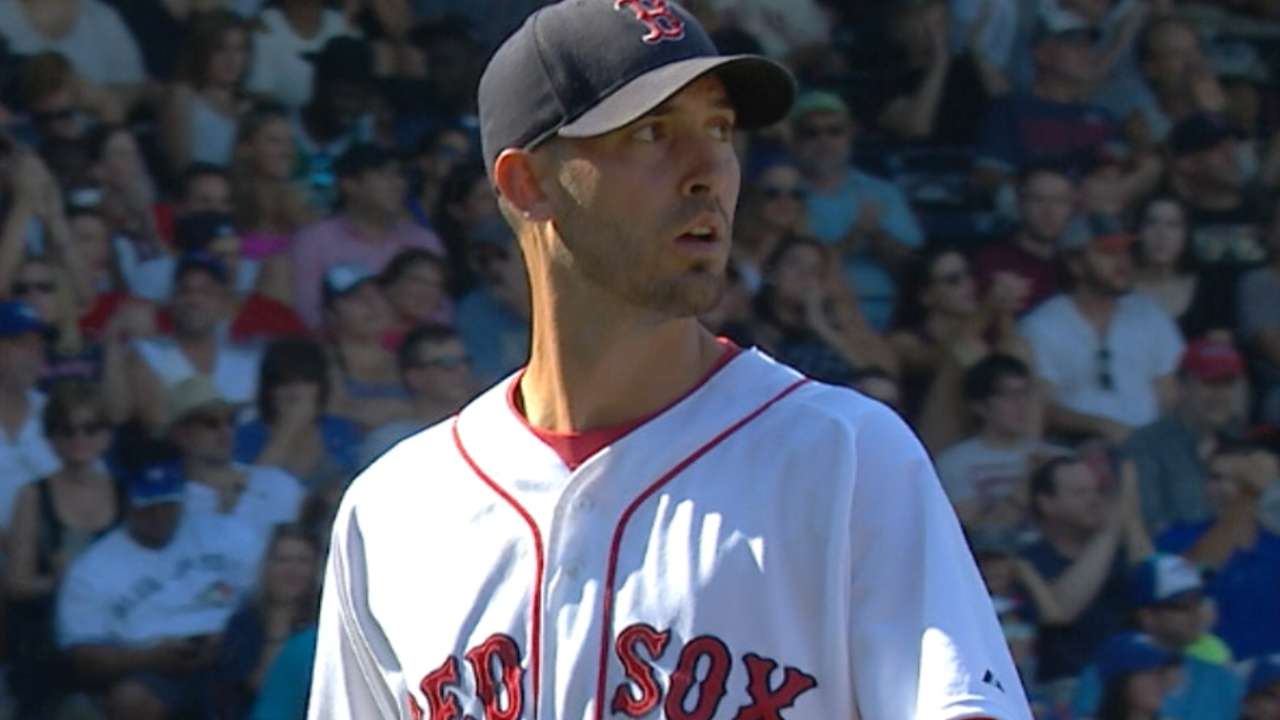 "He's throwing the ball with conviction," said Red Sox catcher Blake Swihart. "He's going out there and letting his two-seamer work. Right now he's believing in all of his pitches, and all of his pitches are very effective." More >
Blue Jays lefty Mark Buehrle got the hook after only 56 pitches, giving up five runs and nine hits over a season-low 3 1/3 innings. The club had pushed the veteran's start back twice in an attempt to prevent late-season fatigue. Toronto hit into four double plays and scored half of its runs on solo homers by Josh Donaldson, who went 3-for-4, and Justin Smoak.
MOMENTS THAT MATTERED
JBJ breaks it open: With the Red Sox leading, 5-2, in the sixth, Bradley hit a two-run homer over the Green Monster off right-hander Ryan Tepera to give Boston some breathing room. It was the third of four hits on the afternoon for Bradley, who has been one of the hottest hitters in baseball over the past month. He has eight home runs, five more than his previous career high.
"I'm just getting some good pitches to swing at and making solid contact," Bradley said. "Honestly, I'm just trying to hit it wherever it's pitched, not really trying to force anything, and just trying to swing at strikes." More >
Buehrle gets burned: After working a scoreless first on nine pitches, the Jays' starter fell victim to a pair of David Ortiz doubles and then allowed three of four batters to reach in the fourth. He was then chased after Bradley clubbed a run-scoring single to right. It was only the third time since May 6 that Buehrle did not complete at least six innings.
"This game is frustrating," Buehrle said. "Obviously, I felt like I made some quality pitches today, and they were putting the ball in play. You tip your hat." More >
The century mark: Donaldson wasted little time in putting Toronto on the scoreboard. With one out in the first, he drilled an 0-1 fastball into the Green Monster seats for his 100th career home run and his 37th of the season. Statcast™ projected the solo shot to land 407 feet away from the plate. Donaldson leads the Majors with 115 RBIs.
Key DP: The Blue Jays were within striking distance in the sixth, sending Troy Tulowitzki to the plate down 5-2 with two runners on. Tulowitzki hit a bullet, but Red Sox second baseman Brock Holt snagged it at his shoestrings and stepped on the bag to double up Donaldson and end the inning.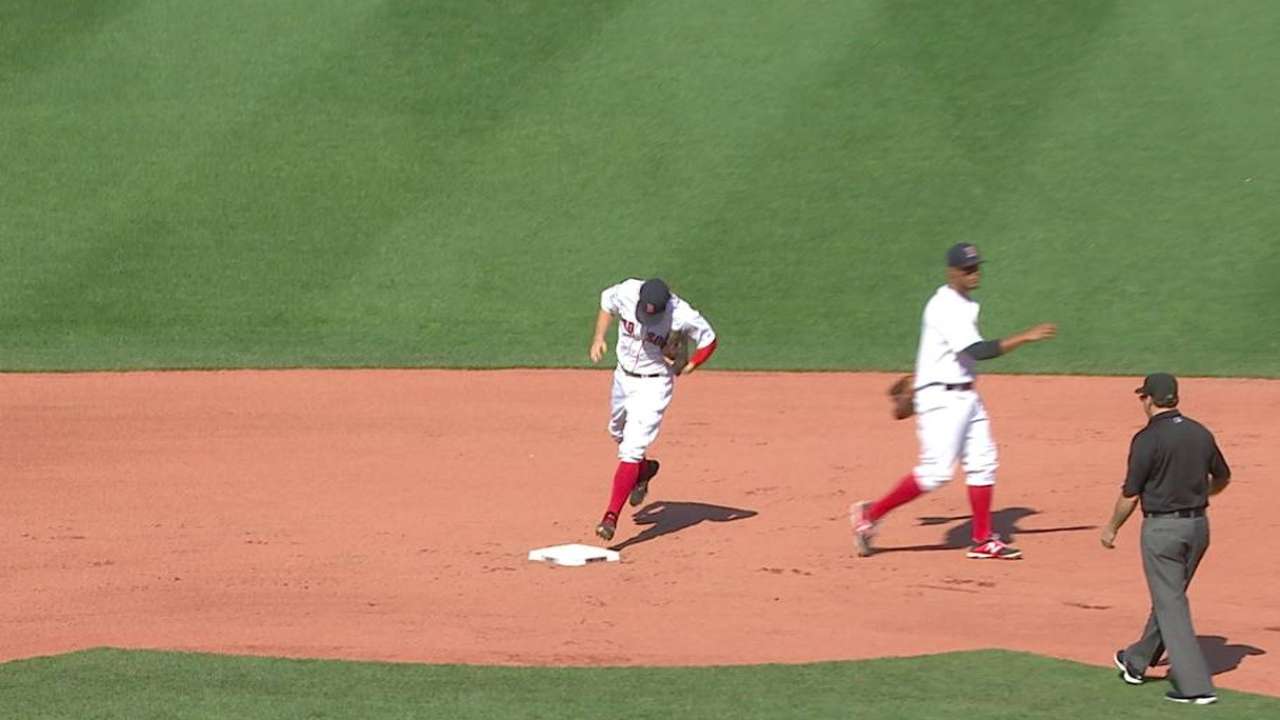 "[Porcello] got some key double plays at the right time," Donaldson said. "I think we were able to get some baserunners. And that's kind of his forte, trying to get ground balls and double plays. We hit into that a couple times."
QUOTABLE
"If I say no, we have no chance [at the playoffs], then I'm a crazy man. If I say yes, I'm crazy for believing it. I will say this: Until we have an 'E' next to our name, our kids are playing aggressive baseball. They believe something special is happening here." -- Red Sox interim manager Torey Lovullo on his team, which was seven games out of a Wild Card spot after Monday's win with six teams to pass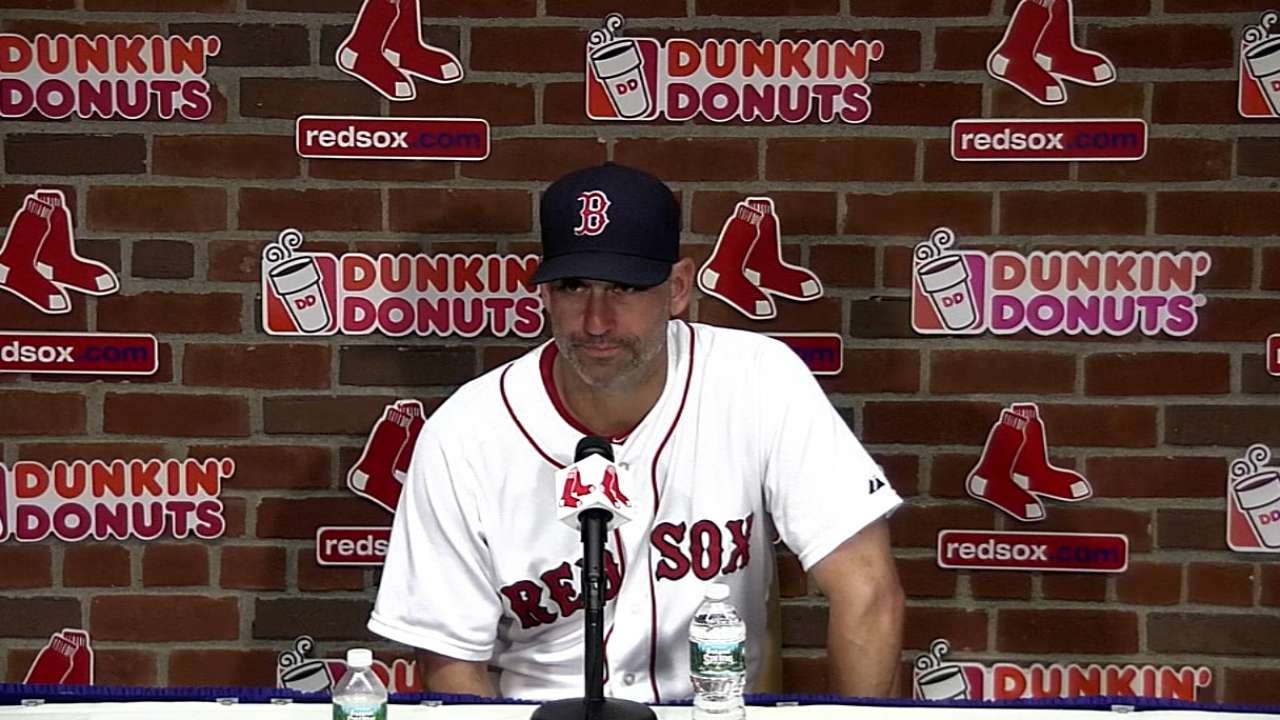 SOUND SMART WITH YOUR FRIENDS
Blue Jays designated hitter Edwin Encarnacion extended his on-base streak to 37 games on a sixth-inning single. That mark ties him with Jose Bautista (2014), Carlos Delgado ('01) and Joe Carter ('94) for the second-longest stretch in franchise history.
STROMAN AMONG THREE CALLUPS?
The Blue Jays have added right-hander Marcus Stroman, first baseman Matt Hague and righty Steve Delabar to their active roster from Triple-A Buffalo, according to a Sportsnet report. The club has not confirmed the report. Stroman, who spent the last six months recovering from an ACL tear in his left knee, allowed four runs over three innings Monday in his final rehab start. More >
AFTER REVIEW … STILL FOUL
In the fourth, Red Sox left fielder Rusney Castillo poked a fly ball down the right-field line that landed near Pesky's Pole and was called foul. After a crew-chief review, the call was upheld.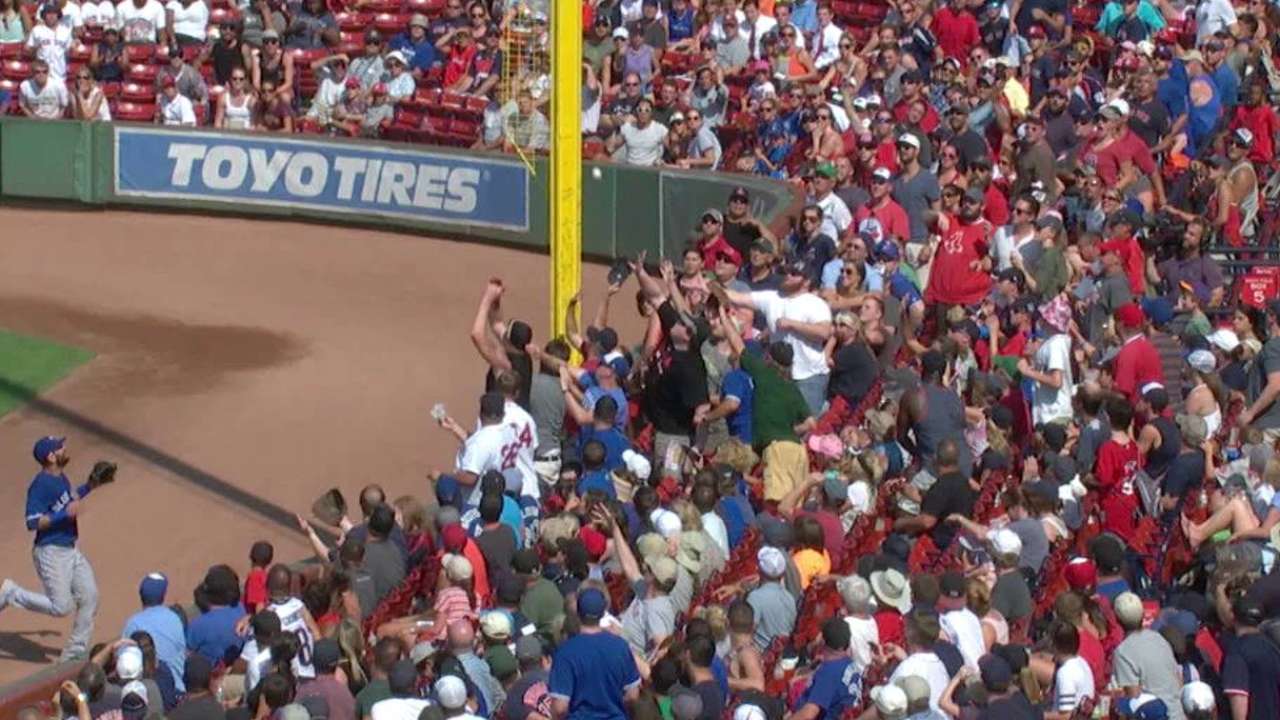 WHAT'S NEXT
Blue Jays: Knuckleballer R.A. Dickey (10-10, 4.09 ERA) draws the start for Toronto on Tuesday night in the second of three games at Fenway. Dickey has been hit hard by the Red Sox this season, going 0-3 with a 5.76 ERA in four starts. He'll start on five days of rest after tossing a one-run complete game against the Indians on Wednesday.
Red Sox: Left-hander Henry Owens (2-2, 5.87) makes his seventh big league start with the first pitch scheduled for 7:10 p.m. ET. Owens' most recent outing was his roughest one yet, as he allowed seven runs to the Yankees in 1 2/3 frames. He will be facing the Blue Jays' potent lineup for the first time.
Watch every out-of-market regular-season game live on MLB.TV.
Alec Shirkey is an associate reporter for MLB.com and Aaron Leibowitz is a contributor to MLB.com. This story was not subject to the approval of Major League Baseball or its clubs.