Edwards posts scoreless inning in MLB debut
Righty completing first season as full-time reliever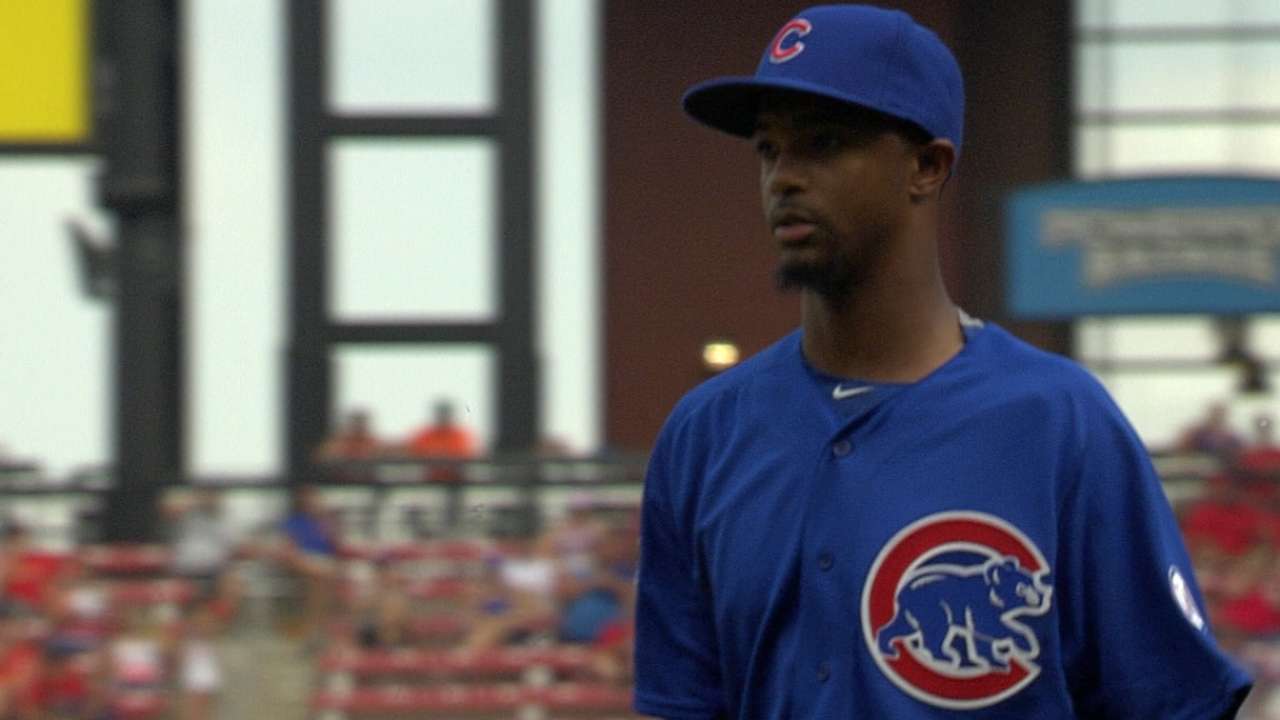 ST. LOUIS -- The Cubs added two more arms to the bullpen on Monday with the arrival of right-hander Carl Edwards Jr., ranked third among Chicago's top prospects by MLB.com, and lefty Zac Rosscup.
Edwards had been a starter until this year when he pitched strictly in relief at Double-A Tennessee and Triple-A Iowa. He combined for a 2.77 ERA in 36 games at the two levels, striking out 75 over 55 1/3 innings. He made his Major League debut in the eighth inning of Monday's 9-0 thumping of the Cardinals, and walked the first batter he faced, but got a double play and then a groundout to end the inning.
The key for Edwards was feeling that the other Cubs relievers had accepted him as part of the group, reminding him that the game is the same except there are more fans in the stands.
"I'm going to learn from these guys," Edwards said. "To take a young guy like me under their wings is great. As soon as I got here, they told me, 'We're not going to lead you wrong. Just have fun, keep doing what you're doing.' That was the biggest thing I got today."
The message, he said, helped him breathe a little easier. It also helped that the sellout crowd of 45,986 included his parents, who had made their first plane flight, traveling from Newberry, S.C. Edwards tipped his cap to them when he took the mound.
Cubs manager Joe Maddon liked what he saw of Edwards in Spring Training.
"I've been asking about him all year," Maddon said. "He's the kind of kid who can be a very good Major League pitcher. He's got good stuff, he's got the fastball, he's got the breaking ball. The biggest thing is how quickly he adapts emotionally to the whole thing.
"It's all there," Maddon said of the slender right-hander. "He's that kind of a talent who can be impactful now going into October."
Edwards collected at least three baseballs as souvenirs from his first outing.
"I feel this is a great way to come into this league, to face the best team in baseball right now," Edwards said.
A 48th-round Draft pick by the Rangers whom the Cubs acquired in the Matt Garza trade in July 2013, Edwards just wanted an opportunity, he said.
"I had to change my expectations from me being a starter to me being a reliever," Edwards said. "I can truly say I've accomplished getting here, like I said I wanted to do. No matter how I got here, as long as I got here, to help the team win, that's the big thing."
Worth noting
• Speaking of October, Maddon is doing his best to keep the Cubs focused on one day at a time. Monday's game was the start of a 10-day, 11-game road trip.
"All I want them to worry about is Monday," Maddon said before the lopsided win. "Then we'll worry about Tuesday tomorrow. It happens to be 10 days. We've been a pretty good road team this year. ... Just worry about today's game."
The Cubs do have the second-best road record in the National League, behind the Cardinals.
• Last Wednesday, Anthony Rizzo was spotted in the Cubs dugout at Wrigley Field handing out orange slices. What gives?
"We were talking about hot days and when the game's over, you get together and the moms would bring juice cartons," Maddon said, "and he said, 'orange slices,' and I said, 'Go get 'em,' and he did. Actually, it was not a bad idea. It was very refreshing."
• Outfielder Jorge Soler, sidelined with a left oblique strain, is hitting off a batting tee and was playing catch on the field Monday.
Carrie Muskat is a reporter for MLB.com. She writes a blog, Muskat Ramblings. You can follow her on Twitter @CarrieMuskat and listen to her podcast. This story was not subject to the approval of Major League Baseball or its clubs.