After sim game, Fernandez plans to return Sat.
Righty, recovering from biceps strain, would face Nationals in Miami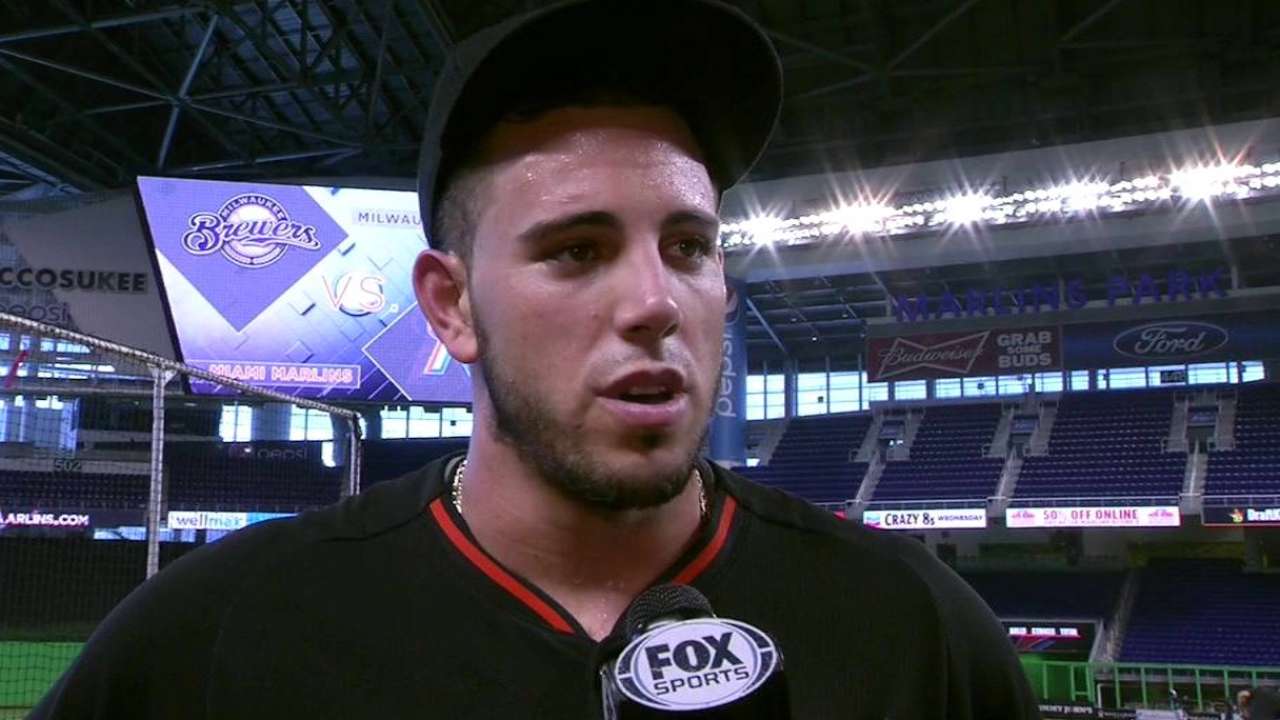 MIAMI -- Marlins ace Jose Fernandez -- in his continued recovery from a right biceps strain in early August -- threw a simulated game Monday morning at Marlins Park prior to Miami's 9-1 loss to the Brewers.
The righty tossed 75 pitches with no restrictions. Afterward, he said it went well and that he plans to start on Saturday vs. the Nationals at Marlins Park.
"Healthy," Fernandez said. "I think it went great. With 75 pitches, we got our work in. The command was there, I feel healthy and that's all I can ask for."
From what he saw in the simulated game, Marlins manager Dan Jennings said Fernandez should be ready for Saturday against the Nationals. Prior to that outing, Fernandez has one more bullpen side session.
"He threw the ball well," Jennings said. "He had good action on his breaking pitches. He used his changeup well. We ran him out there for a total of 75 pitches. He had four ups and downs, to treat it like an inning. I thought he handled it well."
Fernandez, who is in his first season back since Tommy John surgery in 2014, was placed on the 15-day disabled list on Aug. 11 following his Aug. 7 start in Atlanta. He experienced tightness in his right biceps during that outing and hasn't seen game action since.
However, the 23-year-old former All-Star looked like himself in Monday's sim game -- in which he said he was "locked in." He's determined to return to the mound this season.
"I treated that like a game," said Fernandez, who threw all the pitches in his repertoire. "I should be pitching Saturday against Washington. I don't know how many pitches or what, but whatever it is, I'll be ready for it."
Fernandez added that he will throw a bullpen session later this week prior to Saturday's start.
Fernandez's biceps injury marred his successful return from Tommy John surgery in early July. He made seven starts after debuting on July 2, going 4-0 with a 2.30 ERA in 43 innings.
While Saturday's start may carry extra weight since the Marlins can play spoiler to the Nationals as they try to chase down the Mets in the National League East standings, Fernandez said that, most importantly, he simply wants to finish the season on a high note.
"It means the world to me," he said. "It means a lot -- not only for my own peace of mind -- but for our team to finish the season strong and going into next year knowing everything is healthy."
Steve Wilaj is an associate reporter for MLB.com. This story was not subject to the approval of Major League Baseball or its clubs.