MLB.com Columnist
Phil Rogers
October or bust: Maddon a big-picture skipper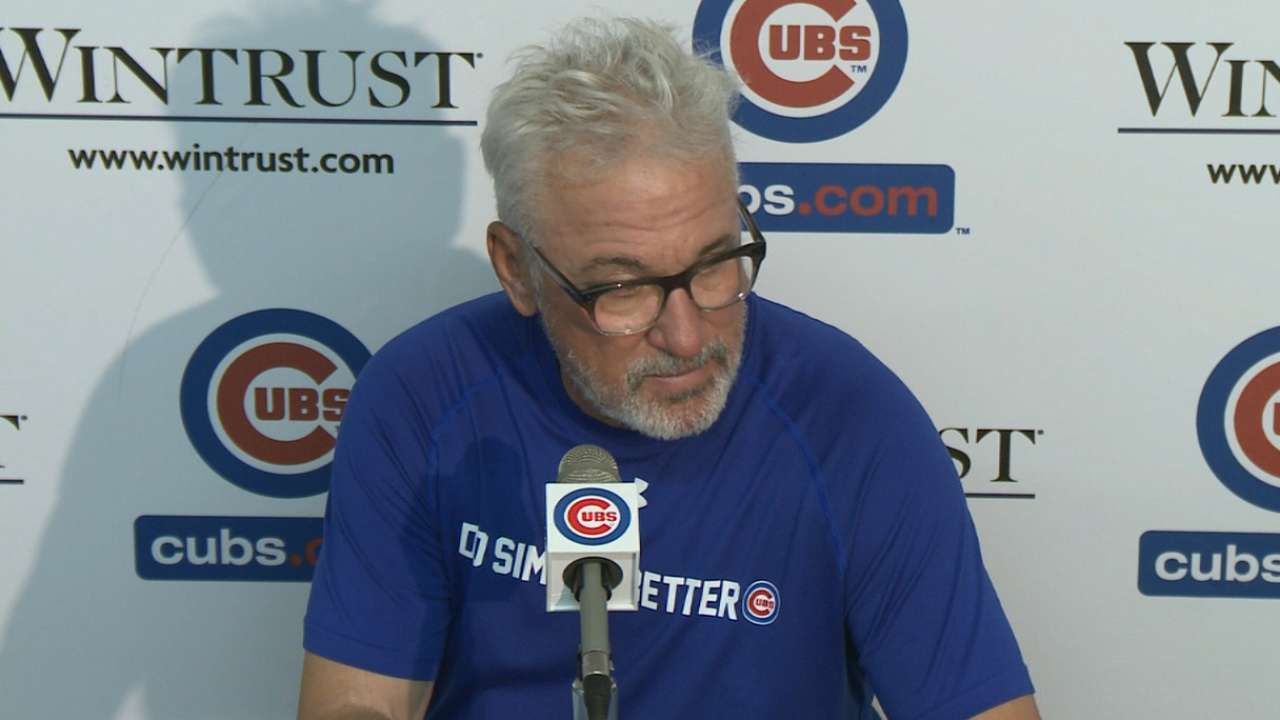 Baseball fans love to talk about unbreakable records -- Joe DiMaggio's 56-game hitting streak, Cal Ripken Jr.'s 2,632 consecutive games played, Cy Young's 511 wins.
Here's another one for you: In 1968, playing for Leo Durocher, Randy Hundley caught 160 games for the Cubs, including 156 starts. No one else has ever caught more than 155 in a season, and only 19 other times has anyone caught more than 150 -- most recently Benito Santiago's 151 in 1991.
Factor in the lack of lights at Wrigley Field in Hundley's era, along with the swings in weather during Chicago's baseball season and the endurance required for Hundley to survive his seven seasons playing for Durocher, and the achievement becomes even more remarkable.
It's certainly worth celebrating on Labor Day.
In 1969, Hundley caught 151 games, including 145 starts, and would have easily started more than 150 games if not for suffering a series of injuries that could have sidelined him for weeks. While the Cubs spent most of the summer of '69 in first place, Durocher rarely mixed in his bench players. Shortstop Don Kessinger, who was 26 at the time, said he lost 15-20 pounds that season, with one account saying his uniform hung off him like drapes.
Hundley said fatigue became an issue for the Cubs every August in that era.
"I lost so much weight I couldn't reach the warning track,'' Hundley said about the final weeks of '69, when the Cubs watched the fresher Mets run past them. "But Leo wanted me out there every day handling the pitchers.''
While Durocher ran his team into the ground, giving Fergie Jenkins, Bill Hands and Ken Holtzman a combined 122 starts in his four-man rotation and throwing relievers Phil Regan and Ted Abernathy more times (127 combined) than the total of the other 11 relievers, Mets manager Gil Hodges laid out a template for modern managers to follow.
Hodges was able to build his rotation around the 24-year-old Tom Seaver, yet cut the future Hall of Famer's total of innings by using a five-man rotation -- something only seven of 24 teams were doing. Hodges employed a platoon at five positions (including catcher) and spread around the workload in the bullpen.
Durocher, more often than not, simply chose between Regan and Abernathy. "Leo forgot me,'' reliever Don Nottebart said years later. He had some guys he would use, and that was all. … He tried to win the pennant with six guys.''
While the exhausted Cubs were going 9-18 after the end of August, the Mets won 24 of their last 31 to get to 100 victories and claim the National League East by eight games.
The good news for fans of the 2015 Cubs is that manager Joe Maddon is a whole lot like Hodges. He manages for seven months -- including October -- whether his teams get to the postseason or not.
While five Cubs (Anthony Rizzo, Dexter Fowler, Starlin Castro, Chris Coghlan and Kris Bryant) are currently on pace to play 150-plus games, Maddon has limited their pregame work to keep them fresh. He's constantly shuffling players in and out of games, once even saying that Coghlan was playing "half-games'' when he started at second and was lifted in the sixth inning or later for a defensive replacement. His options have increased significantly with Javier Baez and Austin Jackson joining the mix in September. This could prove to be huge in October.
One Cub worth watching is emergent ace Jake Arrieta. He had never thrown 177 innings in a season and is already at 191, but he's constructed a conditioning routine that works well with his ideal pitcher's frame. Still, it wouldn't be surprising if Maddon started tapering his workload a bit after one of the best 15-start stretches in the game's history (13-2, 0.99 ERA, 108 strikeouts, 109 innings).
Rather than Jon Lester, Arrieta looks like the Cubs' best bet for the NL Wild Card Game presented by Budweiser, which the club appears to be locked into after entering Labor Day 8 1/2 games behind the first-place Cardinals in the NL Central and 7 1/2 games ahead of the Nationals for the second Wild Card spot. The Mets may have to find a higher gear with the Nats closing to within four games of them in the NL East, but the Cardinals, Pirates, Cubs and Dodgers -- all of whom are projected to win between 93-104 games -- can start making their plans for October, if not speaking about them publicly.
Yes, as of Monday morning there was also the business of a three-game gap between the Pirates and the Cubs for the right to host the Wild Card Game, and those teams still play each other seven times. These games should be a lot of fun as managers and players fight to bring the high-stakes game to their home turf.
Yet it seems to me that the Cubs could be just as dangerous -- and maybe more --facing the Pirates in the bedlam of PNC Park than at Wrigley Field.
Beginning with Game 6 of the 2003 NL Championship Series, when the Marlins scored eight runs in the eighth inning (yes, that game in which the infamous fan fought Moises Alou for the foul ball), the Cubs are 0-5 in postseason games at home. It doesn't take much to spook the fans, who in 2007-08 seemed to spook the players.
Maddon insists he couldn't care less about the Billy Goat curse or any of the other factors cited for the Cubs not winning a World Series since 1908. He told ESPN during Spring Training that he doesn't "vibrate at that frequency,'' and is sailing toward an October when he could become a ghostbuster.
Maddon's Tampa Bay teams went to the postseason four times in a six-season span, beginning with their remarkable run to the 2008 World Series. They've played in some truly great series, including the '08 American League Championship Series against the Red Sox and the '10 AL Division Series against the Rangers. Almost always, the team with the fresher bullpen arms has won.
Constructing a playoff bullpen is the biggest challenge Maddon faces down the stretch. Closer Hector Rondon, setup man Pedro Strop and anywhere man Justin Grimm are the three known quantities. Newcomers Clayton Richard, Fernando Rodney, Tommy Hunter and Trevor Cahill are getting chances to claim significant roles. Carl Edwards Jr. and Zac Rosscup were just summoned from Triple-A to audition while Jason Motte and Neil Ramirez work to get back from injury.
Maddon faces a lot of decisions in coming weeks, but he'll be dealing with the an energized roster. Like Hodges -- and not Durocher -- he was thinking long term from the start.
Phil Rogers is a columnist for MLB.com. This story was not subject to the approval of Major League Baseball or its clubs.