MLB.com Columnist
Bernie Pleskoff
Scouting profile: Blake Snell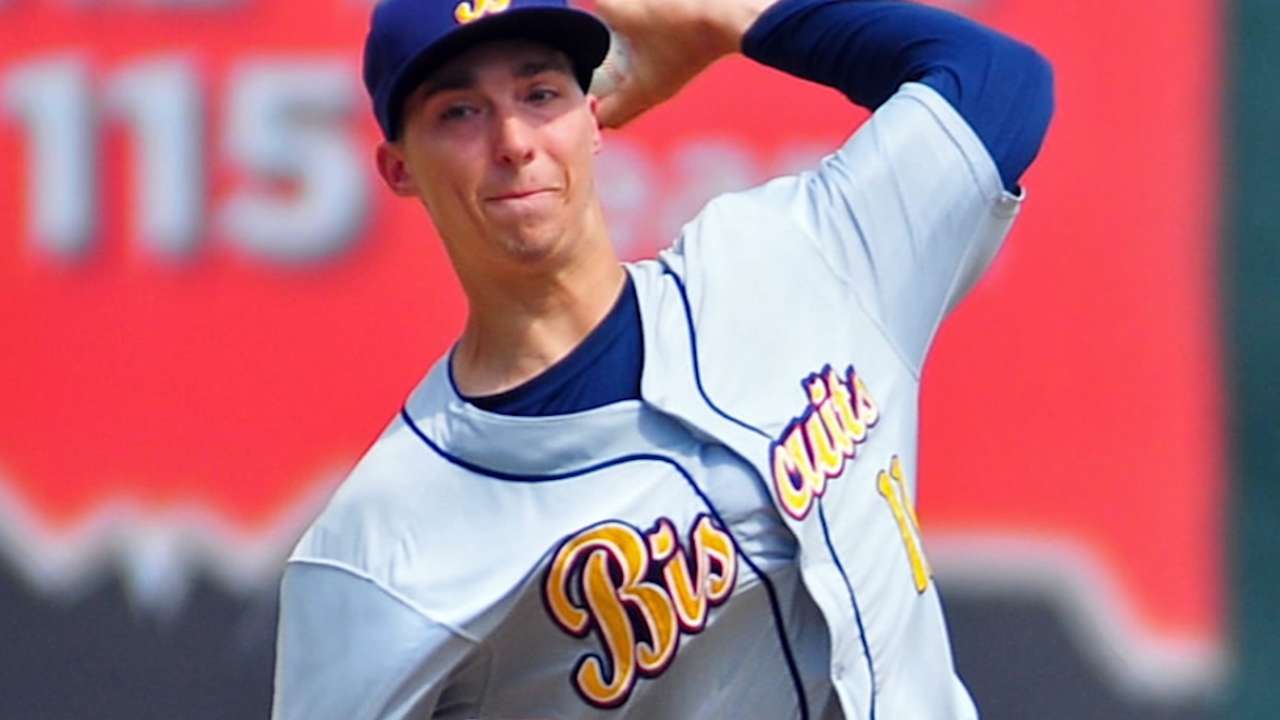 Background
Left-handed starter Blake Snell has been "under the radar" in discussions of top-shelf prospect pitchers. However, Snell has made tremendous progress, and he is moving quickly toward a potential spot in the 2016 Tampa Bay rotation.
Snell is a lanky 6-foot-4, 180 pound native of Seattle. He went to Shorewood (Wash.) High School, where he was a star pitcher with a 9-0 record and a 1.00 ERA. He was selected by the Rays out of high school in the first round of the 2011 Draft. Snell was part of the Rays' double-digit first round draft class. He chose to sign with Tampa Bay as opposed to attending the University of Washington, where he had committed.
A strikeout pitcher throughout his career, Snell has averaged 9.9 strikeouts per nine innings in parts of five seasons in the Rays organization.
Snell is No.2 on the Rays' Top 30 Prospects list.
Repertoire
Snell has extremely good stuff. He has a very complete arsenal that is highlighted by his 90-94 mph fastball. He complements that pitch with a solid slider and a good curveball and changeup. By his own admission, he is gaining confidence and comfort in all his pitches. He is the type of pitcher who can improve quickly, as he is receptive to coaching and learning from other pitchers in the organization.
Snell sets up his secondary pitches by getting sink on his fastball and changing the eye level of the hitter. He gets lots of ground-ball outs.
Mechanics
Throwing downhill with his long and lean body, Snell uses a delivery with a high-arm angle that he repeats well. He does not change his release point with different pitch types.
With the improvement and greater consistency of his secondary pitches, Snell can mix and match freely between and among those offerings, depending upon the strength of the hitter, the count and the situation.
Using a small leg lift, Snell has a quick finish to his release with an average landing length. There isn't any herky-jerky or extraneous movement in his mechanics. He is poised and deliberate in his approach.
Strengths
Snell is a crafty pitcher. He values swings and misses, but his maturity on the mound has led to a savvy approach to getting the hitter out. Snell has learned over time that a ground-ball out is as valuable as a strikeout.
Snell takes charge on the mound and is not intimidated by big hitters. He looks like he enjoys the challenges he faces with each at-bat.
His secondary pitches have improved, making his fastball a much more viable weapon.
This season, Snell has pitched at three levels in the Rays organization. He has found success at High-A Charlotte, Double-A Montgomery and Triple-A Durham.. He began the season throwing 46 scoreless innings.
Right-handed hitters are hitting only .199 against him in 362 plate appearances. Lefties fare even worse, which is natural. They are hitting a paltry .119 in 137 plate appearances.
In his career to date, Snell has yielded only 21 home runs in 417 innings pitched.
Weaknesses
A rhythm pitcher, Snell has to guard against getting out of sync. If he loses his release point, an at-bat can spiral of out control quickly as he loses sharp control.
I believe Snell must add some strength and depth to his frame to endure the rigors of a long career.
I find this interesting
On Aug. 2, 2014 while he was pitching for the Charlotte Stone Crabs, Snell threw a rain-shortened 5 1/3-innings no-hitter against the Daytona Cubs. He walked three and struck out nine in that outing.
The future for Snell
While I think he has a good chance to be a middle-of-the-rotation starter for the Rays as soon as next season, I believe his stuff is very well suited for a possible role in the bullpen as well. Regardless of the role Snell ultimately assumes, he is a valuable left-handed pitcher with high upside.
Snell in a word
Confident.
Bernie Pleskoff has served as a professional scout for the Houston Astros and Seattle Mariners. Follow @BerniePleskoff on Twitter. This story was not subject to the approval of Major League Baseball or its clubs.