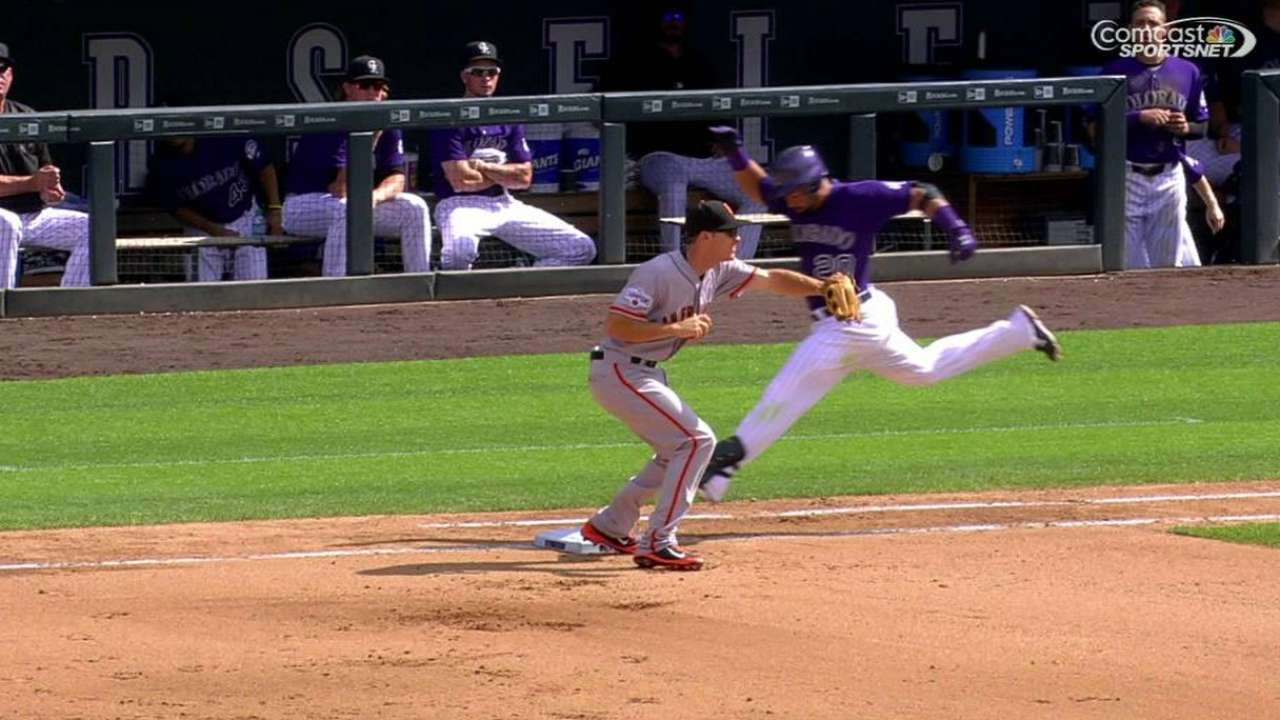 DENVER -- With the calendar running out on the Giants' quest for the postseason, Madison Bumgarner offered a clutch performance to notch his sixth win in his last seven starts in Sunday's 7-4 win against the Rockies, putting him three victories away from 20 for the season.
He pitched better in his only loss in that span -- a 2-1 defeat at the hands of the Dodgers Tuesday -- but his resourcefulness against an explosive Colorado lineup was just what San Francisco needed.
"There's definitely some games that are a little more gratifying than others," Bumgarner said of his 17th win. "But any time you get a win here at Coors Field, that's gratifying in itself."
Bumgarner loaded the bases with the first three batters he faced Sunday, and loaded them again in the fifth with the first three batters he faced in that inning. He escaped with two runs allowed each time, the only runs he allowed as the Giants earned a series split with their second straight win. They had lost seven in a row heading into Saturday.
"You obviously want better, but when it's all said and done and you're able to look back on it, that's really not too bad for this ballpark," Bumgarner said. "Getting out of it with giving up a couple runs. It could have been much worse. Obviously, I still would have preferred it to be better."
Aside from those two tough innings, when he allowed six hits and a walk, he scattered only three more hits over his other four innings on the hill, winning praise from throughout the Giants' clubhouse.
"Gutty, gutty effort," manager Bruce Bochy said of Bumgarner. "They placed some seeing-eye hits against him. He worked pretty hard out there. His pitch count got up there, but he really bowed his neck when we needed him. They got early runs off him, but he's such a tough competitor. He doesn't stop coming at you. He gave us what we needed."
Bumgarner's winning mindset helped him bear down when he needed and keep his team in the game after the early deficit.
"I just try to slow it down a little bit," he said of his bases-loaded approach. "Don't worry about what could happen or whatever, I just focus on what I need to get done right then. If something bad happens, it sucks, but you got to put it past you and move on to the next one. That's just how I try to minimize the damage."
Bumgarner is on schedule to have five more chances to collect three more wins, which would make him the first Giants pitcher to win 20 games since John Burkett (22) and Bill Swift (21) reached the milestone in 1993.
"That'd be pretty cool," Bumgarner said. "It'd be special for sure. That's the goal when you go out there is to win the game. Not necessarily me, but the team.
"I like winning. That's why we show up every day."
Owen Perkins is a contributor to MLB.com. This story was not subject to the approval of Major League Baseball or its clubs.