Angels get key boost from bottom of lineup
Nos. 7-9 hitters combine to go 8-for-11 in win over Rangers
ANAHEIM -- It became almost a nightly statement, especially throughout August, while his team struggled to score runs and fell out of the playoff picture because of it. "We have to be more than just Mike and Albert," Angels manager Mike Scioscia would say, referencing the importance of getting production outside of Mike Trout and Albert Pujols, his two greatest hitters.
And that's why Sunday's 7-0 win was so encouraging.
It wasn't just that they took two of three from the division-rival Rangers, whom they now trail by 2 1/2 games for the second Wild Card spot in the American League. It wasn't just that they won right before facing two of the game's best pitchers, Zack Greinke and Clayton Kershaw, on back-to-back days. It's that the Angels did it, largely, by getting production out of the bottom third of their lineup, long a black hole.
David Freese, Carlos Perez and Taylor Featherston, the Nos. 7-9 hitters in the series finale and for the foreseeable future, combined to go 8-for-11, scoring five runs, driving in two others and drawing a walk.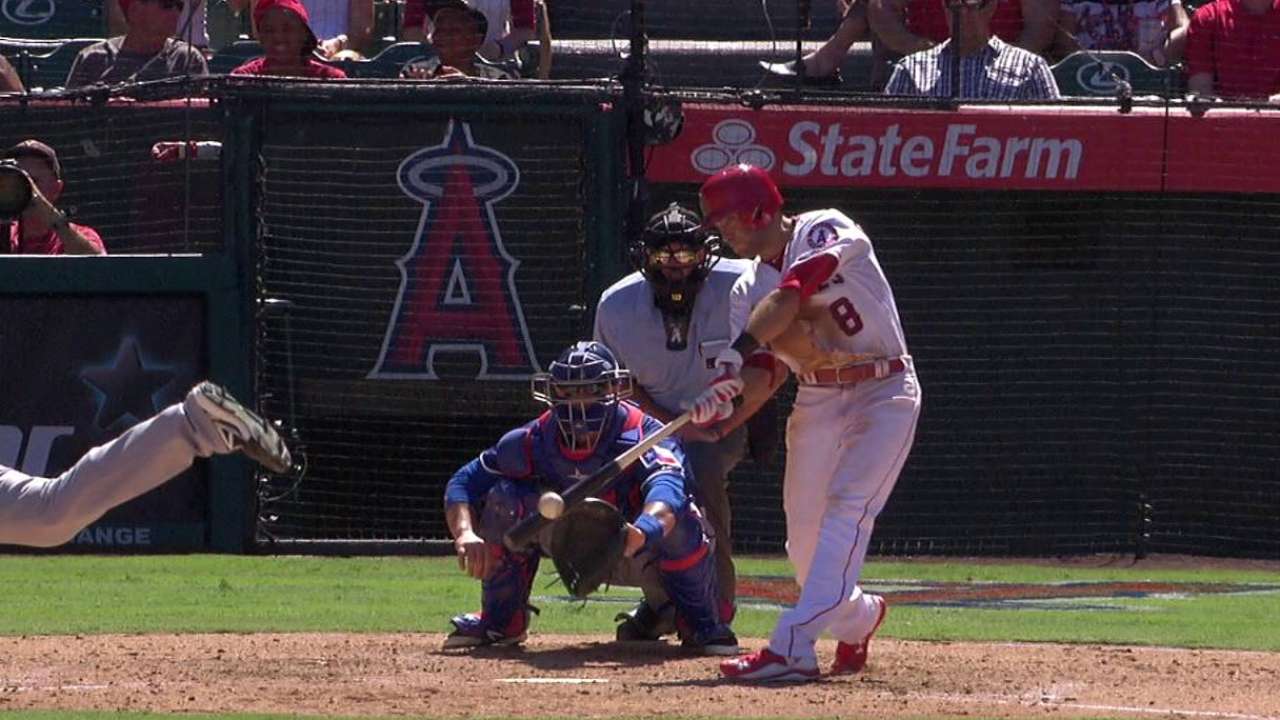 It was a reminder of the type of bottom-of-the-order production that made the Angels such a force amid a 98-win season in 2014.
It was the kind of lineup depth they'll need to make up ground over these last four weeks.
"On the offensive side, it's going to be the sum of all the parts," Scioscia said. "It's not one guy carrying us. It's one through nine, and hopefully good groupings. We need to move runners and score some runs with two outs, drive the ball, hit with runners in scoring position."
The Angels entered Sunday's game with the 26th-ranked OPS from their No. 7 hitters, the 28th-ranked OPS from their No. 8 hitters and the 18th-ranked OPS from their No. 9 hitters, the latter stat boosted by an absent Johnny Giavotella.
Freese, who lengthened the lineup by returning from the disabled list on Tuesday, smacked two doubles and a single. Perez, who has supplanted Chris Iannetta as the everyday catcher, went 2-for-2 with a walk. And Featherston, who misplayed a critical grounder in Saturday's loss, drove two balls to left field.
"Big," Trout said of seeing them come through, which is even more important now that Pujols is being hindered by pain in his right foot.
Yes, most of that production came against Colby Lewis, who now has an 8.87 ERA in his last nine starts against the Angels.
But it's exactly what they had been missing.
"It's important as we try to get some depth to our lineup, and from some guys who are going to be out there playing," Scioscia said. "It's good to see those guys contributing."
Alden Gonzalez is a reporter for MLB.com. Follow him on Twitter @Alden_Gonzalez and listen to his podcast. This story was not subject to the approval of Major League Baseball or its clubs.