Lowrie's slam caps Astros' galactic rally
Altuve's infield RBI hit sets stage for Star Wars Day heroics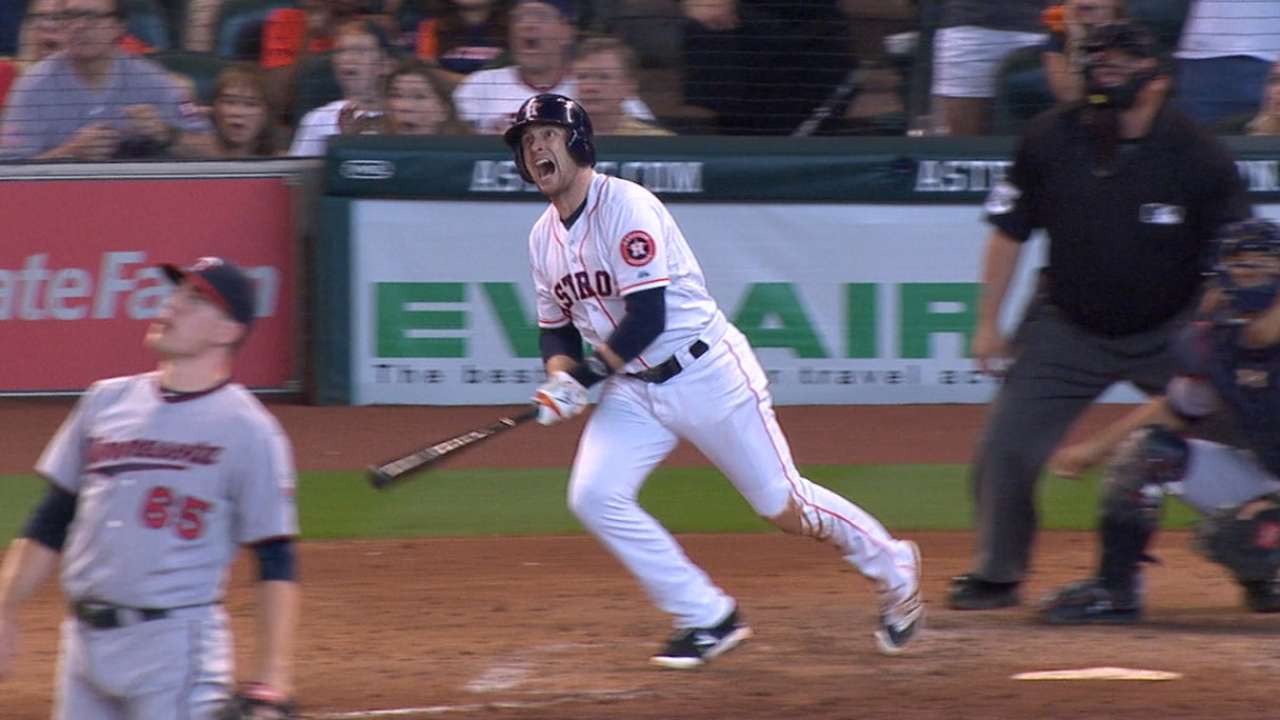 HOUSTON -- It was Star Wars Day in Minute Maid Park, but Sunday was not "The Return of Jed Lowrie." Questioned about an 0-for-28 slump he endured during a brutal Aug. 19-29 stretch, Lowrie -- who spent 82 games on the disabled list with a torn ligament in his right thumb this season -- always maintained he was seeing the ball well.
"I feel like I've been hitting the ball pretty well since coming back and even during that slump I was hitting the ball hard," Lowrie said. "It's nice to get rewarded when you get the luck eventually."
Lowrie's go-ahead grand slam in Sunday's series-clinching 8-5 win over the Twins -- off the bat at 97 mph, according to Statcast™ -- was just the prize he'd been eyeing.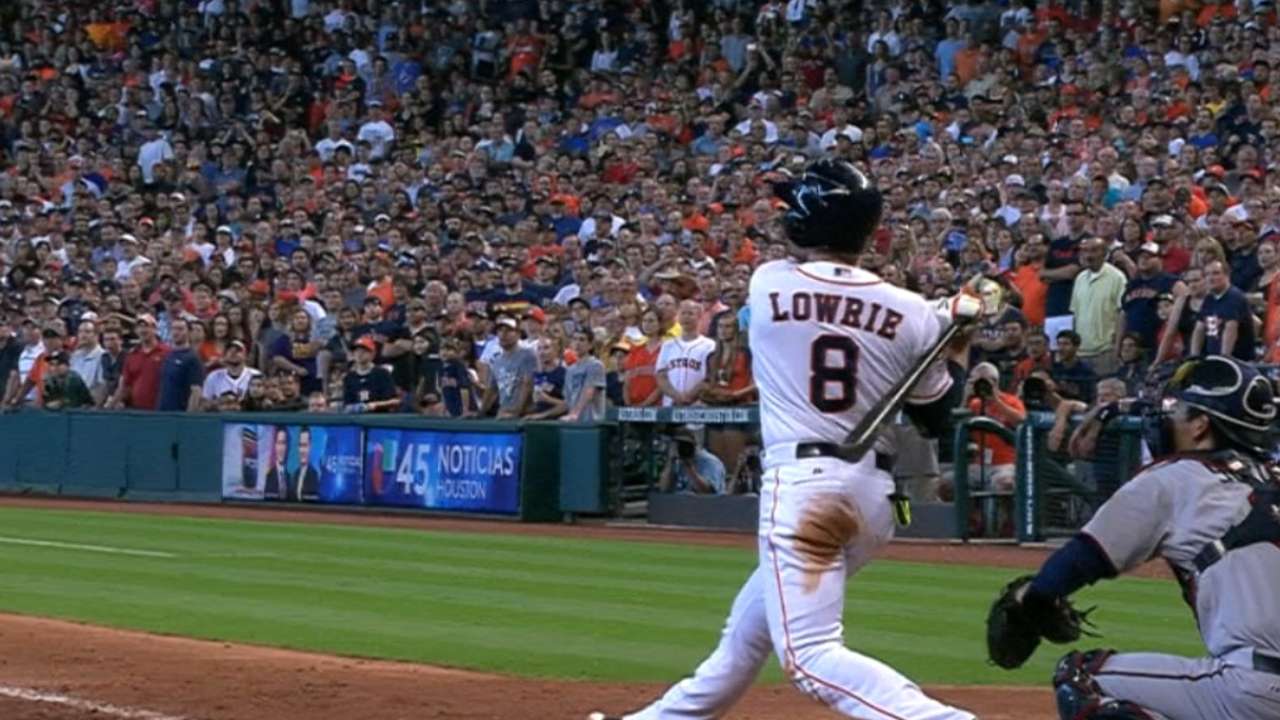 The 2-1 changeup from Trevor May hung in the strike zone and Lowrie belted it, letting out an audible yell as soon as ball met bat. It sent Lowrie sprinting around the basepaths with adrenaline, nearly passing speedster Jose Altuve, who was jogging to revel in the moment.
Without Altuve, though, Lowrie's heroics wouldn't have been possible.
With the bases loaded and two out in a 2-0 game, Altuve drove May's 2-2 pitch to third baseman Trevor Plouffe, who couldn't make the play in time to get the speedy Altuve hustling down the line.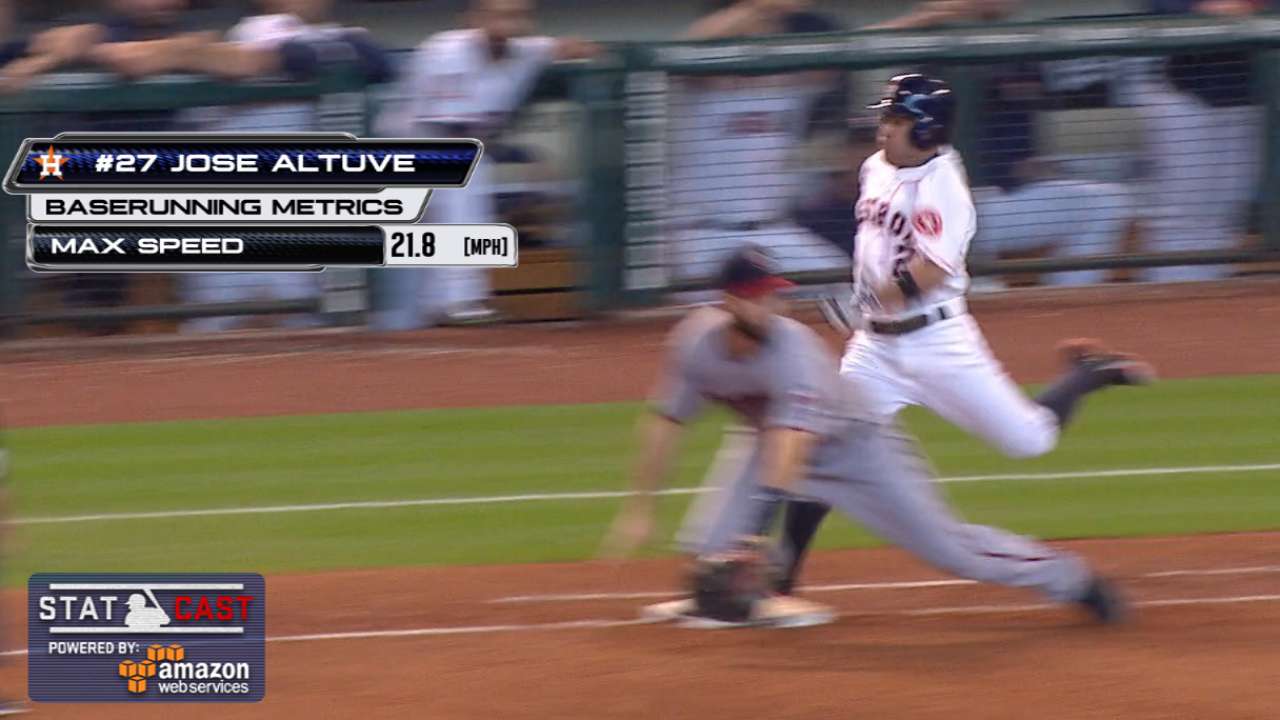 "I wish I could've barehanded it, but I was going to my left a little too much to get my hand over," Plouffe said. "That's what his speed does, putting pressure on the defense. I like to think I could make that play, and I wish I could've, but that was definitely a big turning point."
Lowrie followed with the mammoth grand slam, which bounced off the facade between the second and first deck in right field and sent a huge Sunday crowd of 37,648 into pandemonium.
The always boisterous Astros dugout followed suit, especially after being handcuffed by Twins starter and Houston native Tyler Duffey through the better part of six innings.
"Just felt like a lot of pent-up emotion," Lowrie said. "That game, nothing really happening, we weren't really hitting the ball very hard and then when we got the opportunity, I think everybody took a big sigh of relief and had a little fun."
With the recently healed George Springer getting a routine day off Sunday, Lowrie slid into the two-hole, where he teamed with Altuve for the late-inning heroics. Springer's return Monday probably means Lowrie slides back to the five- or six-hole.
That's just fine for the veteran infielder, who picked up perhaps the Astros' biggest hit of the season and reinforced the young group brimming with confidence in advance of a 10-game American League West road trip.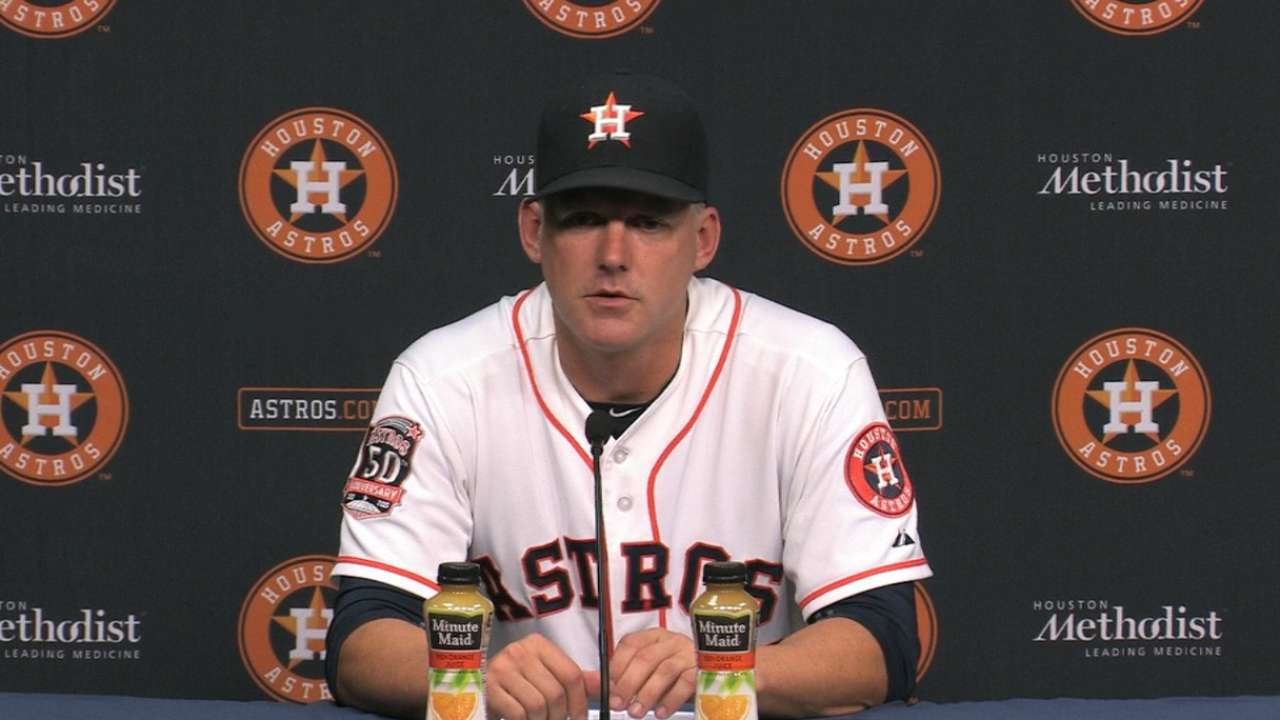 "We've got some threats at the bottom of the order who could conceivably hit higher in the order," said Astros manager A.J. Hinch. "It's something I've talked about all year, about why I don't really care about the order as much as many other people do. I feel like how it functions is really important and we get contributions throughout."
Squad goals. #StarWarsDay #Astros pic.twitter.com/eNmOJ7jm9T

— Houston Astros Orbit (@OrbitAstros) September 6, 2015
Chandler Rome is an associate reporter for MLB.com. This story was not subject to the approval of Major League Baseball or its clubs.