Harvey writes: 'I will pitch in the playoffs'
Pitcher makes statement via column for The Players' Tribune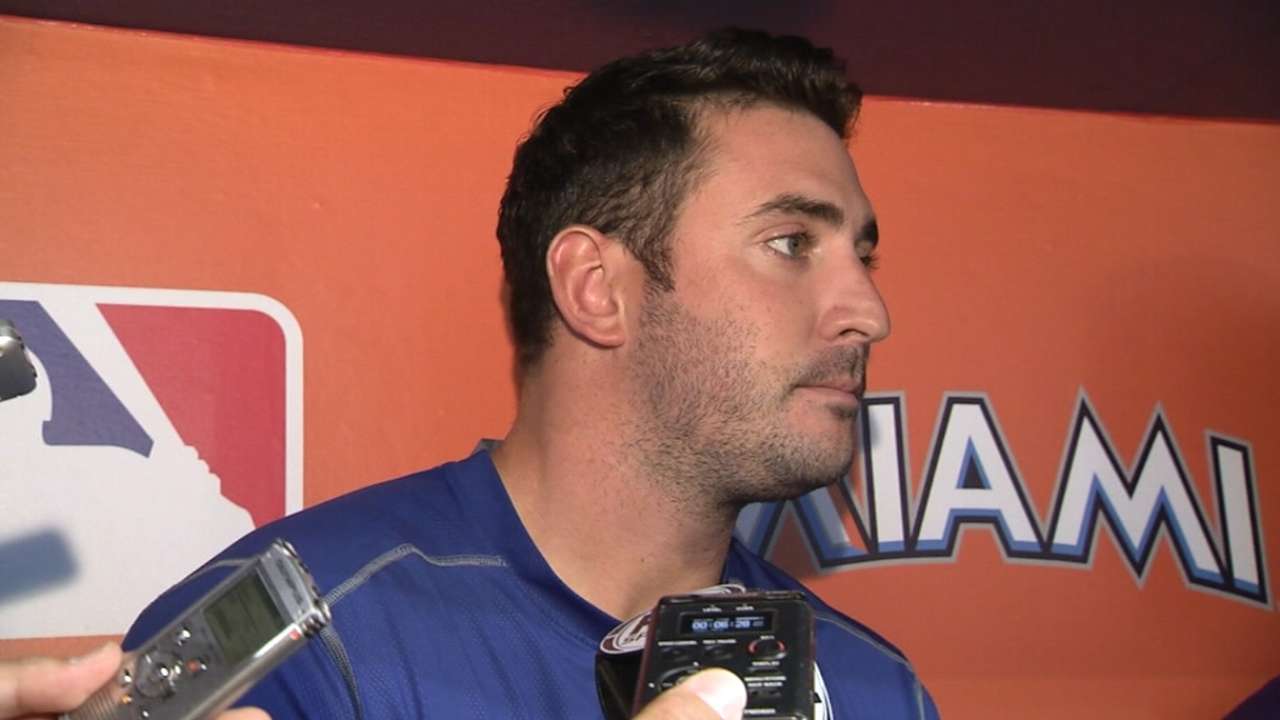 The latest chapter in the Matt Harvey innings-limit saga was written on Sunday evening, when Harvey took to the website "The Players' Tribune" to write a 305-word post with the title: "I will Pitch in the Playoffs."
"I understand the risks. I am also fully aware of the opportunity the Mets have this postseason," Harvey wrote for the website, for which he is the New York City Bureau Chief. "Winning the division and getting to the playoffs is our goal. Once we are there, I will be there."
It stood in contrast to Harvey's stance when he spoke to reporters in Miami on Saturday, for the first time since his agent, Scott Boras, told CBS Sports that Harvey should not exceed 180 innings this season, according to a recommendation from his surgeon, Dr. James Andrews. Harvey said little on Saturday, insisting he was focused on his next start, however, he did not confirm or deny that he would pitch in the postseason should the National League East-leading Mets qualify for their first postseason since 2006.
But on Sunday he wrote: "There has never been a doubt in my mind: I will pitch in the playoffs. I will be healthy, active and ready to go."
What is still unclear is the details of how Harvey and the Mets plan to make that happen.
Harvey has currently thrown 166 1/3 innings with a 2.60 ERA in his first season back from Tommy John surgery. In his post, Harvey says together, he, Boras, the Mets and general manager Sandy Alderson are coming up with a plan to reach an innings limit during the season that will allow him to pitch in October.
"I am communicating with my agent, my doctor, Sandy and the entire Mets organization," Harvey wrote. "I can assure everyone that we're all on the same page."
On Saturday, Harvey said he believed the idea of a hard cap at 180 innings has been in place for a while. The Mets, meanwhile, have used various measures -- skipping starts, six-man rotation -- in an effort to curtail Harvey's innings this season and keep them between 180 and 190 innings plus the playoffs.
Harvey's post also comes after Mets manager Terry Collins spoke to him after his comments in Miami -- "I'm probably not at liberty to discuss too much of it, but I talked to [Harvey] after he talked to you guys, and sometimes they don't say the appropriate things at the right time" Collins said Saturday.
The Mets announced last week plans to possibly skip another one of Harvey's starts this season, but these were all efforts in order to avoid a complete shutdown, such as Washington's Stephen Strasburg in 2012, and to be able to unleash Harvey in the postseason.
New York currently hold a four-game lead in the NL East over the Nationals ahead of a three-game series beginning Monday in Washington. Harvey is scheduled to pitch Tuesday night in a crucial game.
"Regardless of those numbers, I hope everyone knows: I have always wanted to play," Harvey wrote. I have always wanted to pitch every single chance I get. Especially in the playoffs."
Jamal Collier is a reporter for MLB.com. Follow him on Twitter at @jamalcollier. This story was not subject to the approval of Major League Baseball or its clubs.