Cards credit Cole, ready to move on to Cubs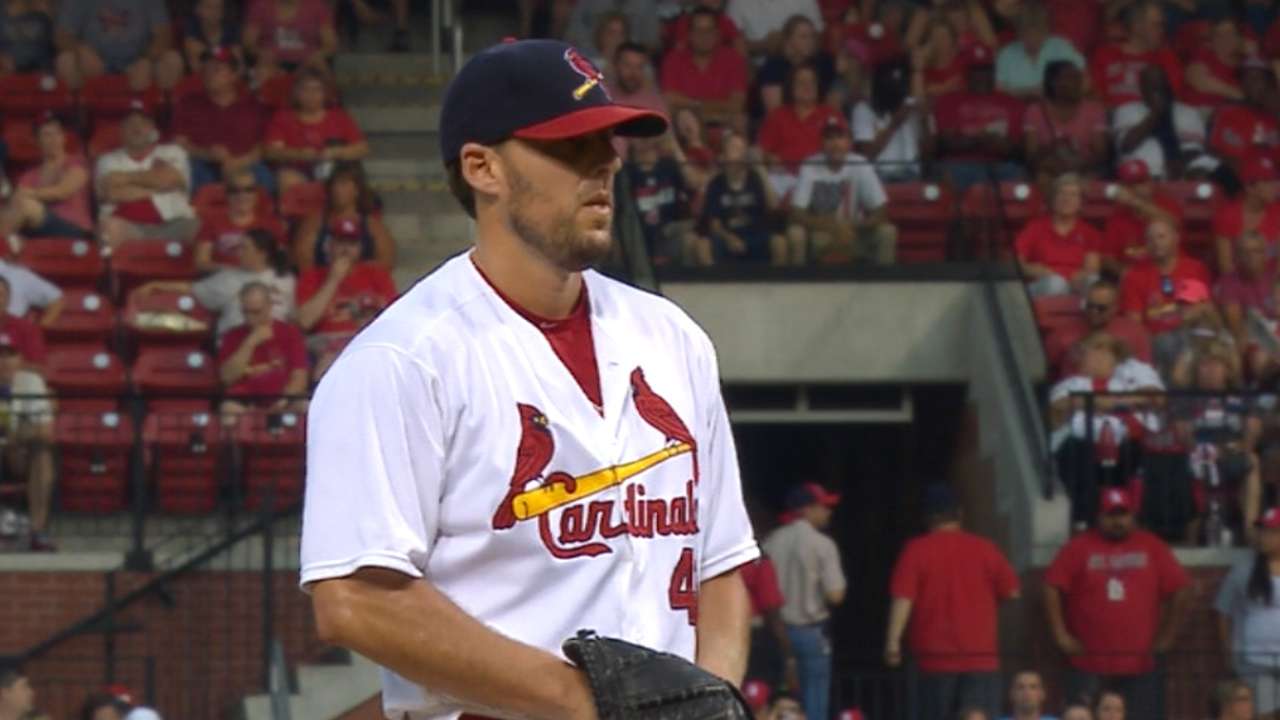 ST. LOUIS -- Cardinals manager Mike Matheny is hoping his team's quick turnaround from ESPN Sunday Night Baseball to a midday game on Monday will help them move past their forgettable 7-1 loss to the Pirates.
"This will be a good opportunity for us to get rid of this one quick, really, and have a short memory and figure out how to make it look a little better tomorrow and come out strong," Matheny said.
The National League Central-leading Cardinals, who have a 5 1/2-game advantage over the second-place Pirates, will be happy they won't have to see Pittsburgh's Gerrit Cole again for at least a few weeks.
Cole scattered two hits over seven shutout innings while striking out seven and walking three among his 99 pitches Sunday. He didn't allow a hit until the fifth inning, when Jon Jay's soft looper fell just out of the reach of a diving Neil Walker for a one-out single.
"He's a great pitcher right now," said Cardinals starter John Lackey, who allowed three runs on 10 hits in 7 1/3 innings. "He's got great stuff and really pitched well tonight against us."
The Cardinals had some chances against Cole, but couldn't capitalize.
That was the case in the first inning, when Jhonny Peralta and Jason Heyward drew back-to-back walks with two outs. But the next batter, Yadier Molina, hit a soft liner to center field for an easy third out.
Molina slammed his bat in frustration as he ran to first base, which turned out to be a sign of things to come on a frustrating night for the Cardinals' offense.
"We hit some balls hard early," Matheny said. "We had a couple chances. Right there in the first, too -- we get a couple walks and that's when we need that big hit. We couldn't get it at that particular time. We had some good at-bats, balls hit hard, but [Cole] was able to make the adjustments and shut us down."
St. Louis only had two hits in the first eight innings and had just one batter reach third base during that time. That was Jay, who, after his single, went to third on another soft single by Matt Carpenter but was left stranded there to end the fifth.
The Cardinals left six runners on base on the night and had just one hit in six at-bats with runners in scoring position -- pinch-hitter Cody Stanley's RBI single in the top of the ninth.
But that was too little too late on this night, one the Cardinals will be happy to turn the page on with the Cubs coming to town on Monday.
"I'm excited to play tomorrow," Matheny said. "I'm not going to be up there taking any at-bats, but I'm excited to watch our guys go at this team, and I know, especially day game and Labor Day, I just imagine we're going to have a stadium that's abuzz with life, and these guys are going to be ready to play.
"Sometimes they get by. One got away today. John Lackey threw good enough that if we can put something together against Cole, he threw good enough to win. Hopefully tomorrow we'll have the kind of day we were hoping for today."
Nate Latsch is a contributor to MLB.com. This story was not subject to the approval of Major League Baseball or its clubs.